Starting with Android 4.2, Now we have a new feature on Android Tablets which allows multiple users accounts on the same device which is indeed a great solution, but then it acts pretty differently when it comes to app sharing. One user cannot user other users app even if they are a family member.
Now its pretty logical that only family members will be using each others devices, and it was sensible if App Sharing was enabled across users.  Now since, one can't have it by default, one of the XDA members have come up with a hack which enables the primary user to mark which apps from his or her account can be used by anybody else. This is what it looks like :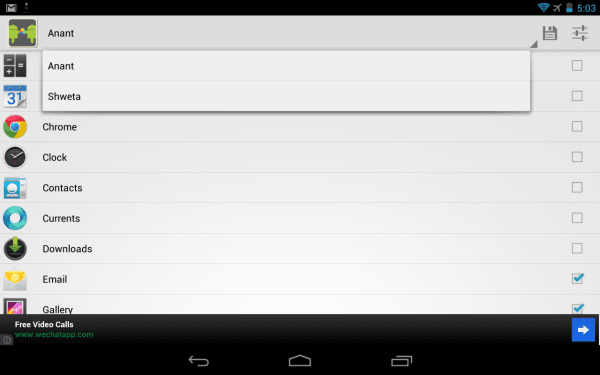 This sounds much reasonable than adding your Google Account to the secondary user's play store because you will have to install it and be there any time you need to buy an app. The above mentioned way is easy bypass.
How to install ?
First make sure you have the device rooted. Note, you don't need a custom rom but only rooted which Super User installed. If you are new, make use of our step by step guide for this.
Now install this app from Google Play Store. Once installed launch it.
As soon as you launch it, you will be prompted by the Super User app for special permission. Allow it.
Configure it :
Once you launch you can see the list of user name on top of the app and list of apps below it. All of them are marked shared by default except few. Now here you can select which you want to share and which should be kept hidden from the other user. Once you save, the device will be rebooted, and when you login to the other account, you can view the apps shared.
Notes :
Every App shared has its own data area i.e. your data cannot be seen by anybody else.
Some of the apps may not work if there is some kind of authentication that's being done. I have tested a couple of apps which worked and have no issues so far.