We have talked about Excel shortcuts here are some more tips which will help you to be more productive with Excel.
How to Hide/Unhide a particular Row or Column

Select the rows or columns to be hidden; now under the 'Format', you can get the option to hide or unhide the Rows or Columns.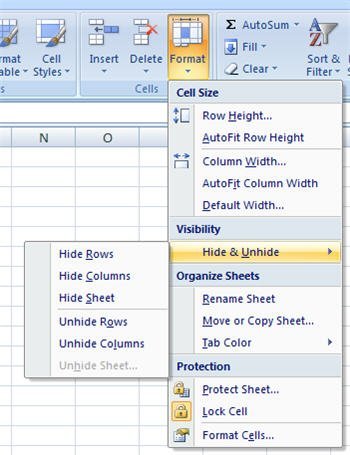 Move around the Spreadsheet, using your Keyboard
Ctrl-Arrow:  Move to the first/last data cell in the arrow direction
Ctrl-Shift-Arrow:  Selects the cells between the current cell and the first/last data cell
People working with loads of spreadsheets will definitely find this useful
The SUMIF Function –
This is used for conditional additions, and to use this SUMIF(Range,"Comparison",SumRange)
The SUMPRODUCT Function –
Useful, if you need to multiply two columns and need the sum of the multiplication.
Rounding Functions (ROUND, ROUNDUP, ROUNDDOWN) –
ROUND(Number,Digits); Will round the number (or cell) to the specified number of digits
ROUNDDOWN(Number,Digits) and ROUNDUP(Number,Digits) work the same way as ROUND, but the direction of rounding is specified by the function
The AUTOFILTER Command –
You want to find some specific information, e.g. all sets that meet a criterion or the top 10 items etc., from a huge database.
Click into your table or better mark the data area and select Data: Filter: Autofilter
Using the drop-down boxes per item allows you to display only specific filtered information
Selecting multiple matches (up to 3 maximum with autofilter) you can narrow down your search
Or add your own criteria for filtering by clicking on the custom criteria
GROUP/UNGROUP Parts of Spreadsheets –
If hide or unhide parts of a complex spreadsheet is something you need to do very often. Mark the row or column that you would like to "fold", i.e. hide for the moment.
Click on Data: Group and Outline: Group
To "fold" click now on the "minus" sign outside of your column or row
You may also group or ungroup hierarchically
Handful of Useful Shortcuts –
Alt + ' Display the style dialog box
Ctrl + 9 Hide rows
Ctrl + Shift + 9 Unhide Rows
Ctrl + 0 Hide Columns
Ctrl + Shift + 0 Unhide Columns
F6 Next pane
Alt + F8 Macros Dialog Box
Alt + F11 Visual Basic Editor
Ctrl + ' ( ~ ) Toggle formula display
Ctrl + Shift + } Selects all cells within formulas that directly or indirectly refer to the active cells
Shortcuts for special Characters –
Alt + 0149
£ Alt + 0163
¥ Alt+0165
TM Alt+0153
© Alt + 0169
¼ Alt + 0188
½ Alt + 0189
¾ Alt + 0190
I got these tips in email from a friend who regularly works with Excel, hope you find these useful.