Have you encountered problems with your computer sound after upgrading to Windows 11 or 10? This guide will know how to fix no audio after Windows 11/10 update.
There are always new features and fixes in every major Windows update. However, there may be a few minor bugs along the way. Windows sounds stop working, and this is one of those issues that can cause significant discomfort to the user.
No matter how frustrating this may be, there is no need to panic since sound problems are a reasonably common PC issue. When your Windows device's audio isn't working, and you're not sure why, here's what you can do to fix the problem. If you have no audio issues on your Windows computer, one or more of our solutions below will quickly resolve the issue.
What Causes Windows Sound Problems?
Your Windows audio can stop working for many different reasons. A sound problem in Windows can be caused by anything, including your speakers and headphones. Also, outdated or corrupt audio drivers may be responsible for this problem. Therefore, you should try configuring your audio device correctly and updating your audio drivers.
Speakers, headphones, audio software, or even the entire OS can be responsible for audio problems most of the time.
In addition, the majority of problems with Windows are caused by misconfigurations. Sometimes, we forget to turn on the soundbar or select the wrong audio format. Identifying the problem is relatively straightforward, but it could also be the case the sound only works sometimes, or with specific devices only, or within a particular program.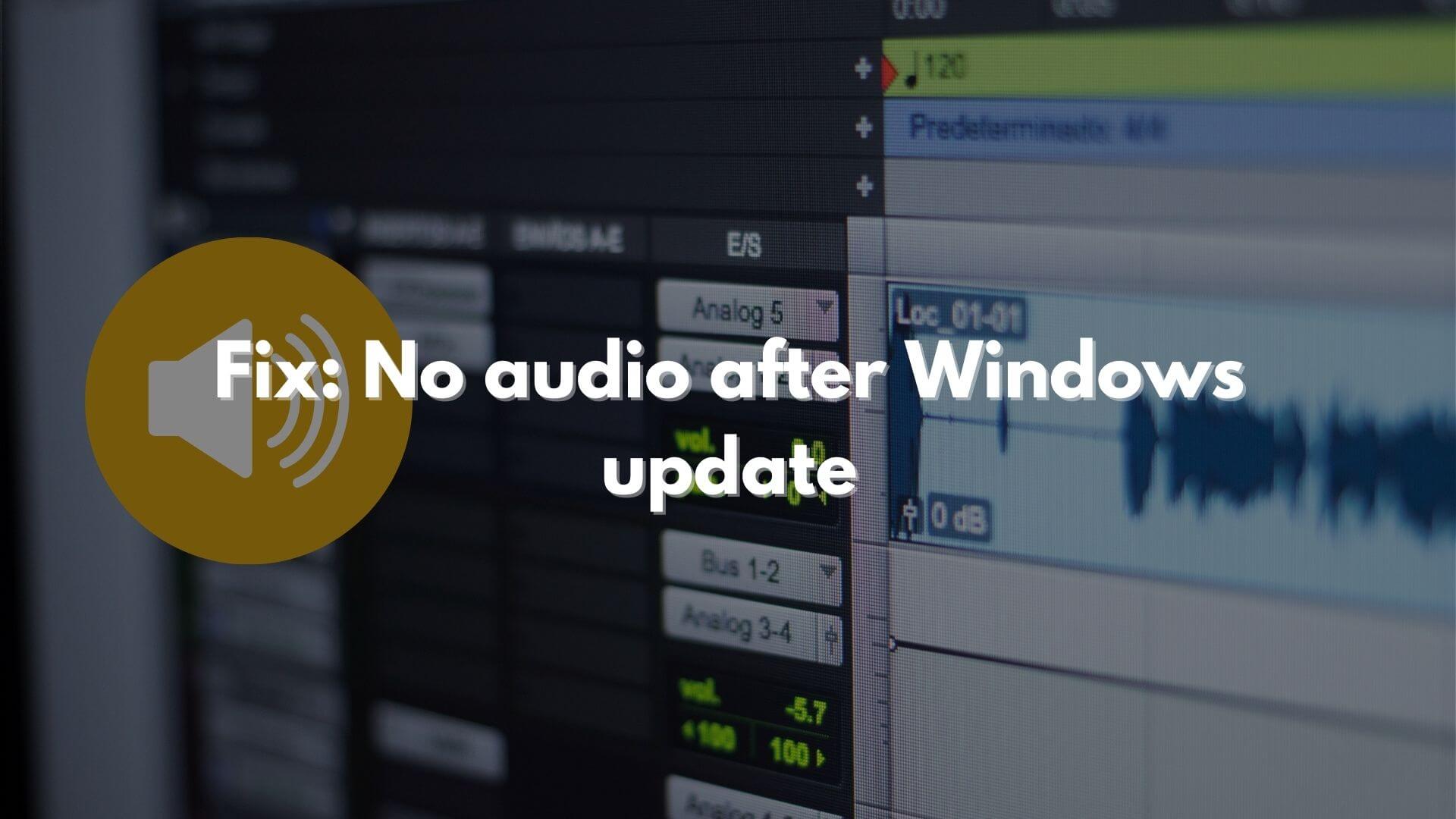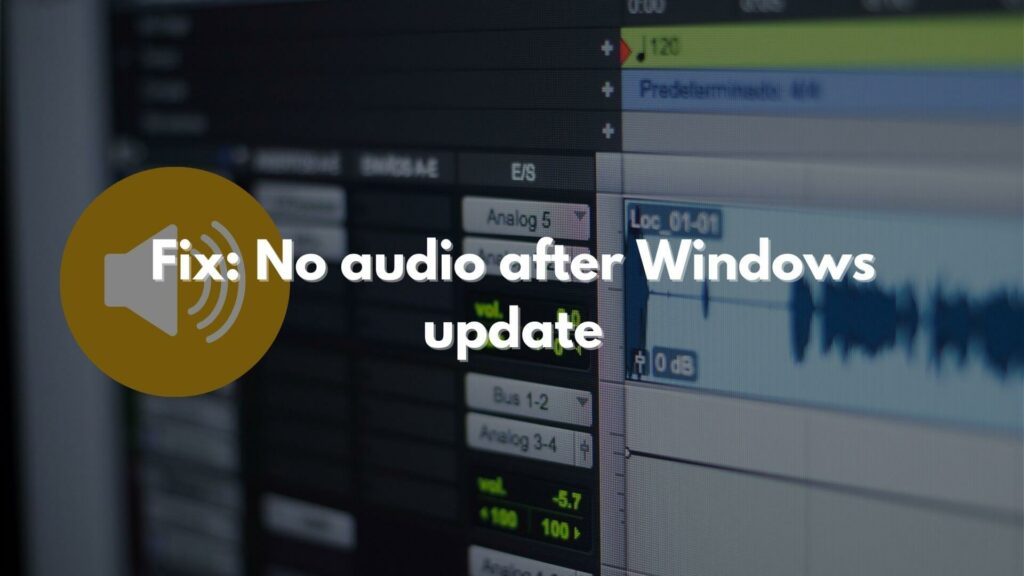 Fix: No Audio After Windows Update (Windows 11/10)
To fix no sound on Windows, first ensure and check if the volume is on or not, or if it is too low, making some sounds hard to hear. If your soundbar is on a high level, but you still can't hear the audio, you need to follow the methods below:
Switch audio output devices
Enable audio device
Check cables.
Update audio driver.
Rollback audio driver.
Run the audio troubleshooter
Some of these will need admin permission.
1] Switch Audio Output Device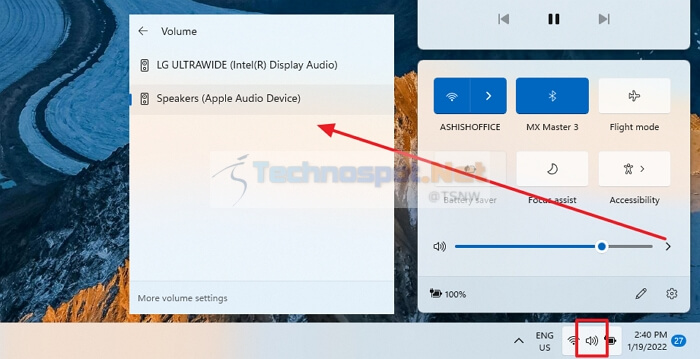 The system audio device is the default output device in Windows. Be sure to select the correct audio device if you have multiple audio devices connected to your computer. There is a possibility that the audio is working correctly but isn't coming out of the speakers if you choose something else. Therefore you are required to follow the steps given below to choose the suitable audio output device:
The first step is to click on the volume icon on the taskbar.
You will then see an arrow icon in the exact location as the volume slider.
You can now choose from the available output devices.
Now, check to see if it has solved your problem.
2] Enable Audio Device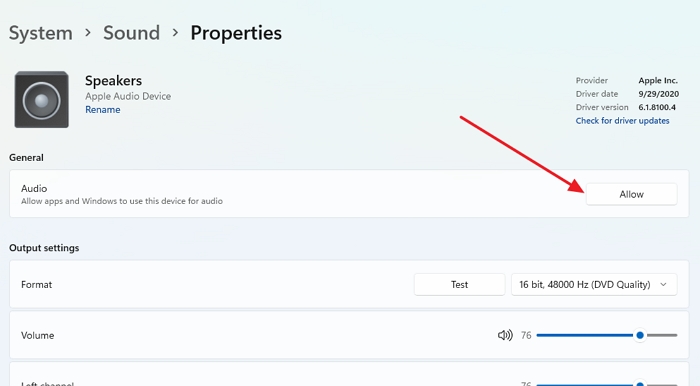 It is also possible that your audio device is disabled. As a result, you cannot hear anything. If this happens, follow these steps to enable your audio device:
Press Windows + I key on your keyboard to open Windows Settings
Navigate to System > Sound > All Sound devices > Select the audio device which is not working.
If the button next to Audio says Allow > Then click on it.
It will enable the Audio device to be used by other apps.
Alternatively, you can even use the control panel to reach the same place, but it will be through the classic menu, which you should avoid.
3] Check Cables
Make sure your speaker cables are in their correct places before moving on to any other troubleshooting methods.
You need to check if your output device is plugged in or not.
Verify that your speakers are connected to your computer.
Make sure your speakers are not on mute, which many make a common mistake.
Try connecting your speakers to a different USB port.
Make sure your speakers are working.
Continue with the other fixes outlined below if everything is working correctly.
4] Update Audio Driver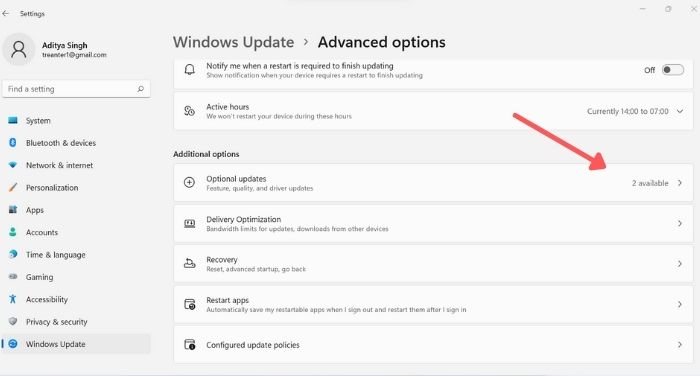 If the sound on your PC is not working, it can probably be because of outdated audio drivers. It is also possible to update the audio driver. You may need to install the latest audio drivers because your computer no longer supports the existing ones.
Updating the driver on the OEM site is the right way to do it, not through Device Manager. If you are using any special audio hardware, you need to look up the company's website. There should be a list of devices and an installer for the necessary drivers. If you are using a generic driver, then follow these steps given below to update your audio driver:
Press Windows + I key on your keyboard to open Windows Settings.
Click on Windows Update > Advanced options > Optional Update
Ceck if there is an update to the audio driver available.
If yes, then install it.
If there are no update, you can download them from the OEMs website or use a third party driver downloader. Ensure to check the device name and version.
5] Roll Back Audio Driver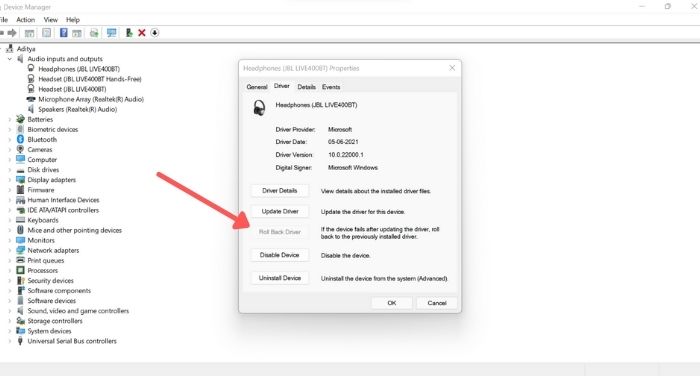 Alternatively, there is a possibility that the latest version you have installed is unsupported by your PC. If this is the case, you can roll back the audio driver. To do so, follow these steps:
Press the Win + X key on your keyboard or right-click on the Start menu to open the Device Manager.
Expand Sound, video, and game controllers option.
Right-click on the audio driver > Select Properties.
Go to the Driver tab > Choose Roll Back Driver.
Check if this fixed your issue.
6] Run The Audio Troubleshooter
A Troubleshooter is a built-in tool in Windows, following the older versions. This troubleshooting guide will diagnose sound issues on Windows 11/10 and fix them automatically. You need to follow the steps given below to run the tool:
Press Windows + I key on your keyboard to open Windows Settings.
In the system section, scroll down to find troubleshoot option, and click on it.
In the troubleshoot settings, click on Other troubleshooters.
Here, locate the Playing Audio option > Click on Run in the right corner.
This process will run the audio troubleshooter. It will detect any audio device or driver problem and fix it for you.
If you have issues with Bluetooth Audio device and wireless dsiaplys, then read the linked guide.
I hope this article will help you in fixing no audio after Windows 11/10 update.
How do I Fix my Audio Output not Working?
It is necessary to check if there is a recent Windows update or if your sound card driver is outdated to fix my audio output not working. Once these problems are found, update the Windows plus sound driver.
Why does my PC suddenly have no sound?
Have you suddenly lost sound on your PC? This may be caused by a malfunctioning output device, which prevents sound from being heard on the PC. Make sure you check the volume too.
Does Windows Update Drivers Automatically?
No, Windows Update doesnt update the drivers automatically any more. Instead they are listed as optional downloads which users need to manually install.