Nokia 105 when announced turned out to be the best "Only Phone"  because of two primary reason. First was the design and second the long battery life which you could get in a phone which costs 1100 Rs (20$)  in India. I got this phone 10 days back and gave to my phone to test it and find out how well it could do.
My Mom uses phone for just calling and nothing else. She doesn't use Internet nor camera and not even Bluetooth to transfer anything. Just calling and SMS. Her average use on the phone is about 2 hours a day on calling.
Video Review:
Design & Build:
The phone has an excellent design at this price point. If you have used a pricy phone or even the phone with big screen, the phone will feel like a toy. However, when looked closely. it feels and looks great.
The build and quality of  material is very good but to my disappointment, the keyboard started peeling out in just 10 days of usage. Note that the phone keypad is very different from any regular phone. It has no gaps in between which makes sure that dust and water stay off but the peel disappointed me a lot. I did not expect it to wear out so early.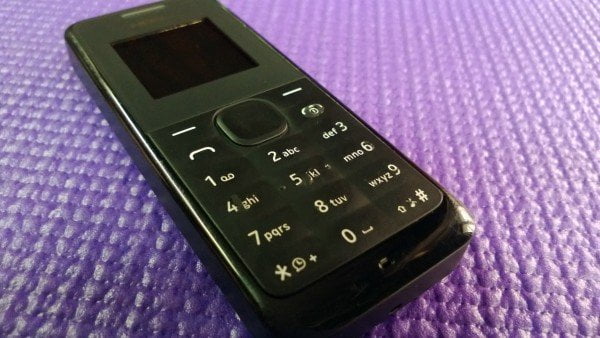 The back of the phone is plastic matt finish which makes it sturdy and you can keep it anywhere you want and still get less scratch. However the lower section where microphone is hosted, is plastic made and gets scratches.
The phone also comes with a torch which will come very handy when you are in dark or there is no power. The torch is powerful enough to help you find your way out from the darkest places in the world 😛
Battery Life:
This phone will outperform anybody using it. 2 Days of usage and still had 50% of battery left with the phone. It was used for 2 hours of calling every day and still did not bleep for low battery.
The phone has 800 mAH of battery power which is more than enough for a phone which has to be only used for voice calls and SMS. It can last for 35 straight days when left idle.
This makes the phone perfect for long travel, specially if you are going to places where there is power shortage or with no power at all. India has this kind of scenario and this phone will be a great boon for them.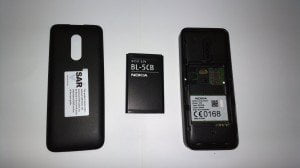 Display:
Getting a color phone at this price is treat as it looks rich but overall readability score for text is low. Its small and there is no way to increase the fonts to a level where it can be comfortable for every one. When my mom complained about it, I did not admit it for the first time but then I took the phone used it for 30 minutes and I could understand that this was a problem for sure.
Apart from text problem, the phone does not have any issue when reading. The menus are bigger and the text written along with it are comfortable for reading. Its only when it comes down to smaller details, the problem shows up.
Phone Software:
Its satisfactory.
Can store contacts in both Sim and phone.
Transfer contact between SIM and Phone.
Option of creating multiple phone book.
Nokia Life Tools.
Display is crisp but text size is small.
Voice & Audio Quality:
Voice Call Audio level is low. Its not you cannot hear it but for a normal user it sounds low and can make you uncomfortable
As the speakers are on the back side, the ring volume decreases drastically. Its not necessary that you will keep your phone along with you every time. Most of the time it stays on a table and if kept face up, you will definitely miss calls.
Value for Money:
You wont get another phone which can give you such long battery life, with decent build quality and torch in 1100 RS. It gives 100% of what you pay for and you wont be disappointed from that point of view.
Conclusion:
To my experience this phone can be best used as the second phone and not a primary phone. The major reason why I would say this is because of the low audio quality in voice calls and small display. If you are running out of battery all the time of your smartphone, grab this as a second phone and you will know its importance at time of emergency.
That said, the build of the phone and availability of torch makes it perfect seller for set of people who cannot afford more than 1-2 K on the phone. Considering scenarios of Indian Villages, where power shortage is ample, there is no place where you often go and charge your phone or even with cities with long power cuts makes this an essentially important for connectivity.
[wp-review]