Nokia announced their starting models 105 and 301 back February during MWC 2013. This phone is built for Indian market conditions and came with set of features which the lower segment enjoys a lot — Torch & FM Radio along with the phone capability. Below is the unboxing of Nokia 105.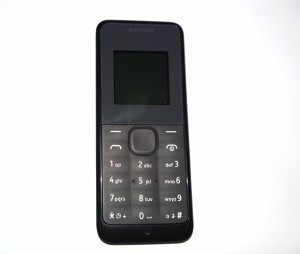 Like I said before that this phone is a very basic model for people who would like to just have a phone and are on very tight budget. This phone just fits that definition. There is no 3G, No Bluetooth, no way you can connect it with your PC. But it comes with a great design which is used in the Lumia version of Windows Phone from Nokia. Thus it gets a great look and feel when somebody holds it.
The keyboard unibody which makes sure dust or water don't make their way through the phone and destroy them. This is again a common scenario i.e. a mobile falling in water or getting drenched in rain, which is answered by Nokia's thought process. Another good thing about the keyboard is that they are backlit giving you complete access in dark and they are bigger
The screen of the phone is quite small but comes in color version which gives a positive feeling to a user. The software is very similar to Nokia's Symbian interface with all basic feature like making a call, sending SMS etc are available. There is no way to transfer contacts though and it seems to be only between SIM to Phone and vice versa.
Overall build quality is good but is still plastic but you cannot expect something solid at this price.
Gallery:
That said, I will try this phone out for 2-3 days or get someone to test this who meets the need. Let us know if you have question on this till I get the final review done.