Does the idea of taking notes appeal to you? The traditional experience of note-taking coupled with the organizational aspect of digital apps is an incredible concept. Here, the advent of note-taking apps creates a considerable difference and offers a remarkable experience.
If you are an iOS user and love to take notes, accepting that Apple Pencil is not enough is essential. It is crucial to remember that note-taking apps play a significant role in note quality. Moreover, if you are learning something new, taking notes can help immensely. With practical notes, you can improve recall, resulting in academic success.
However, there are different types of note-taking apps in the market for iPad, iPhone, and Mac. That is why we have compiled a list of the best ones for your benefit.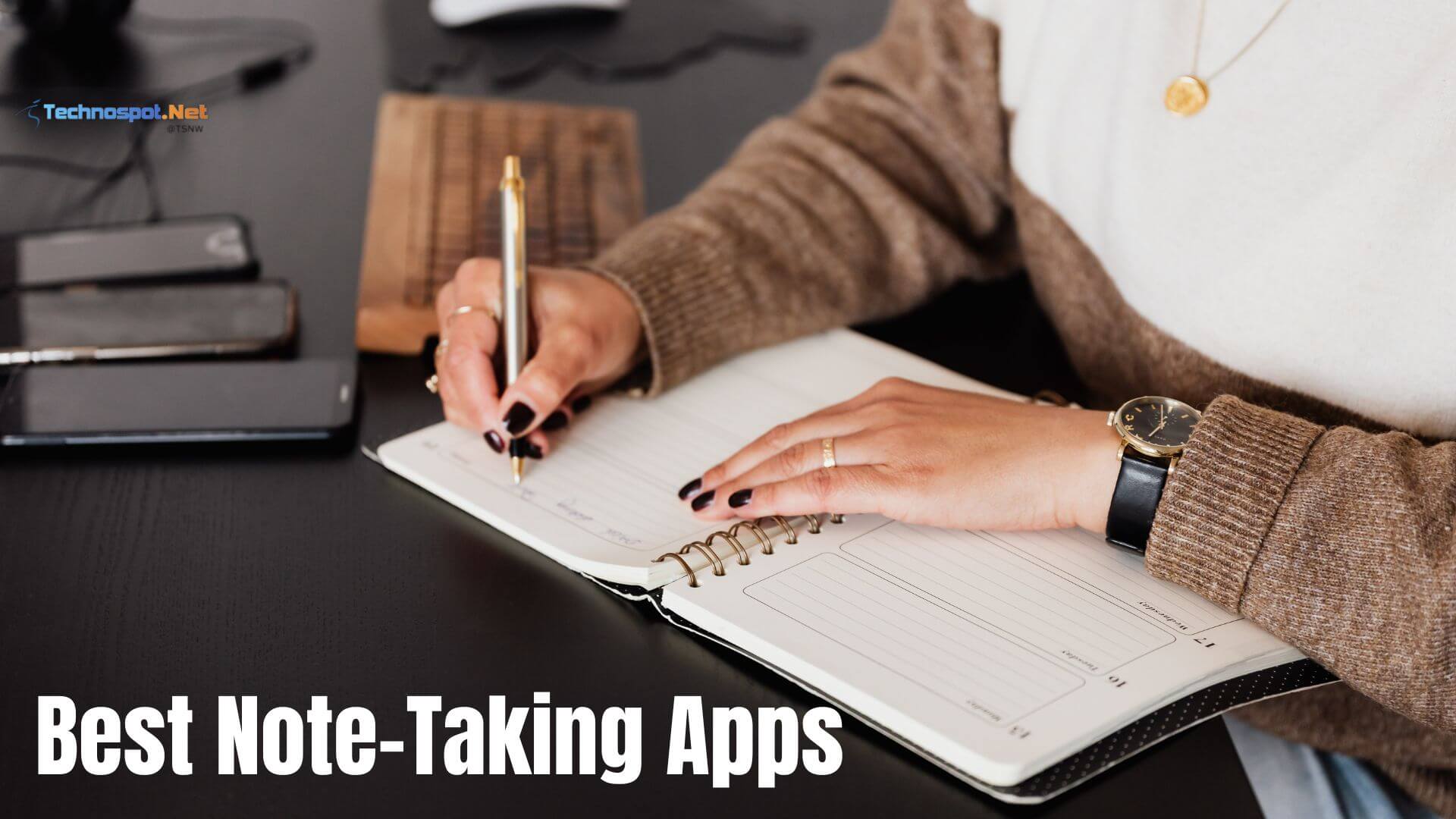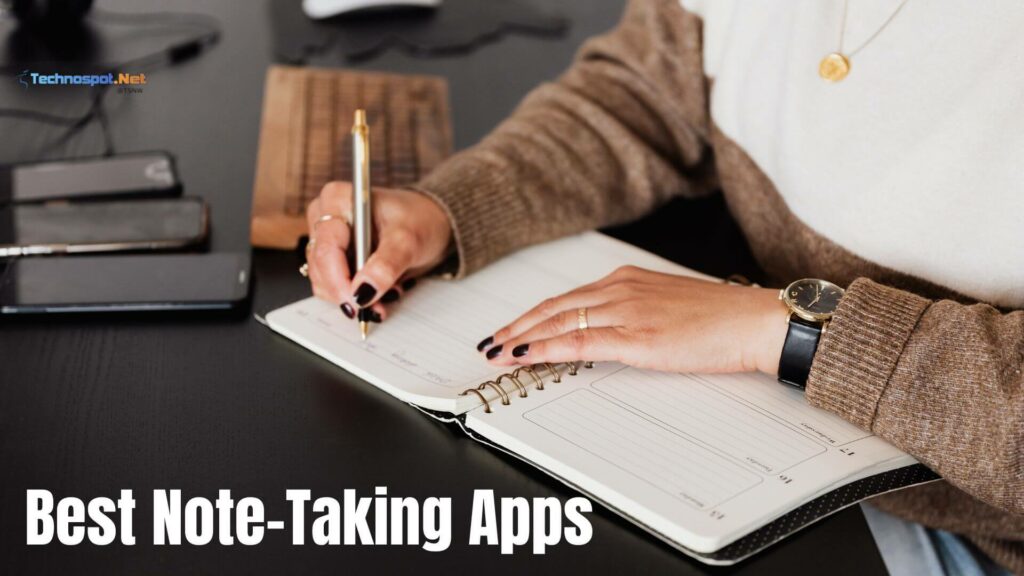 10 Best Note-Taking Apps for iPhone/iPad/Mac
Without further adieu, let's dive into the world of the best note-taking apps for the Apple ecosystem. We have compiled this list after extensive research and using the apps for days so that you don't have to waste your time.
For Mac

Simplenote
Notion
Ulysses
Drafts

For iPhone/iPad

Notability
GoodNotes 5
Bear – Markdown Notes
Whink
CollaNote: Note, Journal & PDF
Penultimate
Download any of these without any worries and take your note-creating activities to the next level.
For Mac
1] Simplenote
One of the most popular note-taking apps for Mac is Simplenote. It is compatible with Android, iOS, Windows, Mac, and Linux. The wide array of features makes the app even more appealing.
The notes you take with this app remain updated irrespective of the device you use. Moreover, the update is done in real-time and works flawlessly to sync different devices. The app offers users the opportunity to add tags. That way, you can find the notes you want with ease.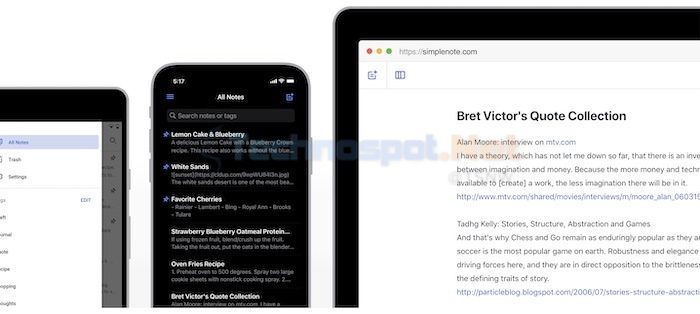 Did you know that Simplenote allows sharing notes or publishing them? Yes, you can post, share and even publish the notes online. Another crucial feature is that the app considers every change you make in the notes. The app also offers the Markdown feature.
In this feature, the Markdown format is available, and the users can choose to write and publish notes. Despite offering all these lucrative features, the app is entirely free.
2] Notion
Another excellent note-taking app you can choose for Mac is Notion. With this app, you can write, organize and make plans. It is available for free and comes with an extensive list of features.
The app allows users to add content without any storage limit. All you have to do is drag and drop to create the doc or dashboard you need. Apart from that, you can also share pages in real-time. You can also add comments and work with your teammates for better organization.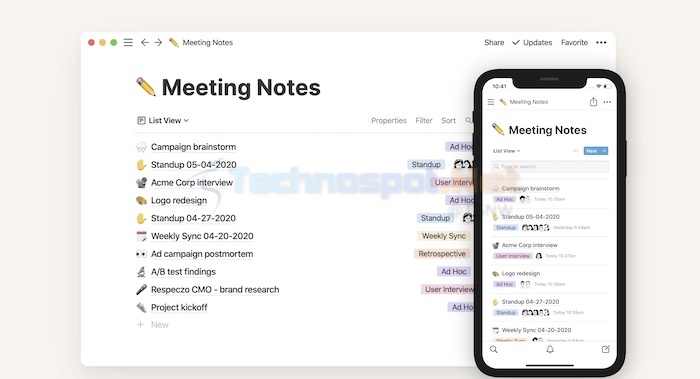 You can use Notion to create attractive docs with to-do's, images, etc. There are more than 20 content types available. Besides, the app enables users to nest pages within pages. It leads to a neat and hassle-free organization.
Do you want to turn your page into a website? Well, Notion allows that and makes it simpler with two taps. Another impressive feature is that you can sync the notes with Mac, browser, and different Windows apps.
3] Ulysses
One of the most popular note-taking apps for Mac is Ulysses. The wide range of features enhances work productivity with a hassle-free interface. The app offers an excellent editing assistant. The in-built style and grammar check aids in attaining the right tone and getting rid of mistakes,
The editing assistant is available in more than 20 languages and offers multiple suggestions. With this app, it becomes easy to convert texts into word documents, blog posts, PDFs, etc. Another excellent feature is that it enables users to divide long texts into small chunks without causing a mess.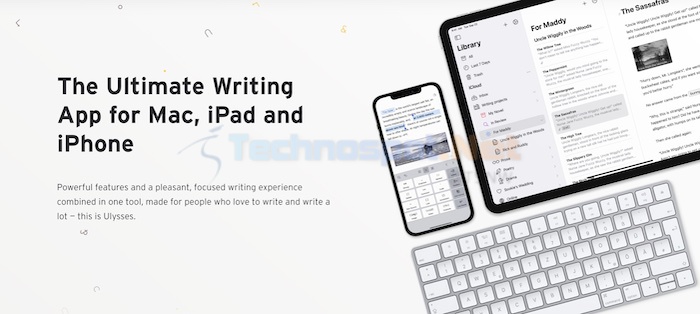 If you are working for multiple clients and don't want confusion to cause more problems, Ulysses can help. Here, you can organize notes in different folders.
Are you keen on improving your writing skill? In that case, you can set goals and deadlines with Ulysses. All the notes are stored in the library of the app. It syncs with all the connected devices that you have.
4] Drafts
The last note-taking app on the list is Drafts. It is one of the most well-known apps that one can use to modify texts easily. You can use dictation to open a new page and start your work immediately. Moreover, it seamlessly syncs with other devices such as Mac, iPhone, Apple Watch, and iPad.
The app works perfectly with other apps on your Mac. For instance, you can create a file and store it in Dropbox. Another impressive feature is the presence of numerous interface adjustments. You can use the vast array of customizable buttons to manipulate the writing easily.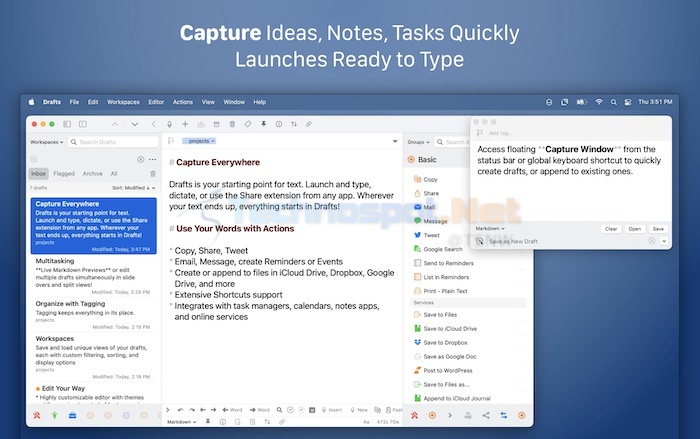 You can also be a part of the Drafts community and attain help or guides if needed. Also, you can check out the Directory for themes and actions.
Though Drafts is available for free, you can also take a look at the Pro version. You can pay the required subscription fee to take advantage of the different exciting features.
For iPhone/iPad
5] Notability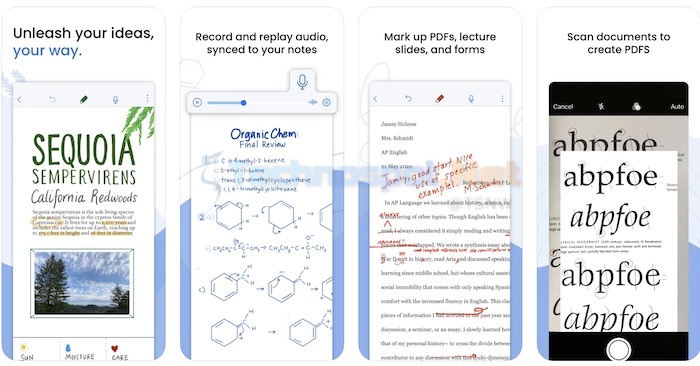 If you are looking for an excellent note-taking app for your iPhone or iPad, you can choose Notability. The integration of different drawing tools makes it easy to customize the notes with ease. You can also create notes by choosing from a wide selection of templates with options to customize backgrounds and spacing.
Another excellent feature you can enjoy is the markup of imported documents, textbooks, images, etc. Apart from that, you can also add photos, web pages, etc. The ability to make groups ensures that there is organization amidst your notes.
Besides, some other features make Notability different from others. Here, you can replay the audio recording, import PDFs, share notes, etc.
6] GoodNotes 5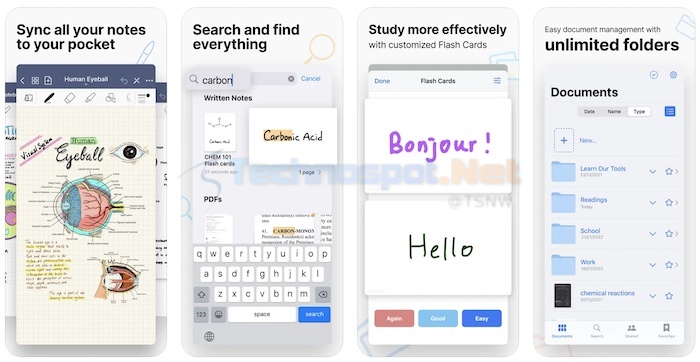 Another top-rated note-taking app you can select is GoodNotes 5. The app enables syncing of digital notes with different devices via iCloud. With this app, you can search for whatever you want with ease. Apart from that, you can create unlimited subfolders and folders to maintain the organization.
GoodNotes 5 enables users to create customized outlines for hassle-free navigation of your texts. You can also add hyperlinks to different websites, articles, etc. Another impressive feature is that you can move and resize the text and even change colors. You can use the Lasso Tool to edit or make changes to a specific object within the notes.
The presence of a wide array of paper templates makes it possible for you to opt for beautiful covers. You can add different elements to your notes and enhance them. Besides, uploading PDFs or images is easy.
7] Bear – Markdown Notes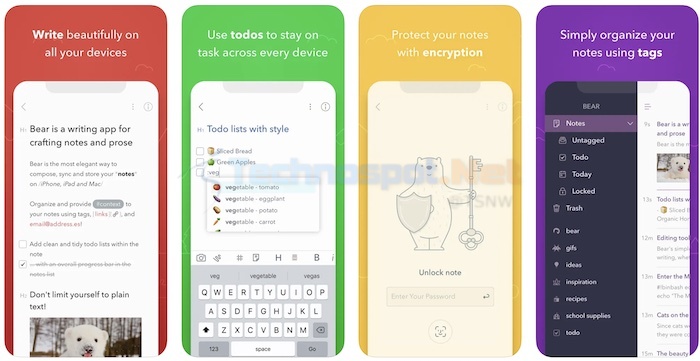 Are you in search of a reliable note-taking app? In that case, opting for Bear won't cause any regrets. The diverse set of tools makes this notes app one of a kind. With simple tools, you can enhance your writing quality significantly.
You can use iOS and Siri shortcuts to create notes. The app offers support for drawing, sketching, etc. With the app's extension, you can get files, text, images, etc. The integration of the different tags makes it easy to organize notes.
The availability of different export options, such as PDF, HTML, EPUB, etc., enhances the app's appeal. You can also copy some sections of the note and paste them somewhere else in a different format. The Spotlight search functionality aids in searching notes with ease. Syncing the notes with iPad, Apple Watch, iPhone, and Mac is easy.
8] Whink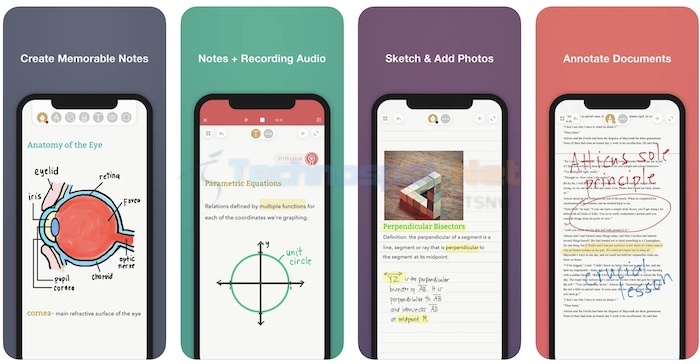 One of the most popular note-taking apps for iPhone and iPad is Whink. This app makes writing notes as easy as writing on paper using a pen. You can use a gel ink pen with different colors for smooth writing. It is even possible to tap anywhere and start taking notes.
The wide range of typography options makes it fun to create your notes. To ensure organization within the notes, sections can be made. You can import PDFs to apps like Dropbox, Email, etc.
It is also easy to group documents and categorize them by adding pages and sections. With the app, integrating PDFs into the notebook is easy. You can also use the Spotlights search to find what you are looking for. Apart from that, you can add post-its and shapes to make the notes appealing.
9] CollaNote: Note, Journal & PDF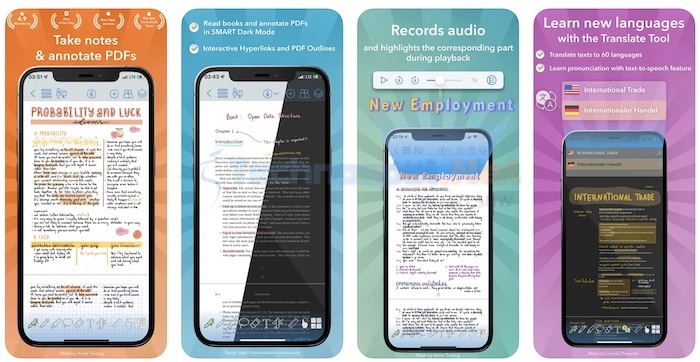 The last app on the list of the best note-taking apps for your iPhone or iPad is CollaNote. It is an excellent app that delivers a wide array of features. The top-notch vector ink engine offers low latency, enhancing the writing experience. You can also enable the intelligent dark mode to adjust, taking notes in the dark.
Apart from that, you can record audio and integrate it into the notes. It is possible to import PDFs and export the notes to the PDF with the app. The presence of 150+ templates and paper designs offers plentiful choices to users. You can add different multimedia, such as stickers, images, etc., to the notes.
10] Penultimate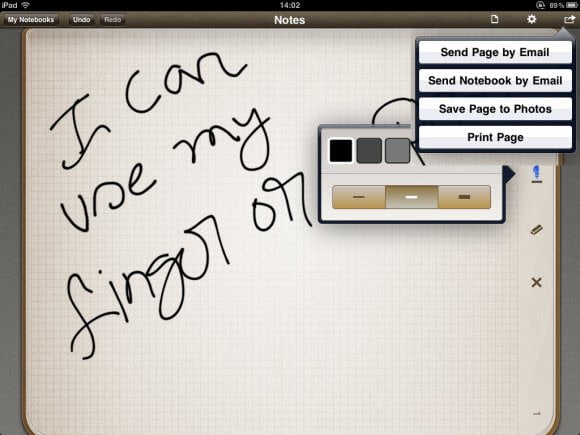 This app allows you to use a stylus or your finger to write down as you do on normal paper. The user interface is exactly like a notebook with n number of pages, which can be, flipped and previewed as thumbnails for a quick switch.
Features :
Wrist Protection, so nothing else creates a mark on your notebook.
Support to export to iTunes or Email as an image. You have an option to email the entire notebook or just a page of it. Everything is sent as Images.
Change the Colour of the pen and thickness. You have an eraser for undoing.
User Experience :
It's very smooth. Probably the best note-taking app when it comes to using a stylus. The smoothness is amazing when it comes to erasing parts of the note. It will only erase what is required.
Conclusion
Without a doubt, note-taking apps can help users immensely. You can take notes, improve your writing and proceed with excellent editing. Look at the apps listed above for Mac, iPhone, and iPad. Check out the features and choose the one that best suits your needs!