This is a good news for all Outlook users and Admins who had been breaking their head hard to fix issues around Outlook on Windows. Microsoft has a new tool like, Fix IT, called as OCAT or Outlook Configuration Analyzer Tool  which can fix issues which has been commonly troubleshooted. Since this tools come from the Support Engg in Microsoft who have 30 years of combined experience on Microsoft office, Outlook and Exchange Server you can trust them with closed eyes.
For all those who are very excited, let me clear you that this tool does not fix something automatically but helps you find and then you resolve the issue.
Features of OCAT :
Supports both offline and online scanning. This means even if you are not running outlook you can scan your computer using this tool to find issues.
The Advantage of Online Scanning is any network related issues, credential issues etc.
A scan result gives you details on Updates Installed, Security Settings for Outlook and any critical issue.  The best part is you also get clear details on the errors and details on you can possibly solve them
The Scan Results are marked Informational, Warning and Critical with option to search inside for anything in particular.
The Reports are so detailed that it can take you to the registry levels and point you exactly where the problem is.
Supports Multiple Profiles so finding where the issues is will be easy.
For even more information about the issue, click the Tell me more about this issue and how to resolve it link and it will take you to Microsoft Knowledge base.
Supports Active Directory but you will have key in your credentials.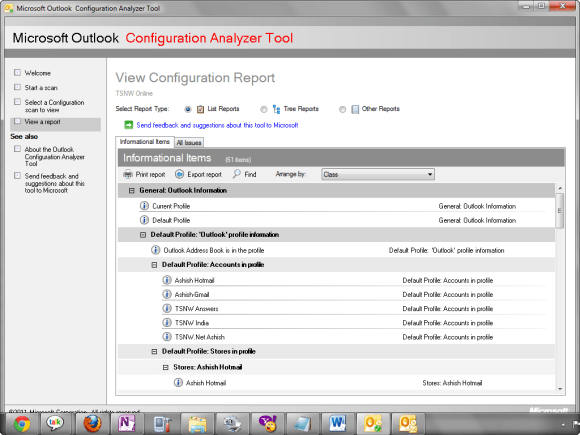 How to use OCAT :
Its simple. All you need run it with a label i.e. a Report name with All or Offline Mode. For All you need to keep outlook running. Once done you will get to see report which you can see in form of List or Tree View with every minute details. Click on More information to find help in resolving this.You can rerun the reports again with a simple click.
Download
Download it from official download page.