As new versions of Office Rollout, it becomes important that a document sent also works in the old version. You may never know the version of your Office your client is using. Microsoft Office offers a Document Compatibility Checker for all its Office applications, including Word, Excel, PowerPoint. In this post, we will learn how to check Microsoft Office Document Compatibility with the older versions.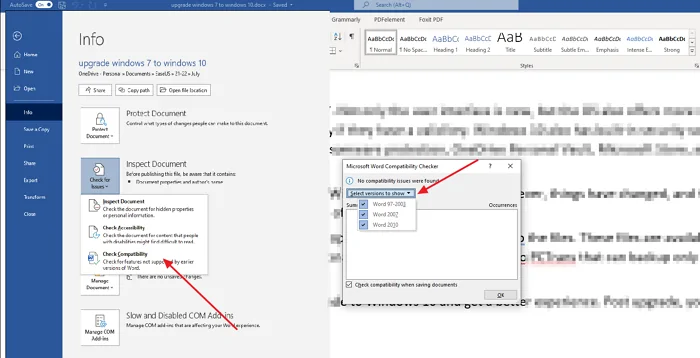 This applies to Office 365, Office 2019, Office 2010, and Office 2007. The options may be different.
How to Check Microsoft Office Document Compatibility with Older Versions
Open any Office File. I am using Word here.
Click on File > Info to reveal all tools that can display information about the file.
Click on Check for Issues button
Then click on Check for Compatibility
In the Compatibility Checker, select the version (Word 2003, Word 2007, Word 2010)
If there is an issue, you will get notified about it in summary.
Also, be aware that when a file is opened on the client's PC, and there is an issue, the document will automatically open in compatibility mode.
Compatibility Checker in Office Word/Excel/PowerPoint 2007
If you are using Office 2007, then here is how to check the compatibility mode. While the example below is for Word, the same applies to PowerPoint and Excel.
Microsoft Word 2007 has amazing features which are more interactive and includes a lot of dynamic objects. However, these features and objects are not supported in older versions, i.e., 97-2003 versions of office.
So now if you prepare a word document using office 2007 and send it to somebody who is having an older version of Office, say 2003, what is going to happen is he will not be able to see those features, and it will be a big mess. Here is a small tip that you should always use to check if your word document is compatible or not.
Click on the Home menu of Word 2007 (located at top left)
Then Click on Prepare, and a lot of options will greet you.
Click on the last option, which says Run Compatibility Checker
It then checks which features will not run and give you an error message. It will also tell you what will happen with that object if somebody opens it in an older version of Microsoft. Let's see an example. I inserted a Smart Art Graphic in a word document, and this is what came as output.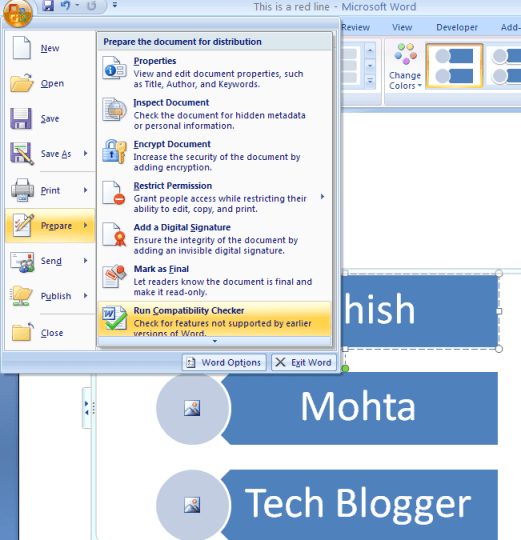 The checker gave an error Message with probable output.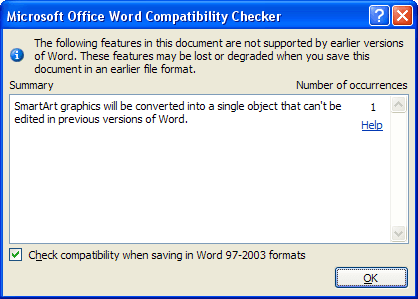 This is an essential thing when you create an important document. It would help if you always took care of the possibilities that a person might face. I have heard from many people that the client yelled at them, saying your Word document shows garbage and not how it was supposed to be. I hope that helps.