Gmail gave me a kind of surprise by asking me to suggest Buzz which looks like Google's own Social Networking sites where you can share updates like Twitter, photos like Flickr, Videos like You Tube and start conversation like Orkut.
And Can update your twitter status, Aha that is interesting now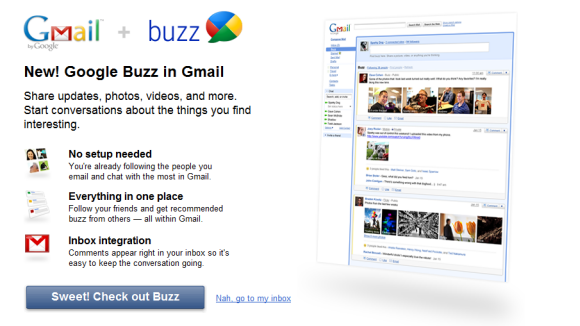 However few advantages you get here when you start using,
You don't need to follow people from zero. Gmail Already knows to whom you talk more and they are automatically added to your account.
You never have to leave Gmail. Its built completely inside it.
Google got everything in here, well everything you share and is open to public. Your Google Reader comments, picasa albums, chat status messages will appear as post now ( Thats annoying a little though, drop them from connecting sites. )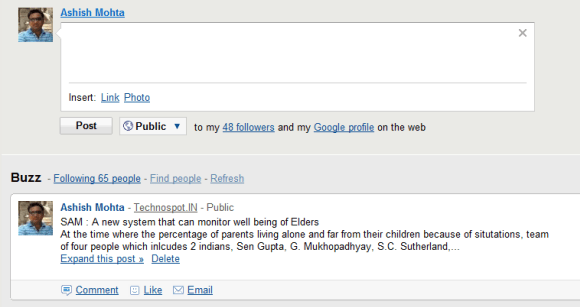 Anything to say beyond this will be early for Buzz but lets look from the other angle.  When already Twitter and Facebook  are dominating the social market what was the need of Buzz ? I guess its not just need of market share but there can two major reasons:
Its more about knowing you and to whom you are connected. The speculations have been made many a times and The more Google knows about how you connect to internet better search result it can get you.
Google has so much of applications right from Orkut to Youtube but using them all one by one is a pain in ***. A part of it is already there in Buzz but Google should integrate all their apps here if they want to compete this in future. This way their application will not only be used more but users will love it.