Lets say you have an excel files where there are lot of errors being displayed which would be calculative or conditional which would look really bad when you print it . If you want to skip it there is a very easy way to do it.
In Microsoft Office Excel 2007
Go to Page Layout Tab and Select Print Titles
Now select Print Section and See the Dropdown given for " Cell Errors as "
It can be optimum to select n/a or just blank while printing it. You can even give your own text.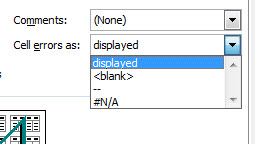 So just relax in case you want to print your excel file clean and neat. Moreover there are comments also availble which you want to print but not along with the cell which would make things messy. You can select here to make it print at the end together.