Online Clock Radio is a combination of an Internet alarm Clock and an Internet Radio.
Access the page, and simply choose a Radio Genre, it has 18 different genres to choose from, every genre has a huge list of Radio Stations, you can choose the one as per your taste.
As stated above it has an Internet Alarm Clock as well (like other internet alarm clocks, alarm enabled once rings at the specified time, irrespective of the status of your internet connection), you can schedule it as per your requirements.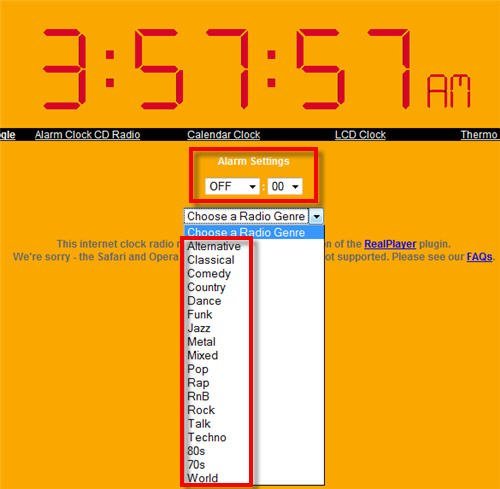 Real Player Plugin will be required in order to listen the radio.
Online clock Radio has 5 different skins can be accessed on the top-right of the page, and 4 different sizes for the clock accessible at top-left of the page.
However we don't have an option to choose the alarm ring, but the alarm ring here is soft on earlobes, overall, a nice solution for music lovers, and its added ability to keep you reminded for your schedules via this alarm clock makes it more lovable.