The process of designing your business or organization's stamp has now become an easy job due to the online custom stamp generators. This online stamp-making process gives you the liberty to create a custom stamp online to meet your specifications in just a few easy steps.
However, you'll be wasting time designing and will have to be satisfied with subpar results if you utilize an unreliable online stamp-making tool that does not have the latest capabilities. Therefore, choosing an efficient and reliable custom stamp maker is crucial to designing your custom stamp online.
How do you select the most reliable custom stamp maker when the market is brimming with choices? If this issue is bothering you, don't worry anymore. In this article, we will guide you through the most effective custom stamp makers available online.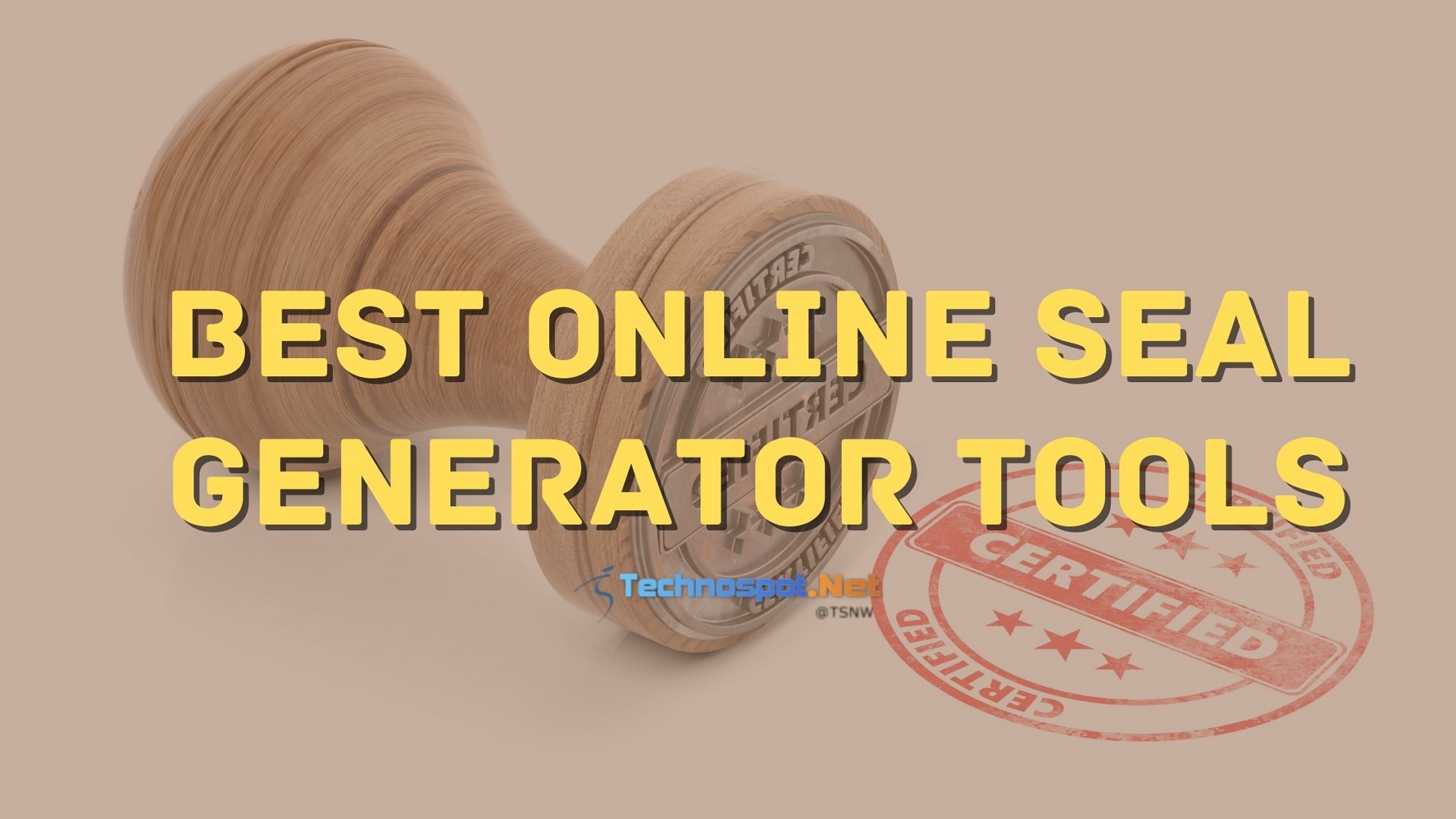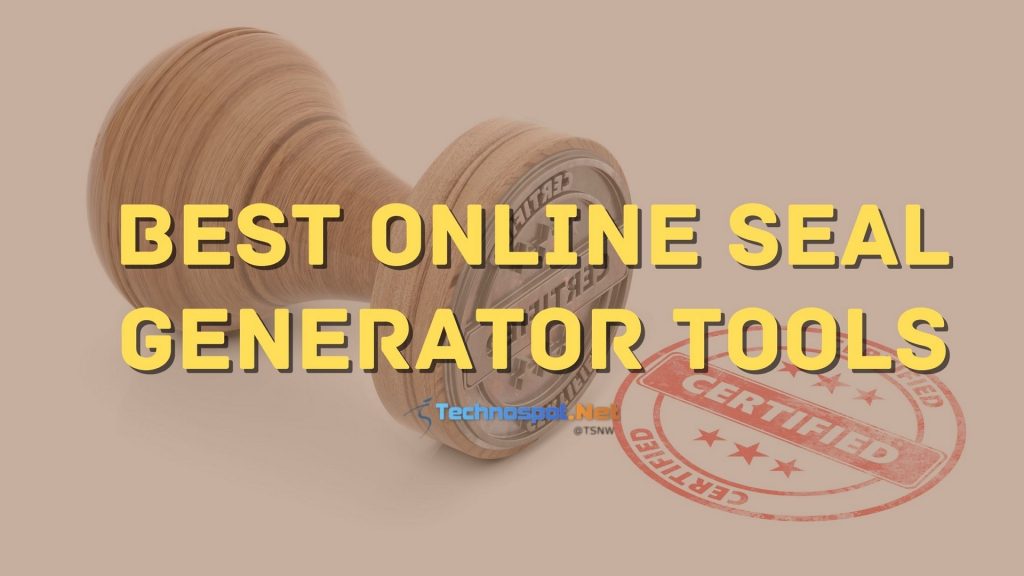 Best Online Seal Generator Tools
Below given are some of the best online custom stamp creator tools. These tools have been trusted by thousands of businesses and professionals worldwide.
MyStampReady
StampMakers
Graphic Springs
DesignEvo
Make sure to check them all.
1. MyStampReady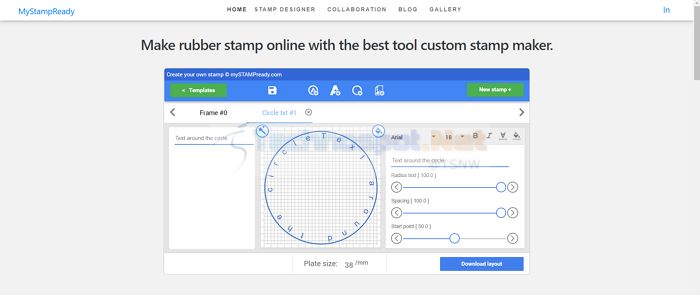 This stamp-making portal online offers a cutting-edge seal maker tool that lets you make and design a custom stamp on the internet effortlessly. This portal provides the unique opportunity to create stamps with different shapes, such as round, triangular, or rectangular stamps. The design tool's intuitive interface lets users design their print layout without the skills required to use programs like Corel Draw, Adobe Illustrator, and Adobe Photoshop. So, anyone can create the seal and stamp with any level of complexity with this tool for designing logos.
The most notable feature of MyStampReady is the capability of creating layouts using vectors. There are a variety of advantages to making use of vector images. You can expand your photo in any dimension, from 1 pixel up to infinity.
MyStampReady offers the ease of downloading the design of the seal or stamp in various formats like PDF, PNG, SVG, and DocX. With this program, you can alter the size, modify the fonts, experiment with the design elements, and finally arrive at the final design.
The stamp maker generator that you can customize is user-friendly and offers a smooth interface.
2. StampMaker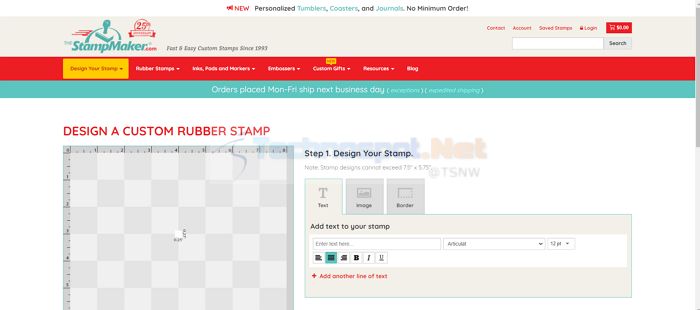 Stamp Makers is a leading online rubber stamp software offering various stamps such as pre-inked stamps, self-inked stamps, regular seals, and other stamps. StampMaker provides the fastest turnaround time for businesses and offers tools for users to design personalized stamps. The website provides a simple custom-designed online stamp-making process that makes stamp design an enjoyable experience. The site makes use of state-of-the-art equipment to produce premium rubber stamps.
The StampMaker is distinct in comparison to other stamp manufacturers due to its online stamp templates. Each stamp template comes with simple, easy-to-follow instructions and is supported by experienced and knowledgeable customer service. You can create your stamp online or download the ready template easily. Make your stamp design round, square, or triangular in three simple clicks with the help of this online stamp and seal generator. Once you have created the layout, you can download it.
3. GraphicSprings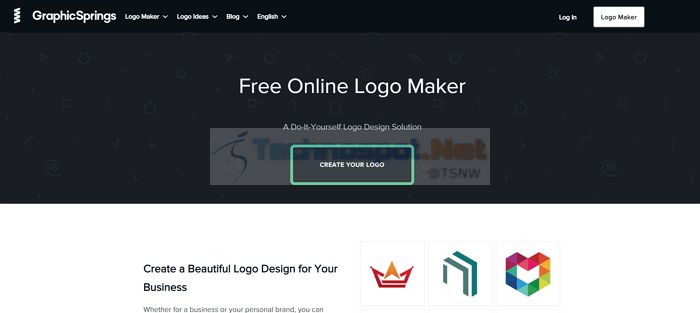 GraphicSprings is a no-cost Stamp logo maker that lets entrepreneurs, small-scale businesses, startups, and non-profit organizations design professional stamp logos in only a few minutes. GraphicSprings provides a simple logo design solution.
GraphicSprings has user-friendly interactive design software you can design your stamp logo in a matter of minutes. Pick from thousands of high-quality vector images to begin. Contrary to design agencies, GraphicSprings doesn't have any costs for setting up. Your stamp can be customized, and you pay for it to be downloaded once you are satisfied.
Stamp logo files created by this logo maker can be downloaded from us in PNG, SVG, and JPG formats. There's no waiting time or access to our engine for design is free. Start today and start tackling your business's design requirements by using GraphicSprings Logo design software. Whether you're searching for an image logo or real estate logo construction logo or another branding, there is an appropriate design.
4. DesignEvo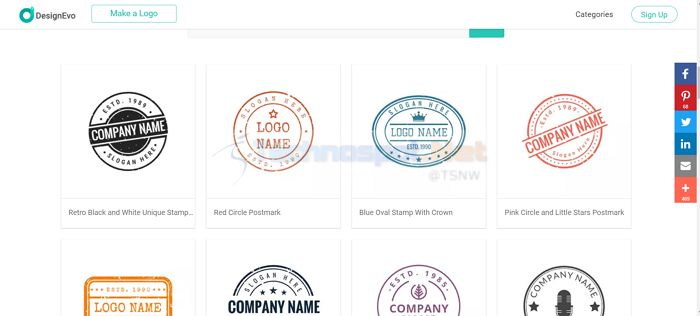 DesignEvo's stamp-logo generator lets everyone create a stamped logo with ease using its numerous templates. The available templates are designed to give you a constant source of inspiration for creating an appealing logo for your company. A good stamp logo can have a significant impact on branding. If you're looking to make your logo impressive, select the template you like best and then customize it with various icons, gorgeous forms, elegant fonts with powerful edit tools.
There are a variety of logo colors and combos available to select the best logo color scheme for your company. You can search for 100+ logo fonts with different styles and pick the most appropriate font to design your logo. Your logo could be created with a transparent background or a solid or gradient background. Choose from the thousands of vector icons available for free and pick the most appealing one to begin designing your logo. Create your logo design at no cost using our easy-to-use and powerful tools for editing logos. The logos you have created can be saved online without any trouble. You can access and edit them at any time- download logos in high-resolution PNG, JPG, and vector formats for various purposes.
Are The Costs Of Creating Digital Stamps More Costly Than Using Offline Services?
Digitization has made things easier for us. We are used to making the most efficient use of advanced technology, but we also efficiently utilize the technology. Creating an online stamp, seal, or signature to use for your business or any other personal use is much cheaper than using an offline service.
Can I Create The Stamp Through My Phone?
To create an online personalized stamp, all you need is an internet connection. Whatever device you use, whether you're using a tablet or mobile phone, a PC, or an intelligent digital device, can be used to offer the services that come with an online tool for stamp makers.
Can I Customize The Stamp I Have Made Online?
You can indeed customize the online stamp many times after you have created it. The unique part is that once you design your stamp online, you can edit or modify it at any time and from anywhere. To modify the stamp you have already created, you need to upload the original image and follow the exact steps you did when making the stamp. You can alter the style and layout and change the words to suit your preferences.
Conclusion
If you're trying to create seals or rubber stamps to use in your business or office, this can be accomplished effortlessly by making use of a seal-maker program online. Digital seal makers are easy to use and assist you in creating professional-looking stamps that can be customized using any image or logo of your business. The seal maker software that is free to download full version is offered for download and can be easily used online by anyone.