Online file conversion is something which really makes it damn convenient to convert files from one format to other, without any type of installation.  Wn often need to convert video, pdf, images, word documents and what not. I am listing down six services which you should bookmark.
#1 online-ConVert.com
online-ConVert.com allows you to several types of file conversion, and also slight editing as well. As shown in the snapshot below, you will first have to choose the converter you want, like for image conversion you will have to access the drop-down menu on 'Image Converter', there you can select the format to which conversion is to be made.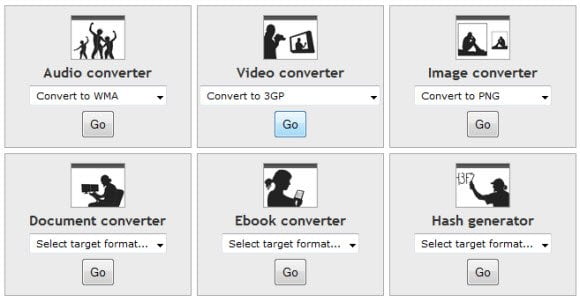 Now you will be redirected to a page where you can select the settings for this conversion, as shown below, you can upload an image from your hard disk or an online image can be converted using the URL.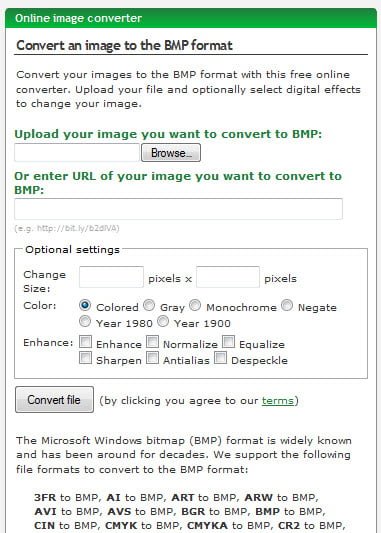 #2 Convert.Files
Another file conversion portal with loads of options, simple interface, and pretty fast too.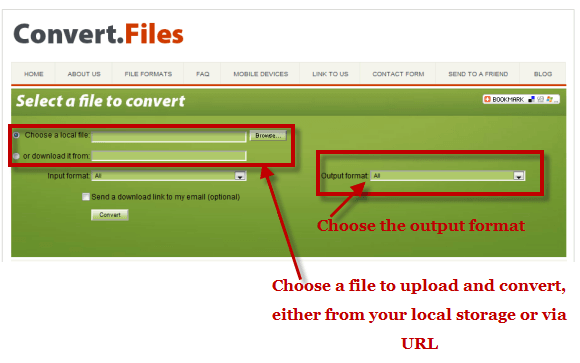 Working of Convert.files is as described below.
Locate the file to be converted, either on your local storage (HDD, Flash drive etc.)  or by providing the link of file.
Later select the output format, if you want you can choose to get the download link in email as well, I personally recommend using link in email option, because while trying out this tool, sometimes I didn't get the download link for the file, but it got delivered in the email.
Read more about Convert.Files, Try Convert.Files
#3 Zamzar
Probably the most popular file conversion service, loads of conversion formats are available here.

Steps involved in any conversion are as follows –
Choose file – simply locate the file, either the URL, or from any other storage device.
Choose the format – specify which format you want as output.
Give your e-mail address – the link for the file download is sent on this e-mail address.
Finally – hit the convert button.
Read More about Zamzar, Try Zamzar.
#4 Convert PDF to Other Formats and Vice Versa – PDF Converter
An awesome online tool to convert PDF files to other formats, and also to convert MS Word, Excel, etc. to PDF.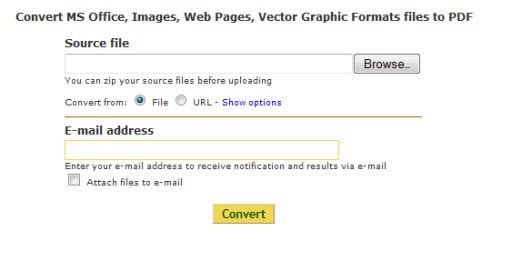 A simple procedure as described below is to be followed –
Either upload the file from your local hard drive or any other media or you can also pick it from any website, specify your conversion criteria and hit convert.
You can either download the file from this page itself after conversion or you can also specify your e-mail address in order to get the output file in your inbox.
Read More, Try PDF Converter.
#5 Another PDF to Word conversion – ConvertPDFtoWord
ConvertPDFtoWord is another nifty online tool to convert the PDF files to word, also it serves as a Portal to several other file conversion service/online tools.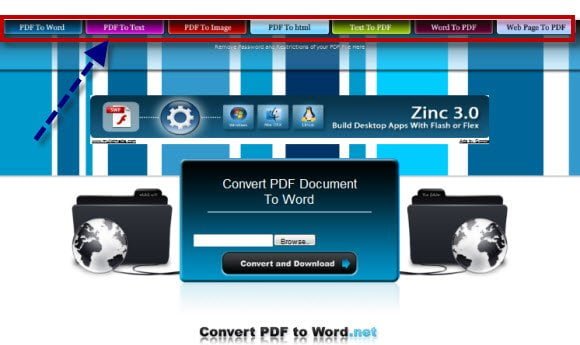 Read more, Try ConvertPDFtoWord.
$6 Convert Documents and Images to PDF – Online PDF Generator
Online PDF Generator is capable of converting any Image and Document to PDF on the fly. Read More.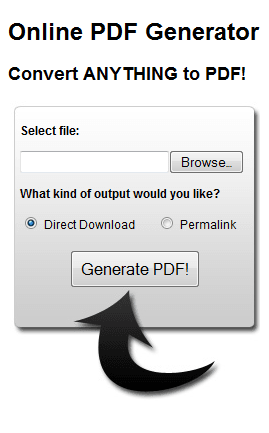 In my opinion, none of your file conversion needs will ever need an online tool beyond this list, I have tried all of them, and they work pretty well, give them a shot and share your views about them with us via comments.