Tube Chop definitely is a nice option, when it comes to Cut and Share the specific part of videos on Youtube.On the same lines, Splicd is another online tool. This too provides the URL for new Video, and Embed Code too.
So whats the difference ?  Unlike Tube Chop which first searches the video and then chops the video, Splicd needs the URL of Video from Youtube, i.e. search the video on Youtube and copy the URL to paste it on Splicd. Thus if you know which Video You need to chop just add the url to Splicd. So dont chop just slice !!! LOL

Now, the next step is to Enter the Time stamps, the starting point, and the end point, to get this accurately you need to watch the Video on Youtube at least once.
Click on the 'continue', and that's all for this session with Splicd, the page now will have a look like this, which has the URL for new video (with customized length), Embed code for the same, also, the links to view original Video on Youtube, Play the whole video here itself, Play the new Cut version, or click on the Share to Email the URL to friends.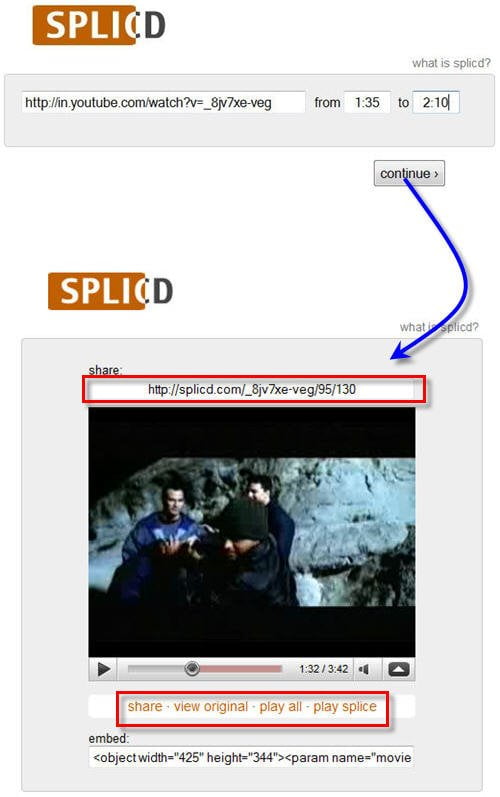 Both Tube Chop and Splicd are nice tools, Cut as per your requirement and share, using the URL, the idea of both the services is same.
I found Splicd, to be faster than Tube Chop, another thing very impressive about Splicd is the URL, using which you share the videos, renders the whole video with original length, but loads only the part which you wanted to play from the whole video.
Now if the person whom you sent this 'Cut' version, wants to enjoy the full video, can easily do it.