I am sure you would have used PDFescape at some point of time. PDFescape is a free online tool, which can be used to serve all your PDF file related needs, like a reader, an editor, form filler and much more. You can simply go to the PDFescape official page, and start using it instantly, as such you don't even need to register or sign-up with them.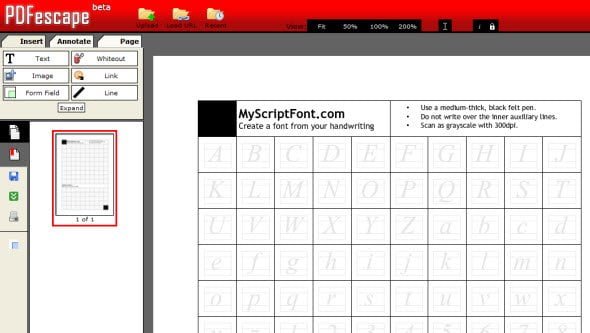 Now, here is PDFescape Firefox add-on, and talking about why this add-on should be installed, its features etc., here is the list –
Open an online PDF file in just one click; this works even if there is no PDF reader installed on your system, like Google Chrome (has the ability to open a PDF even in absence of a PDF reader installed on the system).
The opened PDF file is in ready-to-edit mode, edit it to suit your requirements, and save it on your disk.
Filling PDF forms becomes a damn easy job.
Three types of editing is possible, to name them, Insert mode – to insert text, image, line, etc., Annotate mode – add a sticky note, or highlight something, Page edit – rotate, move or delete a page.
You can also save the changes, download, or print directly from the interface.
If you are a frequent user on the PDFescape's web interface, you can even upload a file instantly. No need to manually go to the PDFescape website.
I went through the reviews of this add-on and found someone reporting – "This add-on slows down your browser speed dramatically", and to be true I dint find any such issue, it works great for me.
Choosing PDFescape as an online to meet all your PDF files related needs is great idea especially if you are on somebody else's computer, and if you are not much into PDF files but need to read or edit a PDF file seldom, this is must have add-on for you. Moreover, the free options to edit a PDF files are limited, and often aren't the great ones. However, if the PDF file you are working on is a confidential one, go for some offline application, uploading a confidential file to external servers might not be a great idea.
So, go ahead and Install PDFescape add-on on your Firefox 4 (supports older versions too), and share your views about it with us, also do tell us if it reduces the speed of your browser.