Do you want to open files with a different application? Generally, when users double-click on a file, it opens with the default application. However, you can change the application and open the file with that. In that case, you must download that program and set it as default. In this post, we will share how to find alternative programs to open any file.
When you right-click the file, you will see a list of options. One of them is Open with. Clicking on that will show you the list of compatible applications with which you can open the file. From there, you can choose the program you want.
How To Find Alternative Programs to Open Any File
Finding such alternative programs is not easy. To help our users, we have listed the top applications to help you locate alternatives or appropriate software to open files. These are:
Open With
AlternativeTo
File Viewer Lite
The above ones are multiple programs one can use to open files. Let's take a look at the list compiled here that will help you to choose that are according to your needs –
1] Open With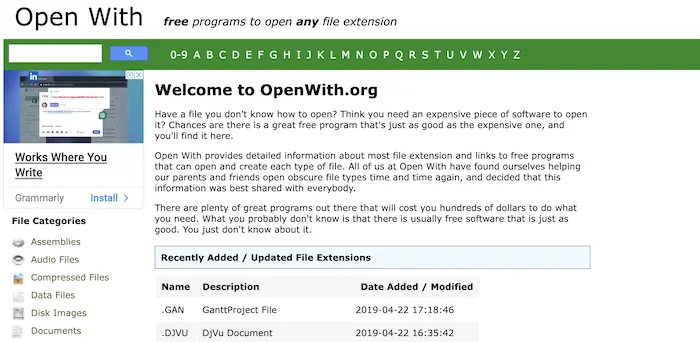 Open With is one of the most popular platforms for locating programs to open file extensions. Run and maintained by a team of computer programming experts. The website came into existence to help out people. Since then, it has grown enormously and has created a name for itself.
Open With allows users to search for programs to open different search extensions. You can quickly type what you want in the search bar and get instant results. However, the website also lists recently added or updated file extensions. That makes locating the extension extremely easy.
Another fascinating aspect is the list of file categories on the left side of the website. These include assemblies, audio files, compressed files, etc. You can click on any category and get the program you desire quickly.
Why do we like it?
The website is unlike any we have ever seen. The friendly approach makes it easy for users to try the programs offered. Plus, they provide free software. You don't have to pay a penny for any software you get from here.
2] AlternativeTo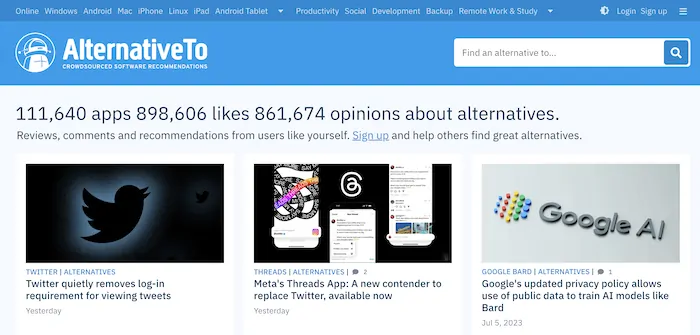 Another excellent website that helps users find the right software is AlternativeTo. The primary aim of the platform is to offer alternatives to known software. That means you can look for software you want to replace here.
On the top of the website, you will come across Platforms. Clicking on it will give you a list of platforms for which software is offered. These include Desktop, mobile, tablet, DEV, etc. There are several sub-categories too.
Just beside Platforms, you will find the Categories option. When you click on it, you will see a list of options. These include Office & Productivity, Development, Games, File sharing, etc.
You can also use the search bar to locate alternative file-opening programs. The user interface is simple and makes it easy for non-tech-savvy users to opt for it.
Why do we like it?
What we liked the most about the website was the simple user interface. You can locate alternative programs with relative ease. Plus, the inventory is impressive.
3] File Viewer Lite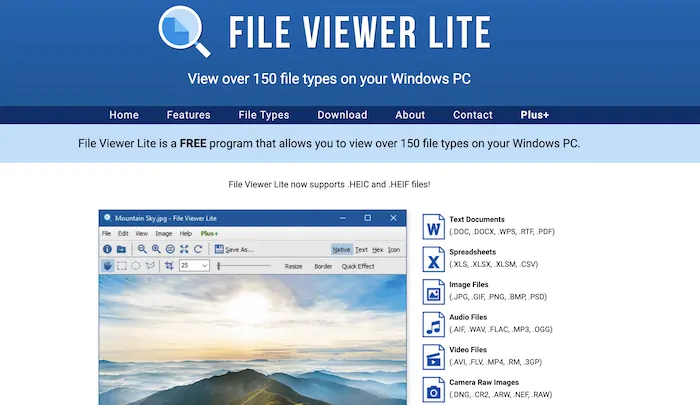 If you are looking for free programs to open files on Windows, you have come to the right place. File Viewer Lite is free and lets users view over 150 file types.
It is a universal file opener that you can use to open files on Windows PC. All you have to do is drag and drop the file on the app icon. This program allows you to open Word documents, PDFs, spreadsheets, etc. It also supports various video and audio file formats.
The program claims to open any unknown file with ease. However, users can still see the contents in hexadecimal or text if the file format is not supported. File Viewer Lite is compatible with Windows XP, Vista, 7, 8, 10, and 11.
Why do we like it?
We especially loved the variety of file formats supported. And if you have a Windows PC, choosing this universal program will not cause any distress. You can use this to open more than 150 file types. Amazing, right?
Conclusion
You can use These three applications to find alternative programs to open any file. Look at the features and decide for yourself which is the best option for you.
For instance, if you want a free program for Windows PC to open different file formats, you can choose File Viewer Lite. However, opting for Open With is an excellent idea if you want a simple user interface.