Query Builder is a hack which lets you combine multiple search criteria and use it in logical OR / AND conditions. To enable query builder in Outlook 2010 follow the same steps which we talked about in the post for Outlook 2007.
The only difference between the previous version of Outlook when compared to 2010  is in way of creating the Search Folders. In Outlook 2007 when you popup the Advance Search using the CTRL + SHIFT + F key, it also has a menu on top of the pop window which used to let you save those query as folder. This menu is missing in Outlook 2010 meaning you cannot save directly from there.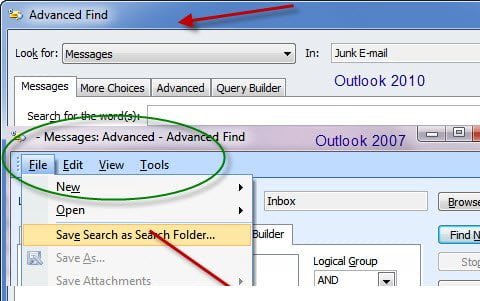 So to create search folder using the query builder we need to go there where the search folders are created.  For every account there are few default folders which includes a folder named as Search Folders.. This is on your left navigation tree menu. Click on the Search Folders and you will get a wizard which lets you create more search folder inside it.
When you click the New Search Folder Button, it opens a pop windows with title New Search Folder. This Windows has predefined rules for some specific needs for example Unread mails, Flagged mails etc.  If you have a need which is not listed there, scroll down to last option which says Create a custom search folder and click on it.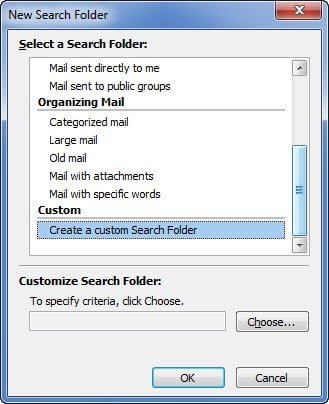 When you choose this option, by default it will lets you choose for the Account you were in. For example if you have 5 accounts and I have selected Search Folders which was under account A, it will only create search folder for account A.
If you want to switch anytime between accounts, just select a predefined rule ( Highlighted in the image ) in this list and you will get a option to choose between accounts. Then come back to Custom again.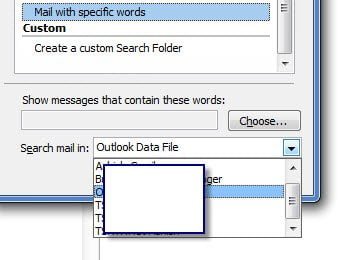 Click on the Choose Button which opens another popup window, Custom Search Folder. Here you can give a name for the search folder, Select which folder in the account should be included in the search. For example you might want to take only inbox and not the sent mails. And lastly click on the Criteria button to set your rules for filtering.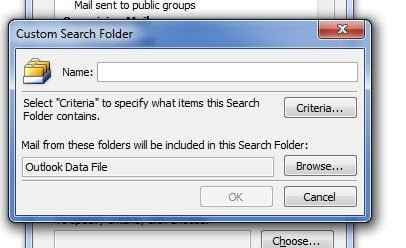 This opens the same window which you can get anytime by clicking CTRL + SHIFT + F key with Query Builder tab at the end. Now here you can create your own rules, use them together or separately and click on Ok when you are done.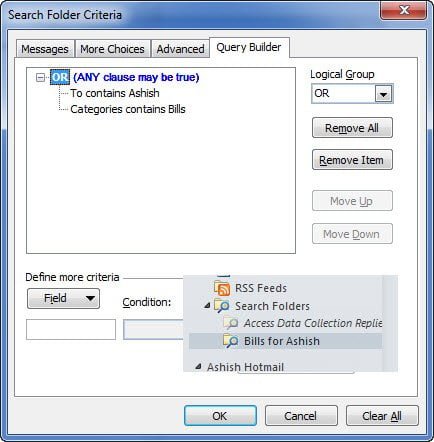 That's it, you are done. Thanks to Joe who found a solution to this when using Outlook 2010 and had explained well in his post.