Services like Box.Net, Dropbox, Mobile Me myDisk, filesanywhere, swissdisk have one thing in common, They allows you store your files in cloud and let you access it from anywhere you want. Another thing they offer is app for mobiles and tablets. Now if you use more then one service here you need to have that number of apps to be installed, configured, updated and know how to use them well.
OverTheAir app for iPad brings an end to all this confusion. It provides a universal interface to access all of these services or any service which supports WebDav which is a another protocol like HTTP. Most of the above said services support WebDav and hence can be accessed using OverTheAir App.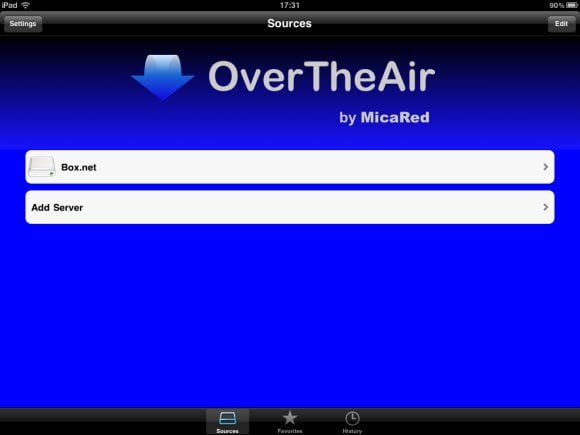 The Interface :
The simplest possible Interface where you can add these services of which settings are already predefined and all you need is to configure your account credentials in it. For any custom WebDav Service you will need to provide URL and Account Details.
Features :
Supports formats like Text File, Images, iWork Documents, PDF and Microsoft Office Documents for example.
Uses SSL so it can be used in Enterprise also.
Syncs any files you favorite offline. Any changes made can be synced back to your iPad with one button.
Maintains History  of all the files you have accessed in one place acting like a Universal History Inbox.
Sort files according to Name, Date and Type.
Allows you to Upload Images from Photo Album.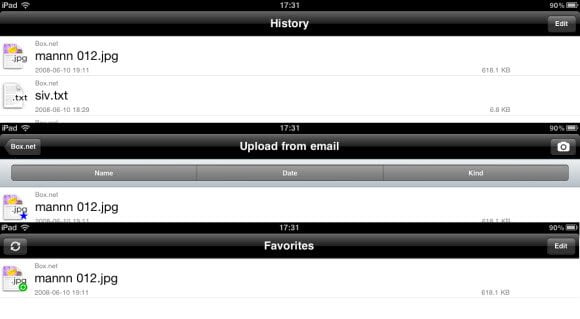 Drawback :
The only drawback of using this app is you never get full access to all the features which native app can bring you but if you are just looking for read only access to files with bit of local caching or offline support, this app is a steal specially being a free app.
Download