Known for being one of the best partition managing software available out there, Paragon Partition Manager is a suite of software tools that helps resize partitions, format them, convert disk types, and more. Proper administration and protection of data and the drives have become an inevitable part of every successful business organization.
The search for a powerful set of means for managing your valuable data has grown more than ever before. This post will review the Paragon Partition Manager Community Edition and let you know all its features, ease of access, and more.
Paragon Partition Manager Community Edition Review
Paragon Partition Manager has served the customers as a one-stop solution to manage and maintain their PCs. It is one of the most straightforward utility application featuring loads of disk management tools. The software also features a full range of disc backup and recovery tools, making it an ideal system and data management solution for every computer user.
Primary Features of Partition Software
It begins with three main features: create partitions, resize them, split them, merge them, redistribute free space, and recover any accidentally deleted partitions.
Additionally, users can align the partitions automatically to increase performance, modify the file system type of a current partition, and even control the boot process. Partition Manager also lets users choose the OS to boot from to find and fix boot problems.
The application overall has a decent User Interface and wizards that guide you through the process. While these Wizards don't have the "best" designs or are visually appealing, they're quite effective for a beginner. The Window also guides users through the user's changes, and one doesn't need to be necessarily a professional to understand and use the application.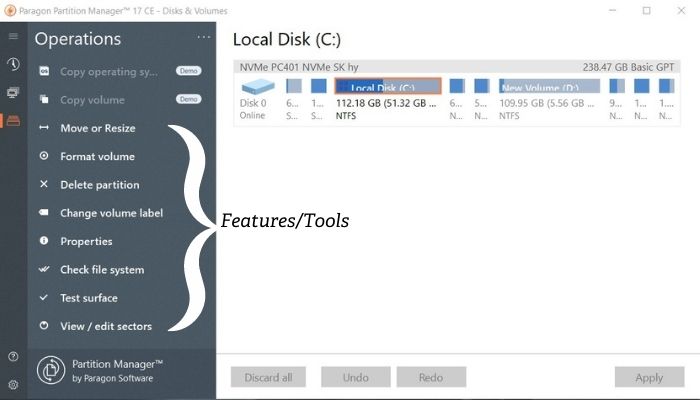 The same is true of the software's other two functions. Partition Manager also lets users create a WinPE bootable drive and have access to a command line. You can create bootable drives or installation modules or have access to a command-line at instances when required.
To be clear, the Partition Manager isn't a security tool. There's no support for scheduling regular back-ups to the cloud, nor encrypting the drives.
Drawbacks of Partition Manager Software
While there's a lot to like about the application, Paragon Partition Manager misses quite a few things. It includes the lack of hard drive diagnostic and repair features, and the ability to wipe old hard drives, and more. That said, if you're looking for a simple application to manage your hard drive partitions, Paragon Partition Manager could be a good choice.
The label also offers another Paragon Hard Drive Manager for Business application. Additional features such as Data backup, support for migrating the OS, support for virtual disks, and more.
You can check out and download Paragon Partition Manager here