Do you want to prevent snoopy friends from accessing your photos, videos, and chats? Well, that's the case, and you would be looking for how to password protect almost anything on your Android Phone! You can do so using your phone's in-built features. But those often need specific features or have certain limitations. Therefore, we will guide you about the five third-party tools that would overcome those limitations and have the required features.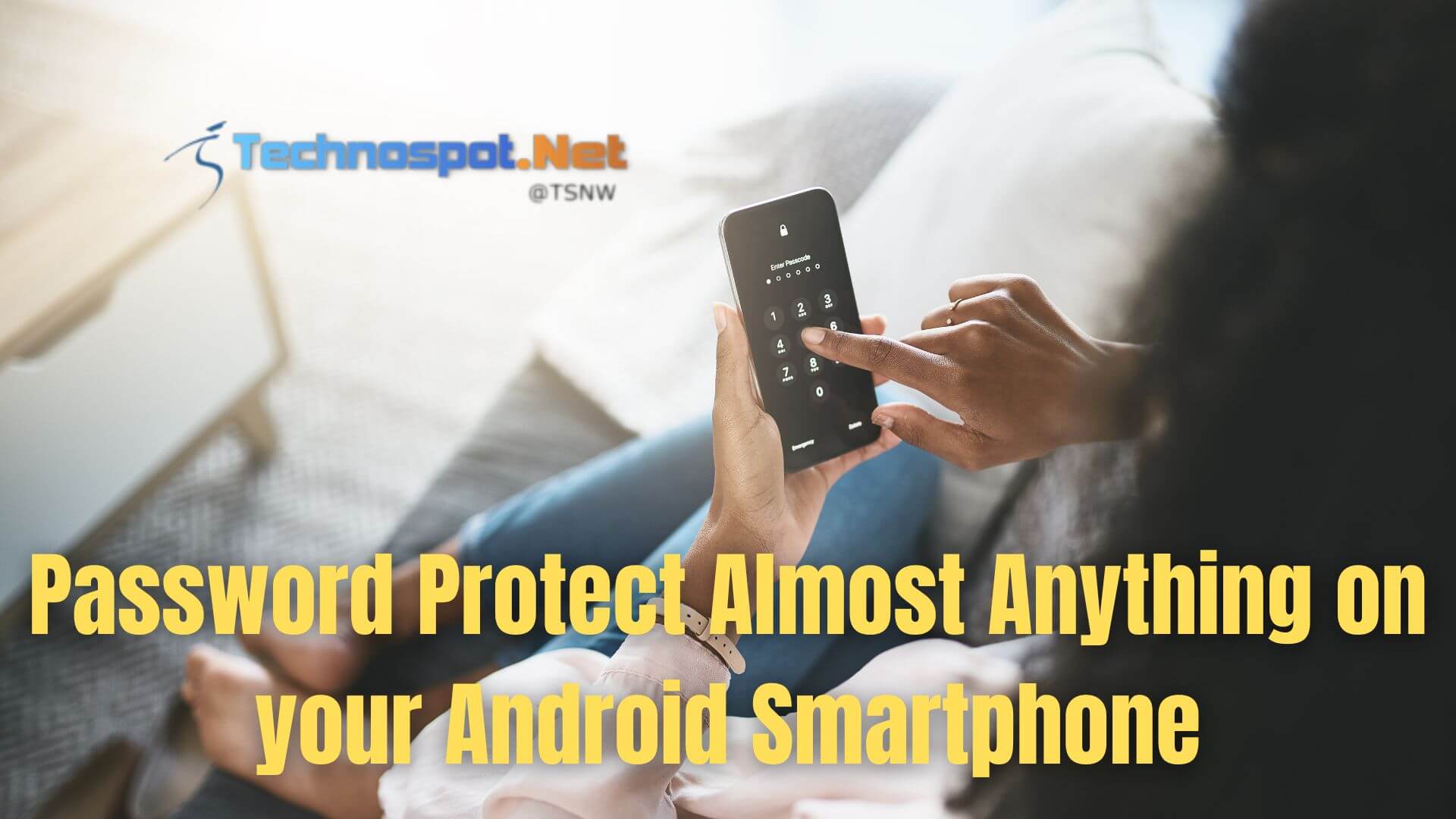 Password Protect Almost Anything on your Android Smartphone
Amongst plenty of password-protected apps, only a few of them are effective and secure. So, we have selected the best working apps for it! Below mentioned is a list of the same:
Smart Hide Calculator
Folder Lock
App Lock Pro-App Lock and Guard
Files by Google
App Lock- Lock Apps, Password
Let's review their advanced features and effectiveness!
1] Smart Hide Calculator
Would you like to password-protect almost anything on your Android Phone under the impression of a calculator? If yes, then do check out Smart Hide Calculator!
You can use it to Hide photos, documents, and apps; the app cover would have a calculator icon. The person opening it would find a conventional calculator. But when you enter the set password, a calculator shows up.
Features
It has a standard calculator appearance and function upon opening it
Password recovery mode is available if you forget the password
Access hidden files without unhiding them
Let's you set a secondary password also
Ability to refresh gallery for sync of hidden data
Allows you to freeze apps
Pros
Easy to use for hiding primary media like images and videos
Faster speed for hiding and unhiding
Larger buttons, friendly UI
Stores hidden files even after deleting them from the phone
Cons
Rooting is required to Hide apps
Obsolete interface
Check out the app here
Related: Lock Apps and Files in Android using the Built-in feature.
2] Folder Lock
Hiding photos, videos, and other files along with wallet cards? If you need password protection on your Android that can secure files and personal stuff, then Folder Lock is what you need!
You can also hide your passwords, audio recordings, and messages with it. Data loss would never be an issue with the option of data recovery.
Features
Ability to disguise it as a simple calculator in Stealth mode
Decoy mode lets you create a fake profile in the app to protect your actual confidential data
An inbuilt browser that does not keep a record of browser history
Automatically captures images of intruders accessing the app
Hides photos, videos, and documents
Protects notes files also
Inbuilt WiFi file transfer
Private contacts
Cloud backup and data recovery
Password backup
Pros
Easy data recovery
Faster secure browsing
Effective in securing files
Easy file transfer
Cons
Annoying ads with no option to skip them
No option to secure the hidden data on the SD card
Unable to Lock all the apps
Check out the app here
3] AppLock Pro-App Lock and Guard
How about someone accessing your password-protect application and a fake app crash message stops them? If that would help you hide your Vault, then App Lock Pro-App Lock and Guard would do it!
You can lock your apps and photos, which will also entirely mask the app notifications and appearance. Different lock types, including Fingerprint Lock, KnockCode lock, Pattern lock, and Pin Lock, would be a further ado!
Features
Customizable lock themes
Advanced security mechanisms
Blocks hidden apps notifications
App lock and relock timer
It rings a spy alarm when you or someone else enters the password incorrectly five times.
The spy camera automatically captures a selfie of the locked app's intruders.
Secret answer feature to recover after a forgotten password
Pros
Inbuilt trash cleaning and battery saver
Easy to use for app vault novices
Effective and reliable
Cons
Too many ads that cover the content
Random app-lock screen freezes
Check out the app here
4] Files by Google
Do you want to password-protect your files and hide them under the impression of a File Manager? If yes, Files by Google is what you need!
It has an underrated feature of Safe Folder, where you can lock and hide your photos, video, documents, and other files. Besides, it employs the latest security standards to protect your data!
Features
Inbuilt encrypted file sharing, file management, and clean junk suggestions also
File backup feature
Completely masks Safe folder
Faster browsing and multiple lock types
Ability to Hide APK files also
Offline file retrieval
Pros
Consumes lesser memory
No ads
Minimalist user interface
Conveniently Hides and shows Safe folder
Cons
Safe folder freezes in Split-screen mode
Cannot transfer hidden files to an SD card
Check out the app here
5] App Lock – Lock Apps, Password
Are you looking to password-protect almost anything on your phone with a single click? If that's what you need, then App Lock- Lock Apps, Password is what would work for you!
You can lock all your apps and files with a password quickly. Besides, you can even secure it with multiple lock types.
Features
Ability to lock newly hidden apps instantly
Automatically snaps intruders
Inbuilt private browser with password protection working in incognito mode
Let's you change this password protector's app icon
Customizable to different themes
Advanced security mechanisms
Pros
No delay in the lock and unlock
Quicker file access
Friendly GUI
One-click password protect
Cons
Intruders can change app settings without a password
Check out the app here
Conclusion
If you want to protect only files in a simple calculator, then you should check Smart Hide Calculator. Besides, if you want a password protector that even protects all your saved passwords, then Folder Lock is what you need! If you are looking for a lightweight app, then Files by Google would work. I hope you know how to lock files, apps, and almost anything on your Android Smartphone.