Sharing your computer with other users? There may be certain instances when you create a bookmark and want to keep it private. While Chrome and Edge do offer the ability to bookmark tabs, and its built-in bookmark manager is intuitive and fun to use. However, it lacks one major feature: the ability to password protect bookmarks, especially in InPrivate mode.
While, as of now, there is no built-in way to secure your bookmarks in Chrome using a password, there are several simple, easy-to-use Chrome extensions one could use. In this post, I will guide you on how one can password protect bookmarks in Chrome in InPrivate mode.
Password Protect Bookmarks in Chrome and Edge InPrivate Mode
Chrome's extensions could come in handy when one could go about just installing a single extension for password protecting bookmarks in Chrome.
Hush
Secure Bookmarks
Private Bookmarks
These extensions will also work on Microsoft Edge Browser.
1] Hush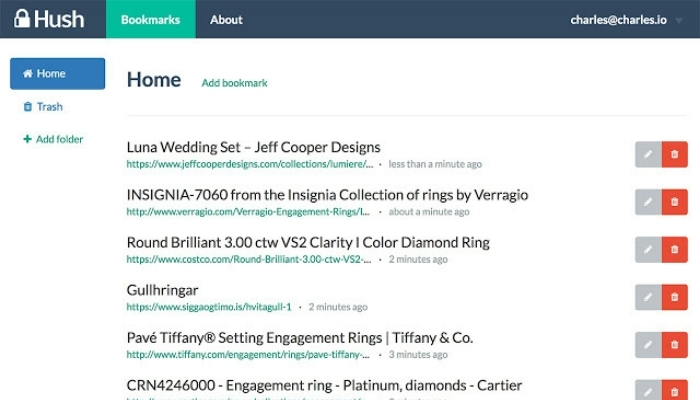 Hush is a fantastic add-on and even functions exclusively in InPrivate mode. Enable the extension access to InPrivate mode after downloading Hush. Users will be asked to enter a password, and you will need to use the password if you try to add or introduce fresh bookmarks.
The extension runs completely independently of the Chrome and Edge Bookmark Manager, but if one wants to import current bookmarks to Hush, he'll require a paid plan to do so.
Whenever one wants to insert a bookmark, tap the Hush icon next to the URL bar, enter the password, and select the Bookmark button. One may also opt to bookmark all available tabs by clicking the down arrow next to the Bookmark button and then clicking All tabs.
Next, when viewing the bookmarks, one can do so by pressing the Display button on the Hush pop-up, and the extension will take you to the devoted bookmark management screen. By default, all bookmark folders are on the Homescreen. One could also create new folders, but unfortunately, the feature is restricted to the paid version.
NOTE: To enable Hush to operate in InPrivate mode, select the Hush button, select Manage Extensions, and then toggle on the next switch to Activate InPrivate
2] Secure Bookmarks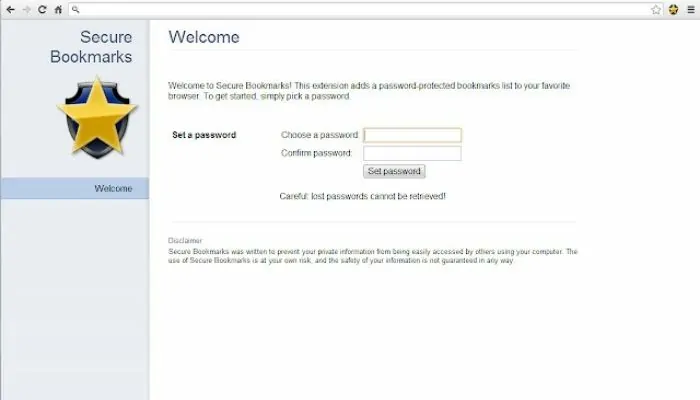 Safe Bookmarks does seem a little dated, notably on Chrome's present Material Design theme. However, it is totally open, operates in standard and InPrivate modes, and offers in-depth control tools for bookmarks.
Similar to other tools, one needs to construct a password to get started. To bookmark a website, all one needs to do is click the Secure Bookmarks option and then press on Add Bookmarks. To discover further extension options, press the Settings button.
Next, one gets access to a wide variety of options conveniently classified as Settings, Import & Export, Backup, and Reset labeled side-tabs. These are fairly self-explanatory, which allows serious functionality.
For backup, one can also opt to store your bookmarks in several unencrypted formats—TXT, HTML, etc. The only unfortunate part is the extension's failure to provide cloud-based backups, but one can't possibly argue about what it already does without costing a quarter. Overall, the Secure Bookmarks extension works phenomenally well.
3] Private Bookmarks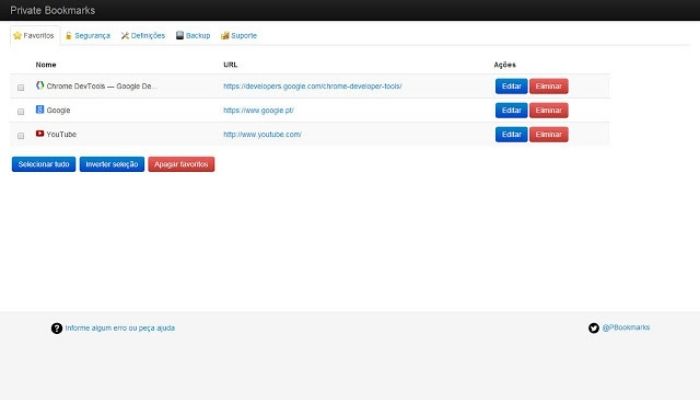 Private Bookmarks is another browser extension, which is a great basic option if you're not looking for several bells or whistles. Similar to others, Private bookmarks adds a button to Chrome's top toolbar for easy access. Upon setting up the password, one can easily add protected bookmarks by opening the extension and clicking Add to private bookmarks.
Private Bookmarks is a great option if you're looking for simple functionality. It lacks some of the complex features, such as organizing bookmarks into folders and more. That being said, one won't require to upgrade to a paid plan in any instance.
With that said, How often do you bookmark pages? Do let us know by dropping a comment down below.