PDF is the most popular document format that is used everywhere. At times we need to edit the document and finally convert it into a different format. Converting PDF into Word, Excel, PowerPoint is not straight forward in Windows. It is where we are introducing you to PDF WIZ. Its 100% free PDF software converter for Windows which offers more than PDF conversion.
The best part of PDF WIZ is that it works offline on your computer. You do not need to upload any document to any online service, which always poses the risk of privacy.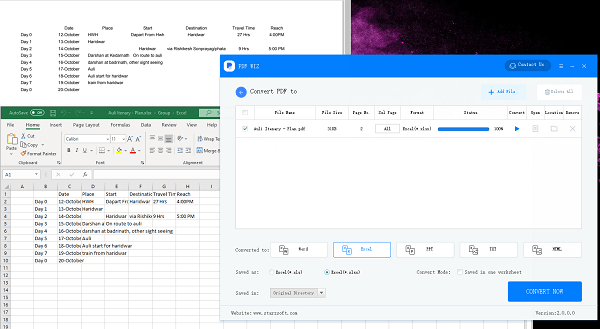 PDF WIZ — The Truly Free PDF Converter for Windows
One of the best things about PDF WIZ is that it is easy to use, and the software is lightweight. In just a few clicks, you can convert PDF documents of almost any size. We will show how you can do that in a bit, but first, let's take a look at the list of features:
1] Convert PDF to Office Documents
It can convert PDF files to Word, Powerpoint, Excel, Text, HTML, and Image. Most of the PDF files are generated from Office applications, and if you want to edit or modify it to correct, it can be covert it for you.
And if you need to convert it back to PDF once your edit is complete, you can use the same to create a PDF file or an image file from the Word document.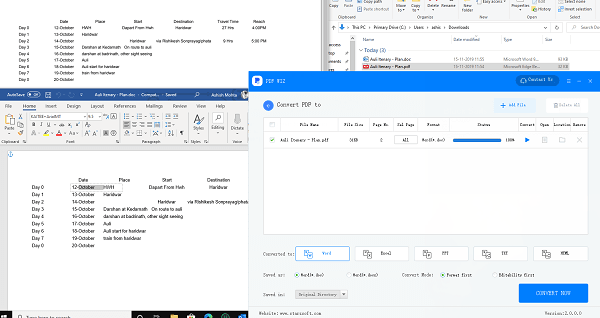 2] PDF Operations
Once the document is ready, I am sure you would also want to send it as a PDF. While most of the applications offer PDF generation., but if you want some advanced operations, we should suggest you use this software. Here are a couple of scenarios when you can use it:
At times when you need to share PDF images partially, you can separate one PDF file into multiple PDF files.
Combine multiple PDFs in one by the order you want. Useful when you dont want to confuse the client with multiple files.
Choose to reduce the size of PDFs without losing quality so it can be sent over the email.
If a PDF file has a lot of images, it can be exported using this tool.
Lastly, you can use it to extract one of the cited pages from any PDF file.
3] Bulk Conversion of PDF files
One of the strongest features of the tool is that it can bulk convert files. If you have a lot of PDF files, drop them in the tool, and select a format, and hit the convert button. All the files will be converted one by one.
It is rare to see so many features available for free, but Starzsoft, the company behind the tool has done it.
How to Convert PDF files using PDF WIZ in Windows

Download the software and install it. Once done, launch from the Start menu. The dashboard offers all the options that the software is capable of. Here I am showing how you can convert a PDF file to Excel and Word.
The sample file which I used was created in Google Sheets, then converted into Excel and then finally into PDF files. It was done on purpose to understand how it handles a file that has gone through so many conversion. Good news that it worked.
Click on Convert PDF to option, and the next screen will offer you drag and drop files or use file explorer to add them.
Since bulk conversion can only convert into one format, choose accordingly.
The next step is to choose Saved a format. It is where you need to be careful. Make sure to save in a format that you can open in the software you have. If you are not using Office, check if the format can support the DOCX or XLSX format.
Next, choose where you want to save it. The default location is where you had downloaded the software. I would suggest saving the file somewhere from where it is not deleted.
Once done, click on the Convert Now button to the start the process
One by one, all the files will be converted into the respective formats. When converting the files, if you have selected pages, it will only convert those pages. You can click on the selected Page option and enter the page number. If your need is more custom, I would suggest converting the complete document, and then use the PDF  tools to split the PDF file into the manner that works for you.
Overall its a great software, and since it works offline and is completely free, I would suggest you download it and use it anywhere you want.