For the record, PDFBear is one of the most convenient PDF sites right now, and it also provides so many useful PDF tools. If you're new to PDFBear, read this article better, which will be about PDFBear's best and most valuable tools right now.
Unlock PDF
Unlock PDF is PDFBear's unique PDF tool in which you'll be able to unlock your files or PDFs within seconds. So, how to unlock a PDF using PDFBear's unique tool? This might be your question running to your mind right now. That's relatively easy to answer. But first, know that the Unlock PDF of PDFBear is a tool that you can use for free.
To unlock a specific PDF or PDFs, you just transfer your PDF to PDFBear's tool and then provide the password you have set to that file. Most PDF sites you can find online right now also have this kind of feature or tool, but the problem is that they aren't as easy to navigate, unlike PDFBear, which makes PDFBear better than the others.
The Unlock PDF feature is also a handy tool if you want to have a password-free file to access your files much more effortlessly. However, removing your PDF's protection lock or password also has its downsides. Since you already remove your file's password, it's more vulnerable now for other people to view or open your files.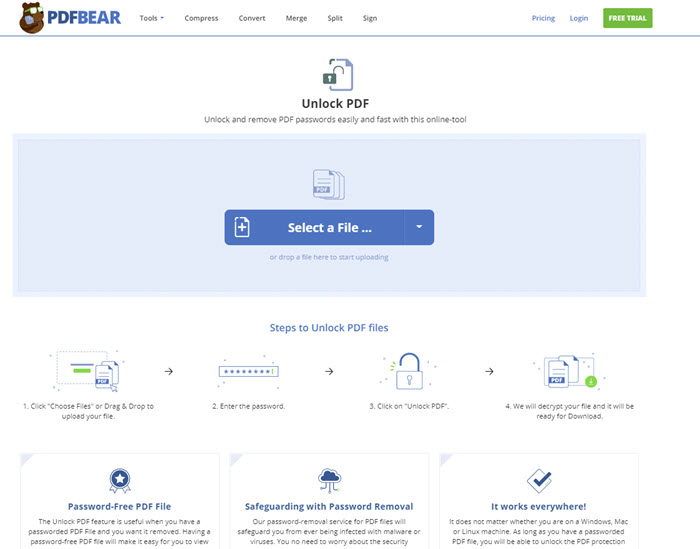 PDF Protect/Password Protect PDF
In most cases, PDF files contain invaluable information that needs to be protected so that other people or individuals won't be able to see or open your files. To do that, you need to protect your file with a password. It's the most efficient, most comfortable, and best way to protect your essential information.
Putting or adding a password to a particular file or PDF is pretty simple. The process will start by going to PDFBear's main site, and from there, you need to look for PDF Protect/Password Protect PDF. You can easily find all of PDFBear's tools since all of them can be found on its front page or the first page that you'll see when you pull-up the site.
To add more security to your code or password. PDFBear added 256-Bit protocol encryption, so once you successfully added your password to your file or PDF, it'll be impossible to be cracked open. It is a unique security system that PDFBear has, which other sites don't have or couldn't provide to their clients.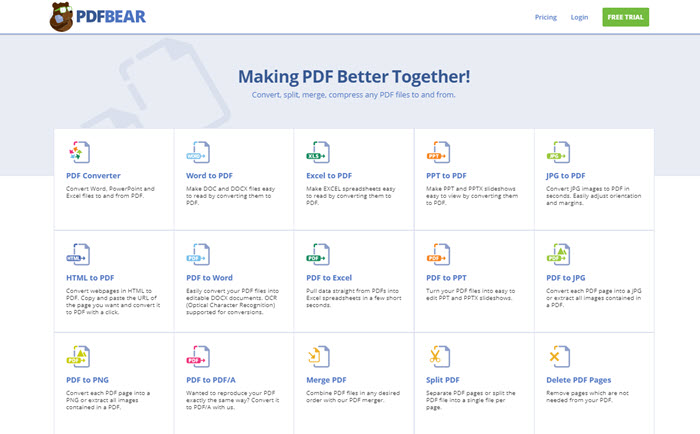 PDF Reader
This tool's name is pretty self-explanatory; with PDFBear's PDF Reader, you can preview, print, or share any PDF files you want online. Once you select the particular files or PDF that you want, PDFBear will then show your PDF to you. While your file is in a viewable format, you'll have the option to edit, print, and share your file directly online.
Number Pages
Using Number Pages, you can add numbers to your PDF pages in the simplest way possible. It's time to forget those old complicated processes for you just to add a number to your PDF. With PDFBear's Number Pages, only upload your PDF to the Number Pages tool, and it will let you select which page you want and what position you like to put it in.
PDFBear has a very user-friendly platform, which means you can pull-up or open all of its tools, including the Number Pages tool, into any web browser that you're using. An excellent example of these web browsers is Google Chrome, Firefox, Microsoft Edge, Internet Explorer, Opera, Safari, and many more.
Takeaway
PDFBear has all the best tasks you need for your PDF; all you have to do is try it. Good thing that PDFBear doesn't charge you anything for all of its brilliant tools. If you want to check some of its advanced features and tools, PDFbear offers a 14-day free trial. For this 14-day trial version, you can take advantage of unlimited tasks, No Ads, and more. So try out PDFBear for all your PDF needs. You'll never have to worry about any PDF problems. We hope this article helps you in getting to know more about PDFBear and its awesome features.