Photoshop Express is probably the best, full featured online tool for your imaging needs, it would not be less than a dream tool for you if ever you have been slightly bitten by shutter bug, you can upload up to 2GB of photos and also you can amplify them as per your taste to make them more attractive.
As soon as you sign-in for the first time upload some photos, you can choose where to upload either in library or in some new album.Now the real working of Photoshop Express starts here, shown below is the list of operations that can be performed on the uploaded photo
Wide Range of Tools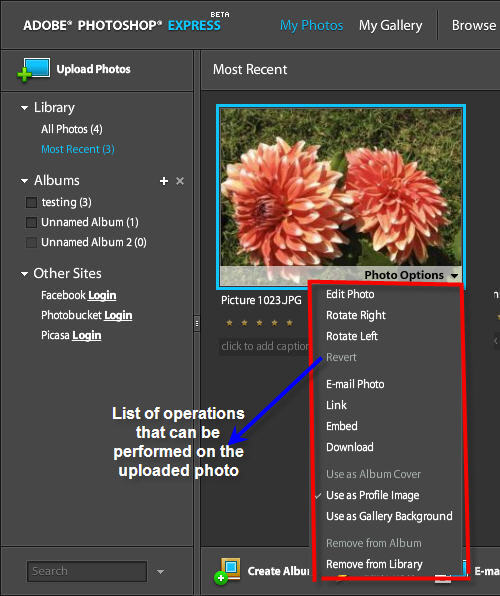 Choosing the edit picture options has a wide range of tools, in fact here you will find almost every tool you can think of while trying to edit your photos, even 'Distortion' like tools (which can help you with some funny art work) are also there, which are very easy to use.
Live Thumbnails
Some of them also offer you a thumbnail preview like shown below is snapshot for 'Fill Light' tool, based on the thumbnails you can easily have a preview and choose the best intensity of light fill for your picture.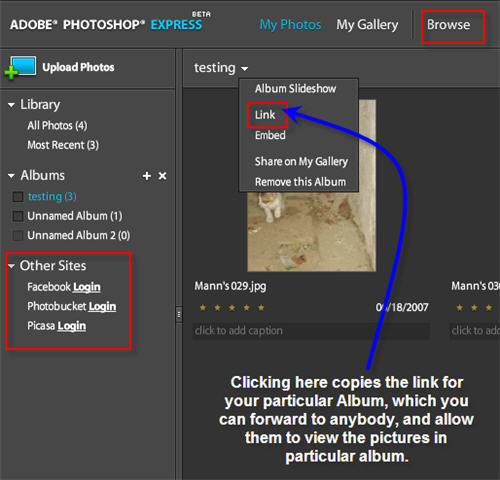 Creating Albums and Sharing
You can create albums with your photos, choosing the photos is easy, simply 'drag and drop' from library or from the other albums. Shown below is list of options for your album.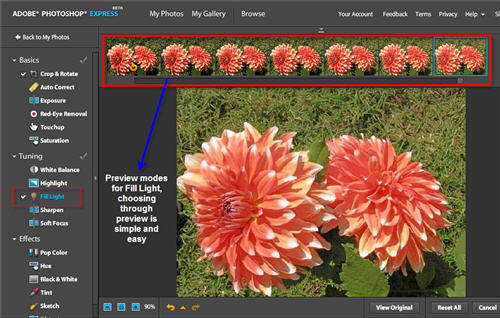 Choosing to 'Share on My Gallery', makes this album public, anyone can see the pictures in this album.'Browse' option on top allows you to visit other peoples Gallery, and view several photos.
Accessing 3rd Party Image Hosting Accounts ( Picasa or Photobucket Accounts )
As seen on left panel of the above screen shot, there is option for 'Other Sites', with the 'Login' you can access the photos on other sites like Picasa, Photobucket etc., and use them here in your Photoshop Express account.
My Experience with Photoshop Express
Very user friendly, hence easy to use.
Wide range of options to edit your photo.
Is slow a bit at times, but bearable.
Lack of a tool to add text to photos is slightly heart breaking.
No installations required, simply login and play with your photos.
Allowing comments on albums from viewers can make it a better photo sharing tool.
Overall I liked Photoshop Express a lot, what about you….? Liked it? Any enhancements you feel should be made? Have your say.