It's a great time to travel when you can have fun, beginning with planning to get home safe and sound. Planning and packing for a travel trip is a huge task. That's why it's essential to make a packing list and budget using travel apps. It can help you control the cost of your trip and to enjoy your journey. Check out these apps to pack and plan your budget to make a complete and full-proof plan for your traveling plan.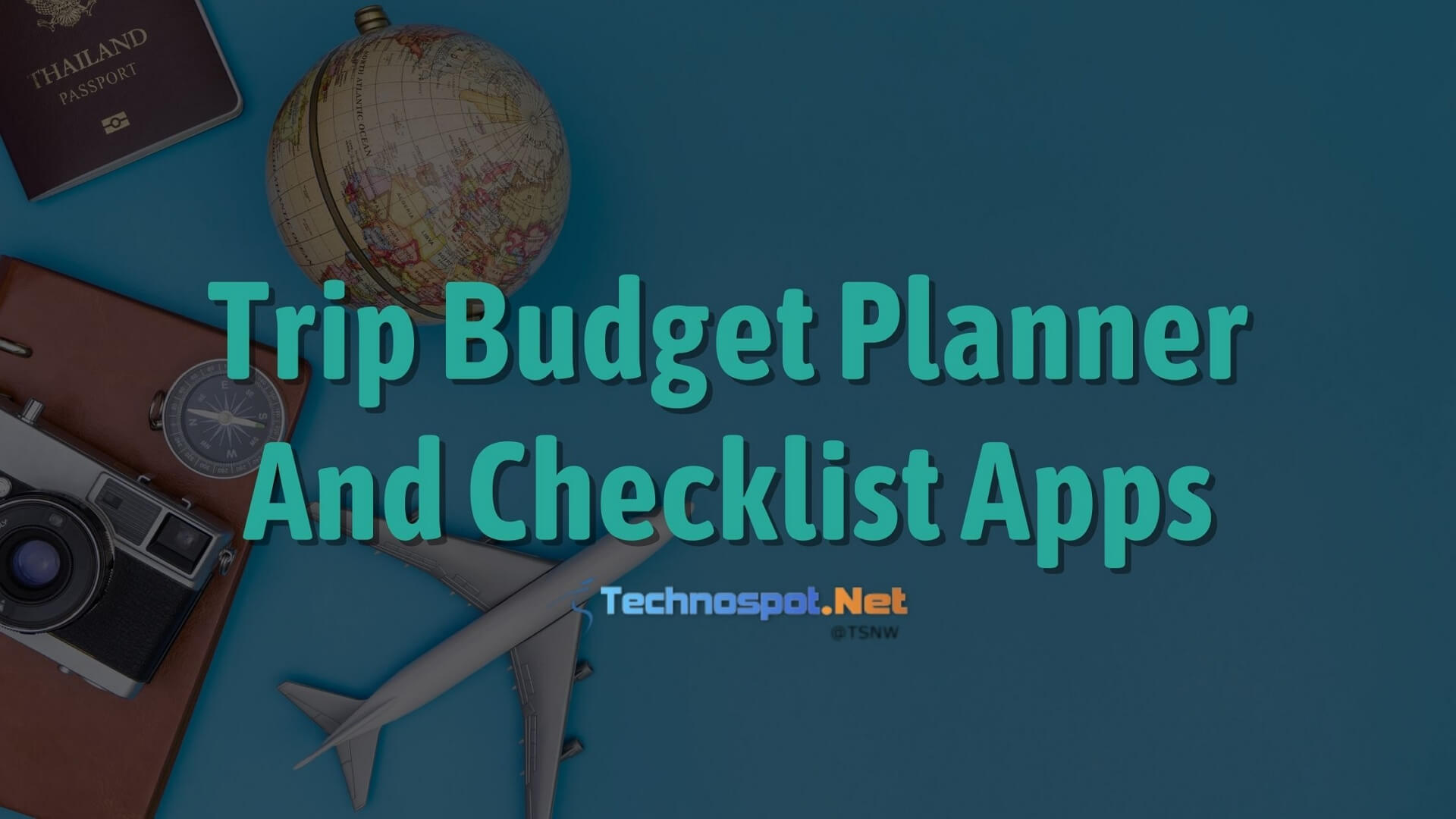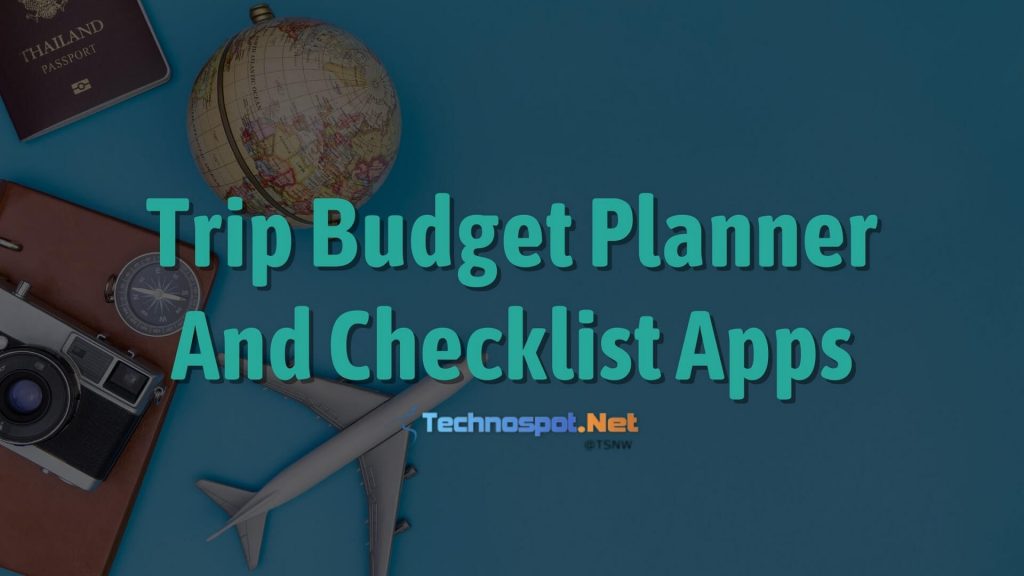 Apps To Plan Your Budget and Checklist Before Travelling
With these apps, you don't have to prepare your budgets and packing lists manually to save time and concentrate on having fun. If you're looking to go completely paperless, you should explore a few apps for budgeting and packing. These tools could be an essential factor in a stress-free travel experience.
Packing Apps
With packing apps, it's easy to pack. Find your way to your destination, and they assist you in planning your trip by booking excellent hotels and flights that will ensure your trip is stress-free. With weight restrictions that are set by airlines, packing light is now a difficult task. Even after years of travel, you may be prone to forgetting important things at home.
PackingPro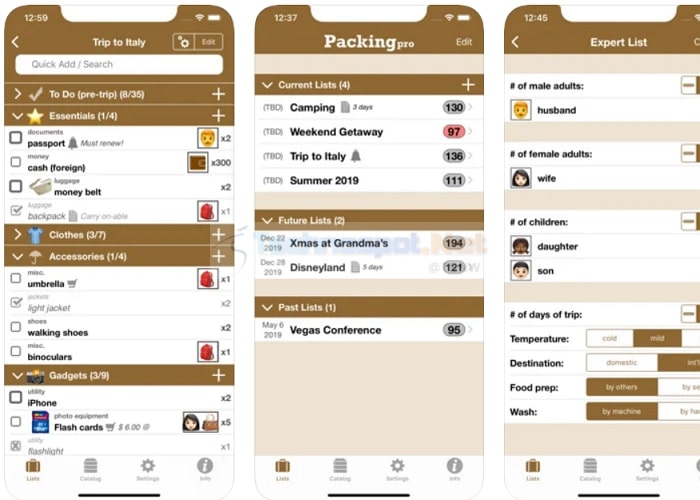 If you're traveling with your family or with many people, the PackingPro app is for you. It comes with a catalog that includes many things you can have on your packing list for traveling.
It also comes with an assistant that will create an itinerary for you depending on the number of passengers accompanying you on your trip. It lets you make a complete packing list for everyone, even your pets.
It is possible to export the list to Excel and Google Docs that you can then print.
Available on: App Store for $2.99.
PackTeo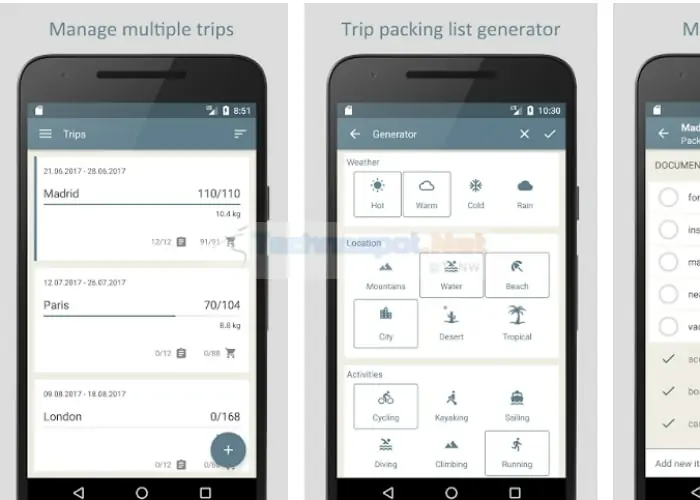 If you feel that pre-made templates are not suitable as per your packing style, then the PackTeo app is perfect for you. There are pre-made packing lists that can be customized based on the type of trip you're taking. However, the manual creation of packing lists is among the most powerful features of this application.
It is possible to add items as singles or a list of items or things from the template catalog or lists generator.
The list generator in the app creates lists based on your location and the number of people traveling with you, the transportation mode, accommodation and weather conditions of the place, and other activities.
Available on: Google Play
Easy Pack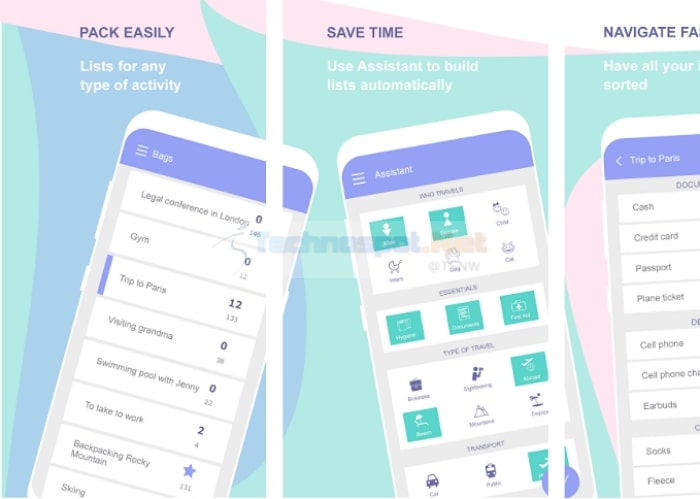 Easy Pack is exactly what its name claims to be. It's a user-friendly app that allows you to make your packing list easily.
It comes with an intelligent assistant that can start with a checklist based on your activities and plans for your trip. You can also personalize your packing list according to the luggage you will be bringing.
One of our favorite features of the Easy Pack app is the to-do list which allows you to make a list of things you have to accomplish or purchase before or during your travel.
Available on: Google Play
PackPoint
PackPoint also produces a packing list according to your destination, weather conditions, and the activities you plan to do there.
What's unique with this app is that it's compatible with both Android and iOS, which means you can easily share your list with those traveling with you, regardless of the device they're using.
A premium edition of the application can connect you with TripIt and Evernote.
Available on: Google Play and App Store (Premium version for $2.99)
Packr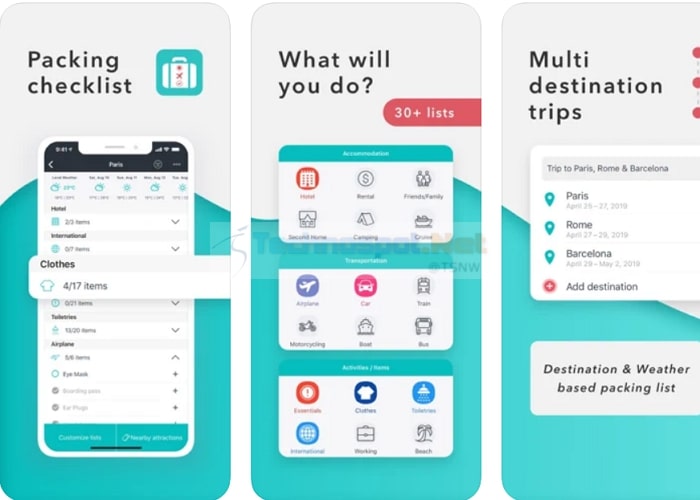 Packr is a list of your packing your travel essentials according to the weather. It will generate the list of items to pack depending on the weather conditions when you travel.
After you input the location and travel details, it will provide you with a weather forecast for the next eight days. It lets you create packing lists for trips with multiple destinations you are guaranteed to be prepared for any weather or climate.
It's accessible to download on the App Store (iPhone and iPad) and seamlessly sync your account. Whatever device you're using the app, you will receive the latest version of your packing list.
If you are using the TripIt app for organizing your travels, it is possible to connect it with Packr, and it will ensure that the details of your trip are taken into account when creating your packing lists.
Available on: App Store (Premium version for $2.99)
Budgeting Apps
When it comes to managing your travel expenses, using a mobile app designed to track your spending before and during your trip will help you save money while traveling. Many smartphone apps can easily make a specific budget for your vacation and some allow you to connect the app to credit cards or other payment options.
PocketGuard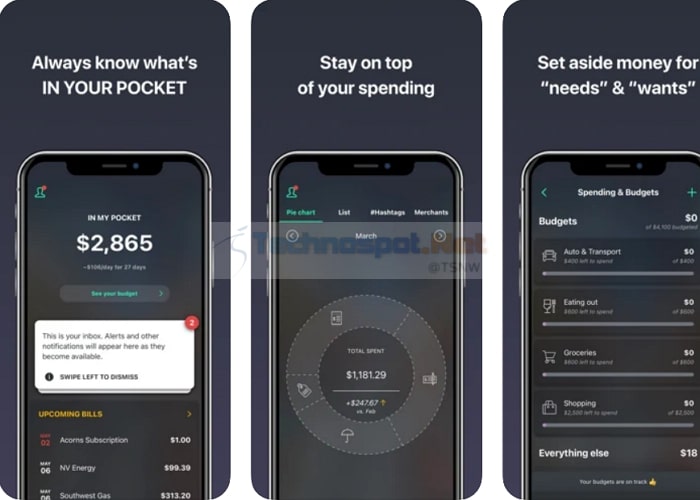 You can connect all of your accounts and financial cards to this application, and it will update and categorize your current expenditure in real-time. It will also tell you about the spending money you have with its "in my pocket" feature. It will also build you an expenditure budget based upon your income, expenses, and the goals you have set. It can even help you to reduce some of your bills every month.
Download: iOS  and Google Play
Tripcoin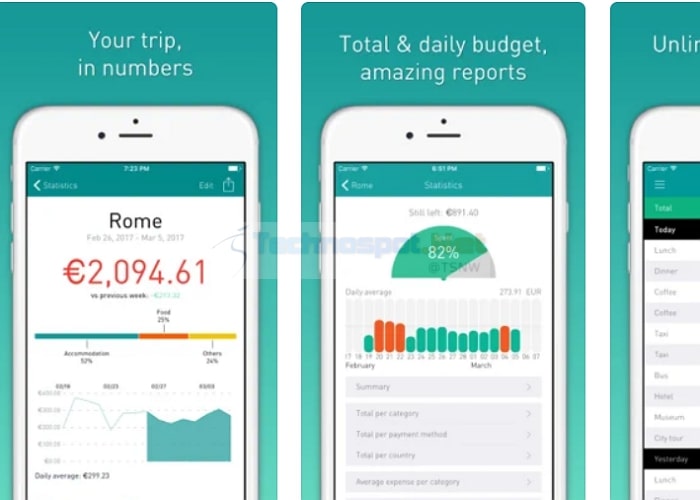 Tripcoin processes your expenses to provide you with a spending report of your trip that you can export for different purposes. It lets you enter your daily expenses and can even work offline. It will let you know the amount you spend on each category that you are going to visit and broken down by day so that you can track your expenditures in real-time.
Download: iOS
Trail Wallet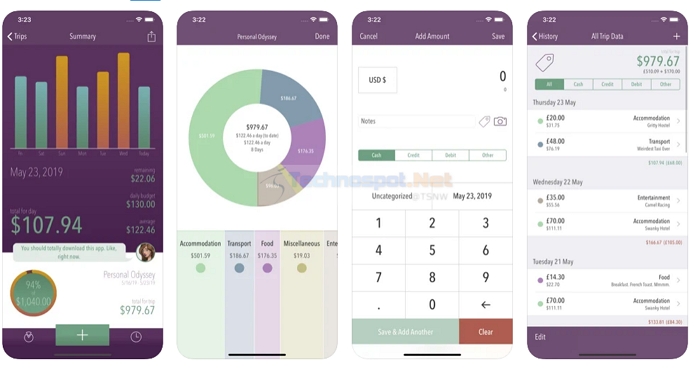 Suppose you're in search of an online travel-specific budgeting tool and expense tracking tool. Enter your expenses into Trail Wallet, and the app will divide them up by category, so you'll get a more detailed analysis of your costs. It is important to note that only those first 25 things you input are entirely free.
Download: iOS
TravelSpend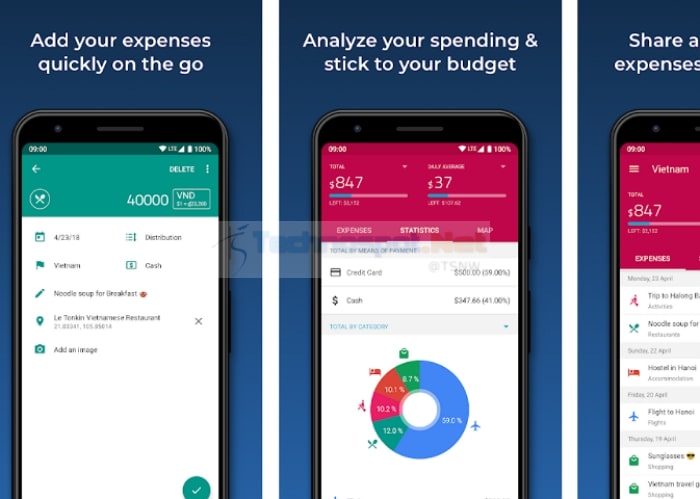 I am a fan of the TravelSpend app for its simple-to-use features and easy design. The app records your expenses as they occur, and it records your expenses as per day and total expenditure. You can even track your spending on a map during your trip. The app is offline, and it can even convert foreign currencies as well.
Download: iOS  and Google Play
Trip Expense Manager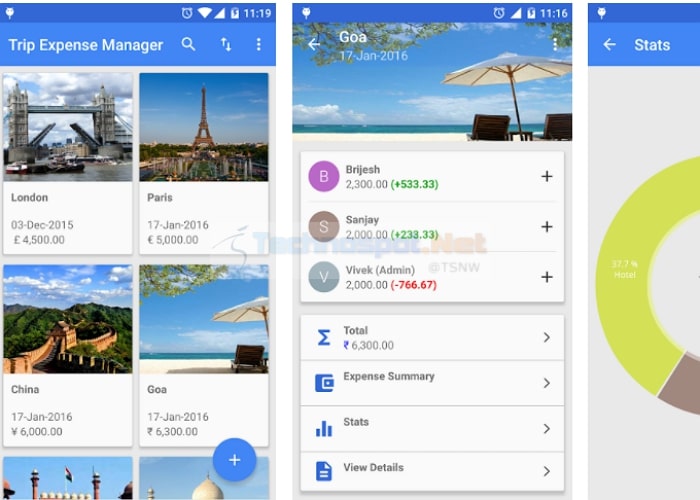 This Trip Expense Manager app is perfect for large groups of travelers who require help planning and analyzing travel expenses. For every trip you make, you can include Google users, a list of places to visit, and expenditures and note the person who paid for which bill.
Download: Google Play
Packing and budgeting are essential aspects of an ideal vacation. The use of packing and budgeting apps will aid you in organizing your expenses for your trip without losing your most essential items and saving money. The apps listed above are easy to use. Select the app you like the most as per your requirement, and it will help you budget your expenses so that you will have the most enjoyable time you want to spend in your life.