Today after enabling the DreamScene in Windows 7, I was pretty much confused when I right clicked on the desktop and the Play DreamScene menu item was grayed out and my confusion when for a toss when I right clicked on couple of movies and none of them had option to be set as Desktop Background, yeah with Windows DreamScene you can set movies as background and see it running. The advantage you would get on dual monitor where you can see on one and work on other.
Then later I realized that all the movies I was trying to set as background were in .AVI format and looks like dreamscene does not support it, when I tried it on a WMV movie it worked. Further the grayed out dreamscene was enabled. So if you see it grayed, DreamScene is enabled for you but you need to set a movie as background to use it. So don't get confused.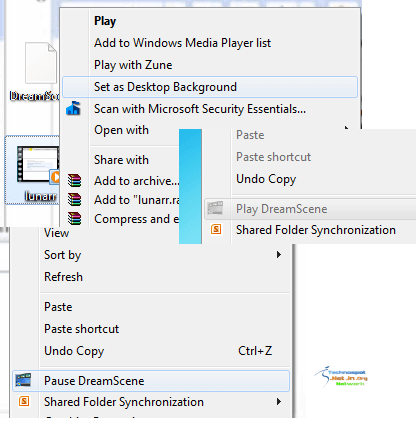 How did I enabled DreamScene ? I used the tool available at TheWindowsClub which is easy to use and changes few settings and you need to run it as administrator. Download it from here.