Here is some good news for people who hate decompressing rar video files to play it. If you have VLC player then you better get a free copy of VLC Rar Loader which allows you just drag and drop rar compressed video files and play it directly in full screen right from there.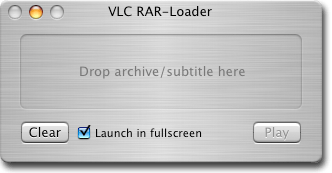 Just 3 steps :
Make sure You have a copy of VLC installed, http://www.videolan.org .
Download and mount VLC RAR-Loader 1.3.dmg on your desktop.
Use VLC RAR-Loader to open and play your RAR-packed releases.
As of now VLC Rar loader just works with MAC and I wasn't able to find this or similar for windows ( Any body got a pointer ? ). Download VLC Rar Loader