Though Windows 7 performance on battery has been measured best when compared to earlier version of Windows but still you will need to make sure you don't waste too much of it else you wont have any when you need it. Windows 7 power scheme can be changed by just clicking on the battery but to change advanced option you will need to open the control panel of Power scheme.
Power Plan 7 is a free software which extends the Windows 7 power saving features and makes it more usable right from the system tray.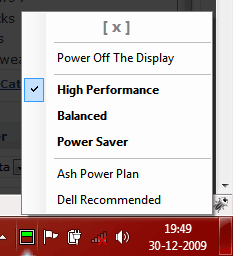 You can :
Update advanced settings and remember the changes you made.
Displays all the power plan unlike Windows 7 which shows only 2 of it.
Clear distinction between power plan created by user and default.
You can create rules based on battery level.
This software is free of cost but you will have to keep it updated with the latest release. This way you can keep using this software for free and I am sure that is possible for many of you. Download the software from here.