There are too many tools in Microsoft Products, and PowerPoint doesn't fall short of it. If you often create presentations, you need to memorize the shortcuts for each or create your own shortcuts. This post will share two methods that will help you create custom shortcuts for Microsoft Office PowerPoint.
Why is Keyboard Shortcuts important?
Quickly accessing frequently used keyboard shortcuts in PowerPoint is an excellent way to save time and increase productivity for many users. These shortcuts, which are usually built into your computer, toolbar, or program and can be hidden (or not), can be handy and time-saving.
Setting up custom keyboard shortcuts takes it one step ahead. You can work faster than what is usually offered and also change the pre-assigned shortcuts.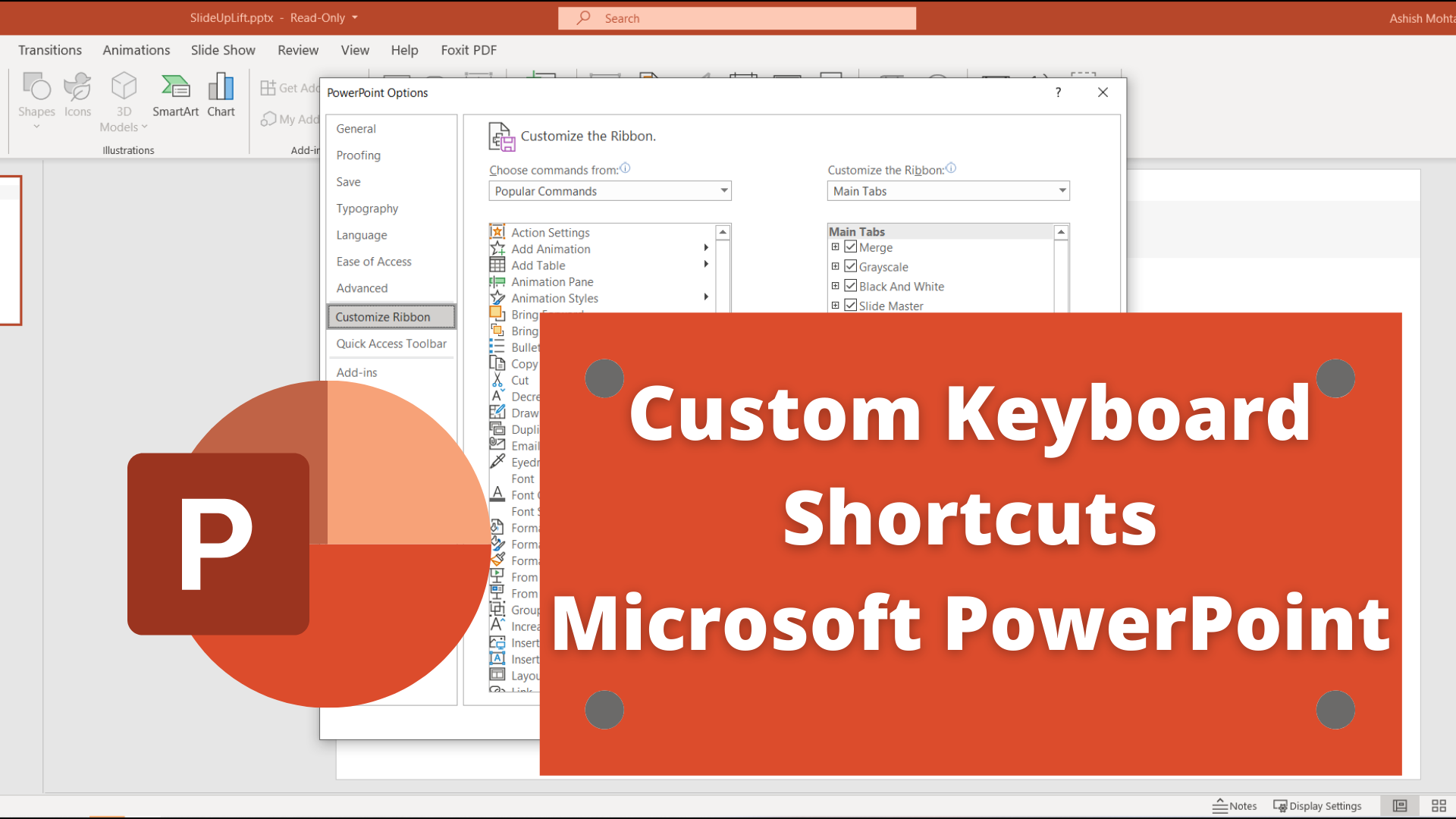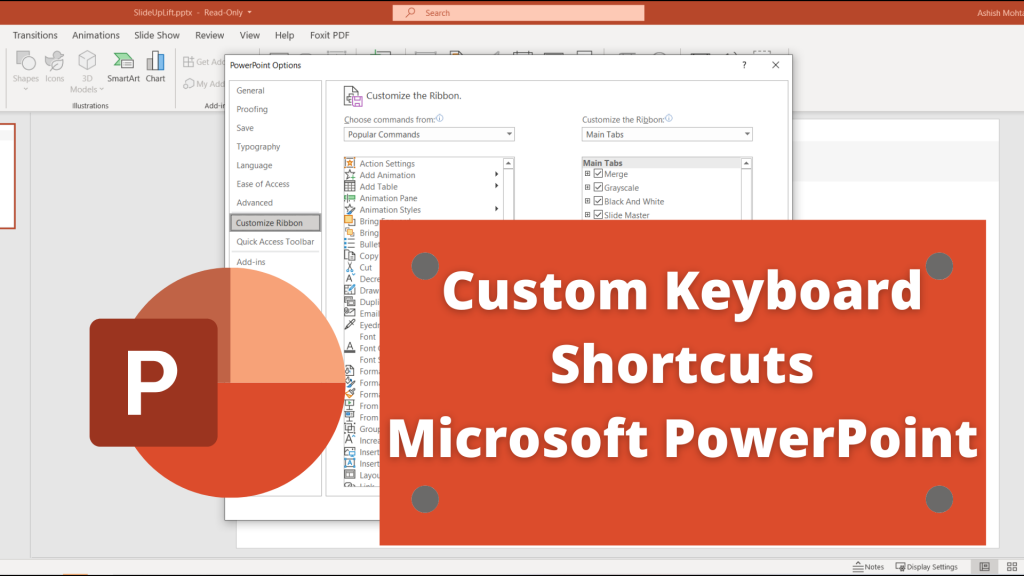 How to Create Custom Shortcuts for Microsoft Office PowerPoint
You can either use the built-in tool and or a third-party tool to customize it further.
Microsoft Office Built-in Tool
Shortcut Manager (Supports Macros)
Remember, Office already offers keyboard shortcuts that would get highlighted as soon as you press the ALT key.
1] Microsoft Office Built-in Tool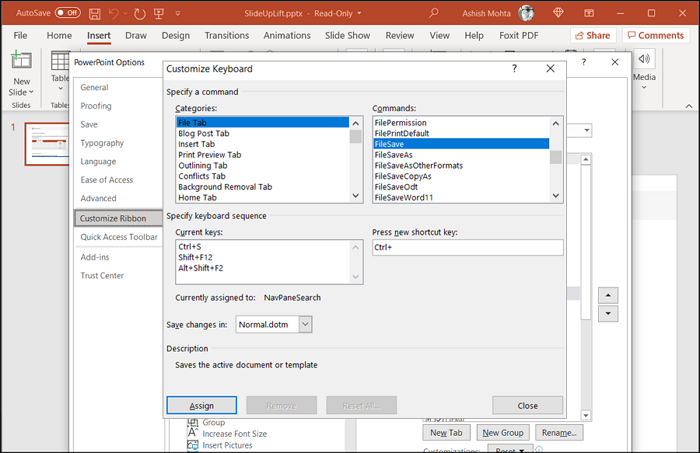 You can customize keyboard shortcuts (or shortcut keys) by assigning them to a command, macro, font, style, or frequently used symbol. You can also remove keyboard shortcuts. You can assign or remove keyboard shortcuts by using a mouse or just the keyboard.
Open Microsoft Office, and click on the Options menu, and then select Customize Ribbon (ALT+F+T)
At the bottom of the Customize the Ribbon and keyboard shortcuts pane, select Customize.
In the Customize Keyboard window, Select an item in Categories, then one under Commands. Once you do that, the Current keys section will display all assigned keyboard shortcuts. Assign a new one, press the Ctrl key or a function key, and add additional alphabets to make it unique. Lastly, click on the Assign button, and save the changes.
2] Shortcut Manager (Supports Macros)
Shortcut Manager is an add-on for Microsoft Office Powerpoint, which lets you create Shortcut menu items and already recorded Macros.  Shortcut for Macros is handy as PowerPoint does not allow you to launch it directly, including the password-protected macros.
One of the annoyances of the PowerPoint Slide show is the escape key. Any slideshow when receives an Escape key input stops, and then you will have to launch and start from again manually. PowerPoint Shortcut Manager can block ESC Key and lets you replace it with a custom key combination to stop the slideshow.
How to create a shortcut using Shortcut Manager
Once installed, the software will be available in the Home Tab. When clicked, it will open a window with all possible menus in PowerPoint. They are organized similarly as it is available in PowerPoint.
Please select any of them, and then add your preferred keyboard shortcut. You can also set to catch the Escape key, which can exit the slideshow.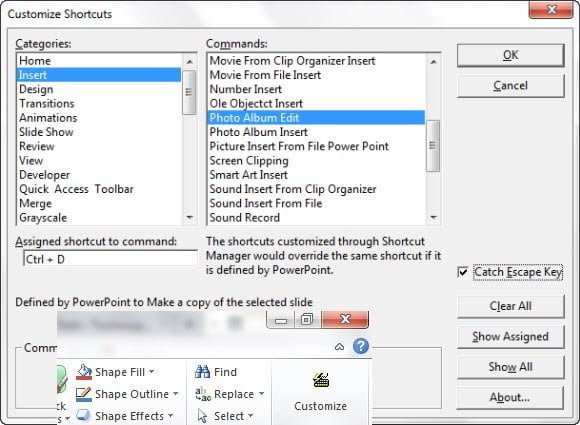 Here are some examples:
F3 to let you start the slide show from the present slide
Ctrl+Q to close all slide show windows
Ctrl+Alt+Shift+P to pause all slide shows
Ctrl+Alt+Shift+R to resume all slide shows
Ctrl+Alt+Shift+T to toggle pause/running state of all slide shows
Ctrl+Alt+Shift+Left to go back through your presentation (restart animations)
Ctrl+Alt+Left to view the last viewed slide in the same presentation
Ctrl+R to restart the current slide (restart animations)
Download Shortcut Manager for PowerPoint.