Shortcut Manager for PowerPoint is an addon for Microsoft Office Powerpoint which lets you create Shortcut menu items and already recorded Macros.  Shortcut for Macros is very useful as PowerPoint does not allow you to launch it directly, It includes the password protected macros also.
One of the annoyance of PowerPoint Slide show is the escape key. Any slideshow when receives an Escape key input stops and then you will have to manually launch and start from again. PowerPoint Shortcut Manager can block ESC Key and lets you replace with a custom key combination to stop slideshow.
How to create a shortcut :
In Office 2010, this addin is available under the Home Tab. When you launch it opens a window with all possible menus in PowerPoint. All menus are available under respective categories.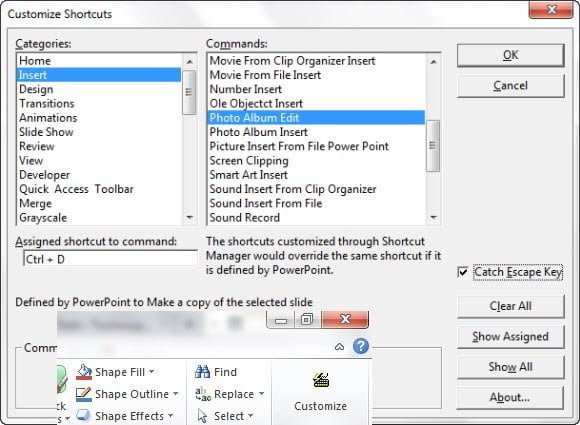 Here are some examples:
F3 to let you start the slide show from the present slide
Ctrl+Q to close all slide show windows
Ctrl+Alt+Shift+P to pause all slide shows
Ctrl+Alt+Shift+R to resume all slide shows
Ctrl+Alt+Shift+T to toggle pause/running state of all slide shows
Ctrl+Alt+Shift+Left to go backward through your presentation (restart animations)
Ctrl+Alt+Left to view the last viewed slide in the same presentation
Ctrl+R to restart the current slide (restart animations)
Download Shortcut Manager for PowerPoint.