We all love to keep our phone charged all the time and for this very reason most of us these days carry a power bank or charging unit with us. Now most of the charging units that are sold either are very big in size and when they go small the quality is not that amazing.
So when we heard about Powerrocks Thinnest Power Bank, Tarot we were interested to find how good it was and PR was nice to send us one. Not we are amazed with the size, truly thinnest, but it's very portable and almost of the size of your credit card. The Powerbank is of 1500 mAH, good enough to charge your phone at least once.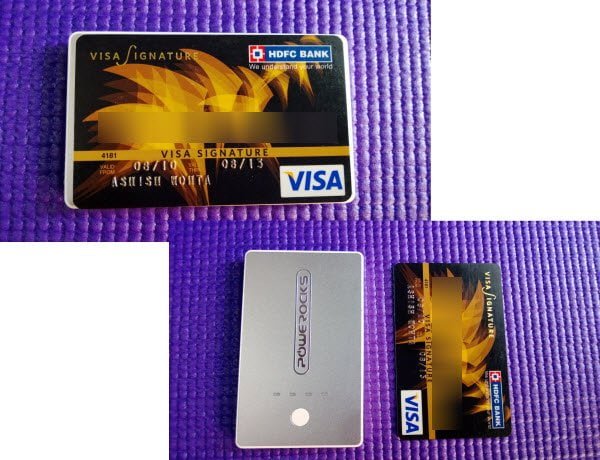 Unboxing Video:
Design & Build Quality:
It stands 100% to the claim it makes about being the thinnest power bank. Not only its light weight it is exactly sized to a standard credit card. Technically speaking the size is 3.5" (length) x 2.1" (width) x 0.28" (height).
The build quality of the power bank is impressive too. I am not sure what is material used to build them but they aren't cheap plastic or even cheap metal. You will feel its strong when you hold it or even when try to bend it.  We received a silver unit of which the side edges are made up of  white plastic and rest is silver which looks metal.
It has a USB port and micro USB port which is used to charge the powerbank itself. It comes with a USB cable of decent length and water-resistant branded velvet bank. Below is the unboxing video: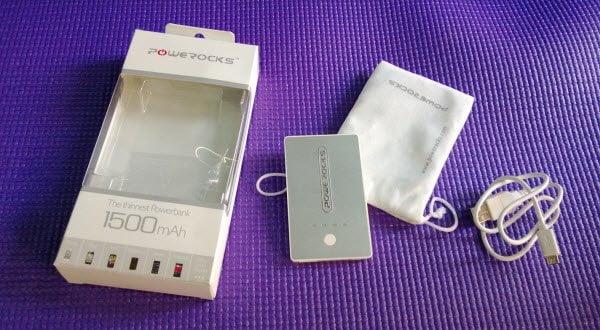 It works with most of the smartphones which have microUSB Port. In case of  iPhone & iPad you will need to use the device's USB adapter to connect with Tarot.
There are Four LED light which indicates how much power is available and show up only when you press the button. When one of the LED turn orange you can assume that 25% of the power is used.
User Experience:
Using it was very smooth. I can charge the phone while keeping both in my pants pocket and did not feel the weight at all. The size and thickness of the charger was definitely the key reason.
The best part of charging experience was that all you need is to plug-in your phone and it starts charging. You don't have to turn it on or off. Some of the charging packs I have used has this criteria of turning them on which If I forget becomes a huge disappointment.
Also since the LED stay turned off all the time, it is more power efficient compared to those whose LEDs stay on all the time. Keeping in mind its only 1500 mAH this was a smart decision.
Now every power bank does not deliver the same charge as stated. Same is the case here and its only 80 to 90% of the said charging. However its good enough to keep your phone alive when it comes to emergency.
Value for Money:
The Powerocks Tarot is  available immediately, priced at $34.99. I would say its scores high for value for money if you compare similar power range charging banks & keep in mind how portable it is. It can fit in your wallet or your pocket or even your purse. It starts charging as soon as you plug it in which makes sure you never forget to press a button.
You can buy it from Amazon or directly from their stores. So go and buy now!!