If you want to use Google as a diary, you can try your hands on Google or Outlook calendar. Use it from your web browser for your official work account, for a meeting schedule, or for setting a reminder for the office meeting. Keeping the print copy of the calendar will be convenient for office work or personal use. In this guide, we will show how you can print your calendar (Google and Outlook).
Why Use an Online Calendar?
A Google or Outlook calendar displays events with date, time, and locations on Agenda view. You can include many details when printing your calendar. The commonly found printed calendar lacks many features of the online calendar.
You can customize its appearance, can share it with your colleagues who use Google, Outlook, or other calendars' events. By taking a printout of this online calendar, you can conveniently view your work schedule without a computer or mobile device.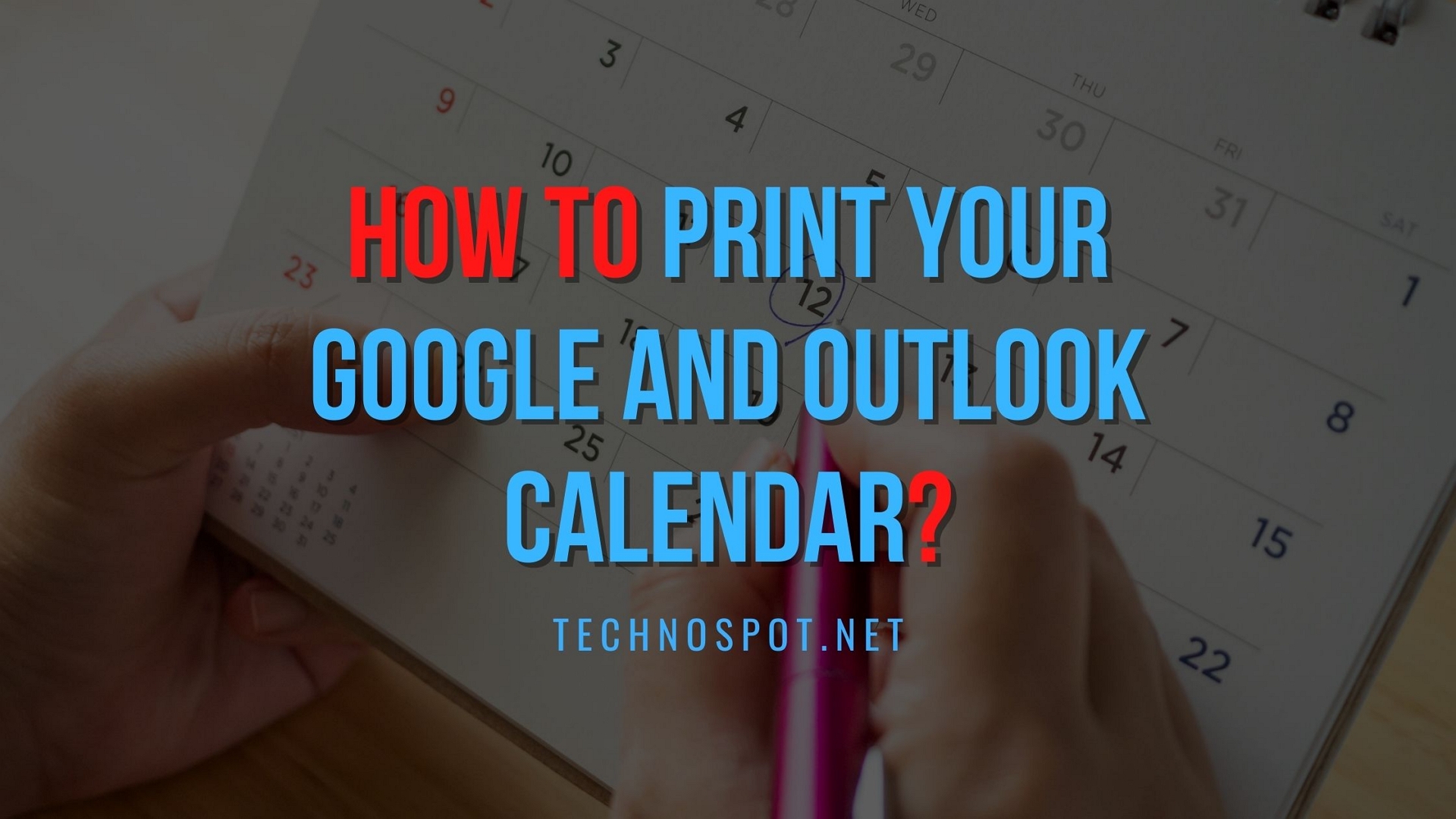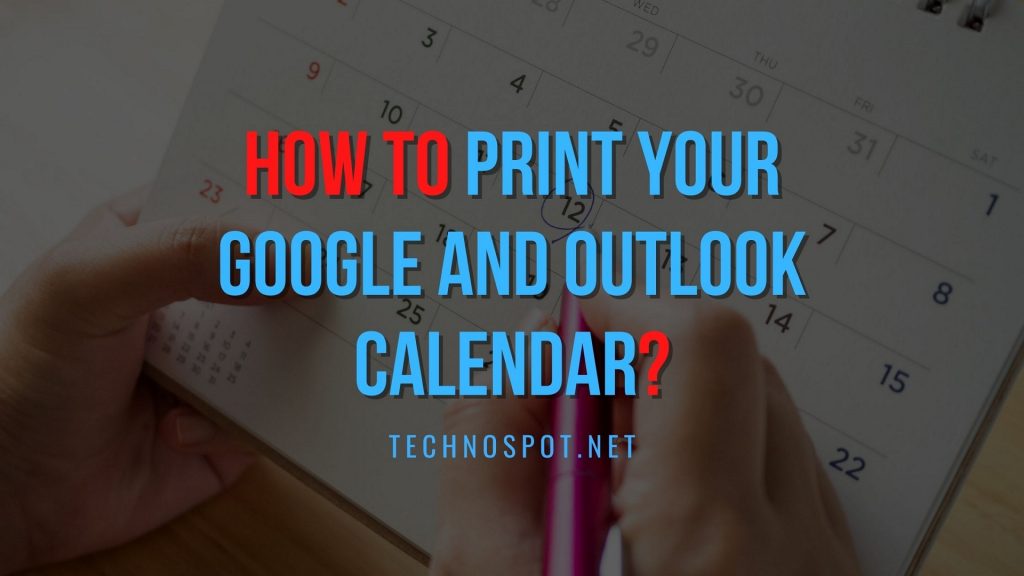 How To Print Your Calendar (Google & Outlook)
Online calendars are free tools that allow you to organize your schedule on a mobile app or web browser. Here we will teach you how to print a copy of your Google or Outlook calendar from your web browser.
How to Print Outlook Calendar (Outlook, Outlook App & Outlook.com)
Outlook calendar is the inbuilt calendar and scheduling component of Outlook, integrated with email, contacts, and many other features. As you use a notebook for writing, you can click any time slot in the outlook calendar and schedule the desired task there. You can plan your appointments and events, organize meetings, view group schedules, and more using the calendar. Outlook calendar can be printed by below given three modes:
1] Print a Calendar in the Outlook App
You can follow the below-given steps to print an Outlook calendar for Microsoft Outlook 365 and other Outlook desktop apps.
Launch Microsoft Outlook and open the Calendar to open the Outlook calendar.
Locate Print in File. Outlook shows you a print preview with some settings.
Select your customized printing style, Preview it before printing.
Click Print Option to view or customize print options.
Click Print.
Available printing styles are Daily, Weekly agenda, Weekly calendar, Monthly, Tri-fold, etc. Generally, while printing a calendar in the monthly style in Outlook, you print one month of the calendar. If you want to print a calendar for more than one month or a month different from the current one, you can customize it using the Print Settings button.
2] Print a Blank Calendar in Outlook (Blank)
You can follow the below-given steps to print a blank calendar in Outlook applicable for Microsoft Outlook 365 and other Outlook desktop apps.
Open Outlook on your desktop.
Open Calendar there.
Click on the Home tab, then in the Manage Calendars section, go to Open Calendar now Create New Blank Calendar and name it.
Select your calendar, go to File, and Print.
In Print Options, select the date range and customize other options.
Click Print.
3] Print a Calendar on Outlook.com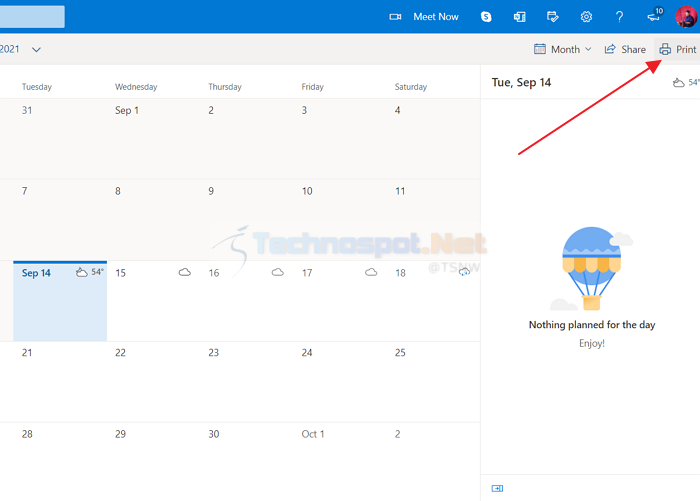 For printing a calendar from Outlook.com, you can follow the below-given steps:
In your web browser, type www.Outlook.com to open the web page.
Use your personal Microsoft account to log in to Outlook.com.
Switch to the calendar mode
Open the Print dialog box.
Select the required time range and click Print.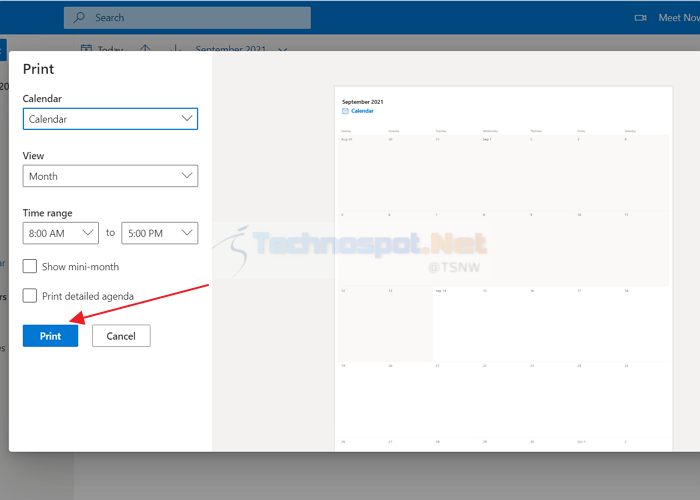 How to Print Google Calendar
Online calendars can be printed from any web browser, like Chrome, Safari, etc.
Step 1: Sign in to your Google account. Click on Calendar in the top menu to open your Google Calendar. Pick out the desired calendar format to print from the calendar menu in the left column.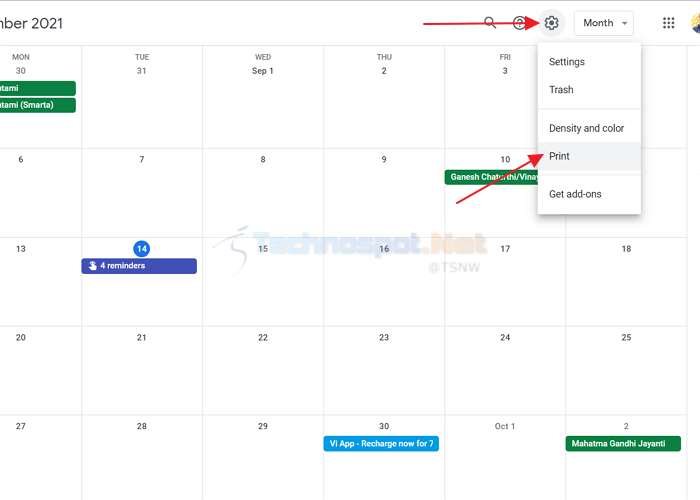 Step 2: Click on the Settings button. Select the print option from the settings menu, a dialog box with various print settings will open. Click on the Print Range and enter the time period you want to get printed. After selecting the date range, choose the time period in the Print Range field.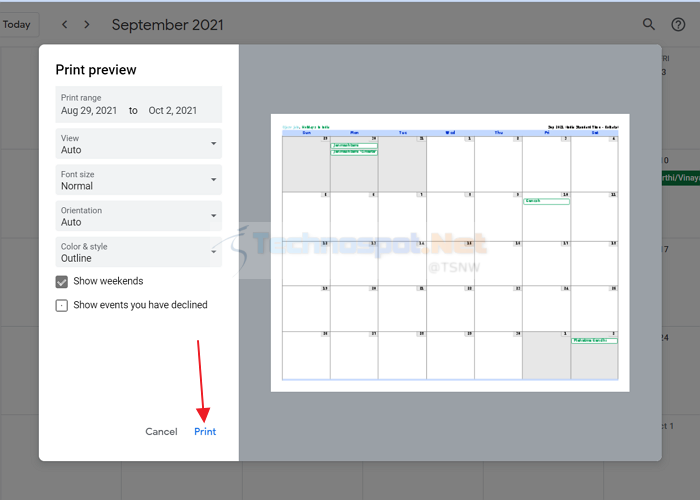 Step 3: Enter in the Font size menu to change the font size of the text. Now enter into the Orientation menu to select between Portrait or Landscape mode. If you want details of declined events, tick onto the box next to Show events you have declined.
Step 4: Pick out the adjacent Print Descriptions, Print End Times, and Print Attendees to make sure that you print all the details of your calendar items. Press Print to print your calendar.
Step 5: Select your printer from the Destination menu. If the printer seems not connected, connect it. The default set menu is Save as PDF.
How Can I Share My Google or Outlook Calendar
You can share your Google or Outlook calendar with others so that all of you can be on the same page.
Share Your Google Calendar
Step 1: To share your Google calendar, you need to establish the Google calendar computing device app. Log into your Gmail account, press the app drawer icon, and select Calendar. 
Step 2: Open your Calendar app, and locate the My Calendars section. There you will see a list of Names, Birthdays, Reminders, Tasks, etc.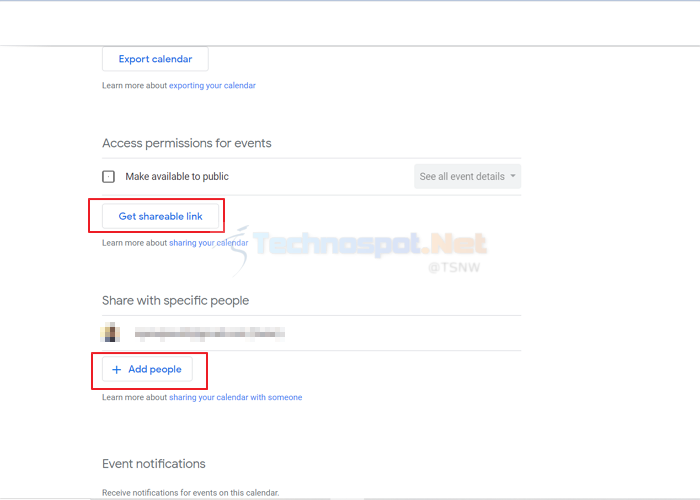 Step 3: Select the calendar you want to share and select the option Share this calendar. You can have more than one calendar and categorize your calendars like Personal, Professional, memories, etc.
Step 4: Now, enter the person's email address with whom you want to share your calendar. From the menu, choose the receiver's permission level. Lastly, select the option Add Person, and then select Save.
You can only share your Google calendar with someone with a google account. Before making your calendar public think about security because everyone can see your personal and professional schedule that may contain something private.
Share Your Outlook Calendar
Step 1: Select the Share button from the calendar you want to share. Enter the name(s) or email address(es) of the recipient person or persons.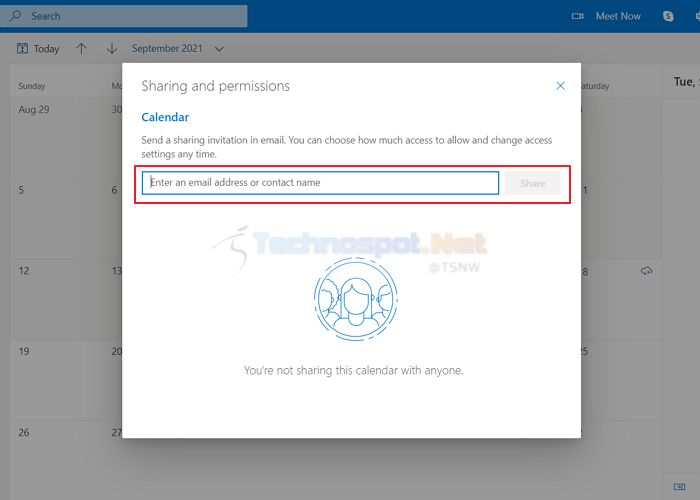 Step 2: Decide and choose how much information you want to share with this person to use your calendar with full or limited details.
Strep 3: Select Share and send.
Features of Google and Outlook Calendar
Google and Outlook calendar are very useful tools and provide a lot of features to boost up your productivity. Here are some popular features of Google and Outlook calendar:
Using the Online calendars, you can create appointments, organize events and meetings, view group schedules, etc.
Multiple calendars can be created for different parts of your life
Scheduling group meetings using Find a time or Suggested times.
Sync your calendar with marketing software
Setting the security of your calendar, Public or Private
Add a Google Hangout to events
Arranging appointment slots
Enable world clock
Enable your working hours
Emailing to event guests
Adding meeting locations
Use Desktop notification settings
Can Change notification timings
Implementation of custom view
Calendar sharing
Flexibility
How Can I Print My Google Calendar from My Phone?
You can print your calendar from your Android phone or tablet. It can be a Google drive document, a picture in your phone gallery, or any other app/document that supports printing. Select the Menu button next and Print.
How to Print a Blank Monthly Calendar?
It's good to print a blank calendar without any of your meetings or appointments, then using print options, customize the date and print patterns (daily, weekly, monthly, or yearly). Don't set any event which will be much more helpful for you. Go to the print option from Settings and select Print. Get the Print preview option > Print and Save.
Google or Outlook calendar allows you to keep track of the details of upcoming events via the Web, mobile phones, and other devices. At times you need a hard copy of your plans and want to print your Google or Outlook calendar.
A printed calendar can be helpful for you to remain appropriately focused on your plans and goals. You need not open your laptop or phone every time to plan or view your schedules. Use customization options as per your requirements before you print a Google or Outlook calendar.
Related :