Printer is something most of us use it in our daily life though the media is getting digital every day with more of online content in various formats. In my recent visit to Singapore for HP Innovation Summit, lot of new printers were launched and they are not only better but are now smarter. For example :
The new printers are now web connected which in turn means that any time you want to print a document, all you need is send an email to your printer.  This is known as HP ePrint. There is BlackBerry App which uses this facility.
There are integrated with Google Docs, Yahoo!7 Applications which can print directly to the printer. For example the Apps like Yahoo Daily Digest can print important news as they get published. You can find the list of HP Printer Apps here.
HP using their OXP and Future Smart program is on its way to bring a unified architecture for all the future coming printers so that the hassle of managing things become easy.
However there are few expectations which I feel users do have. Though it might be a bit early to expect all of them from HP now but I see this coming Five or Ten Years down the lane if competition turns out good enough.
Printer Start Retiring Themselves :
As an end-user, I would not only like to print but I would also like my printer to do something for me except the obvious, printing. For example, I bought a printer 6 years back and still using it but according to an expert it is outdated and not performing well. I come to know this only when I call an expert else I will keep paying more for extra cost per page.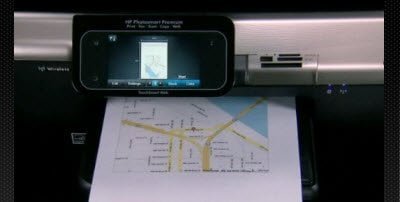 What if the printer can one day just tell me "Hey I think you should replace me, I am tried of printing and will cost your pocket". For an end-user it's not only beneficial but its good for printer business too because that will drive more customer to find out whats new in printer which suits them.
While talking on this issue with friend of mine we struck on Privacy Issue on this idea. As to find out if the printer is old enough the data has to be sent across to an online server but if there is an opt out and users are aware of it, it can be worked out.
Turn on and Print :
Printers take their time to start and get ready for printing. I tried this on many printers but there is at least a 5 minute start time taken, good enough to have my tea.  Yes there is hardware reason for it but for many home users where printer gets on once in 3 days, this is an issue.
With current technology I think it should be possible to turn the os which is running in printer to be ready to go style. Take an example of iPad. It hardly takes 10 seconds to be ready to use. You can argue that it's not like a complete OS but the neither a Printer OS is.
Strong App Support :
Everything today move around with Apps specially with mobile so probably a time will come when we will need apps for printers which I can install right in it. For example an app which lets me customize what I am going to print, change sizes or let me print only a part of huge image. Possibilities are immense.
Hp Already has a lot of Printers Apps already but they should keep up the support and create a complete market place like that of iTunes or Android to make it successful. Read more on their FAQ