Printing Excel files are always a tricky business due to huge volumes of number and large number of text, its lot different from the Word document or a power point slides. Moreover you need not to print everything in an excel file but some areas which could be partly chart or partly numbers. We faced a similar situation and here is what we did.
I am taking an example here, An excel file which has 3 sections. These sections have a common header which I want to repeat for parts of section I would like to print. Yes we will print different sections of an Excel File. Now I need to print Section 1 and Section 2 but not the one in between.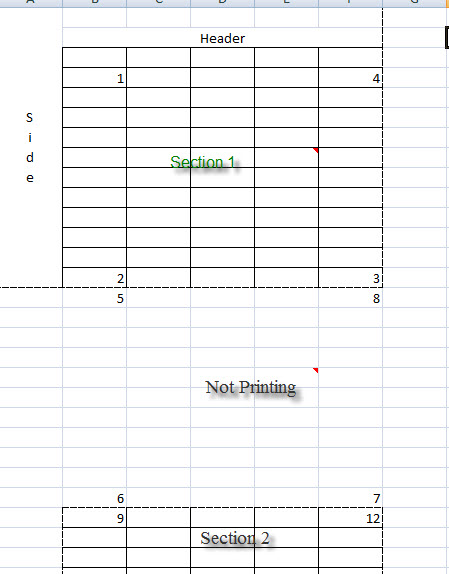 Now we would set the file so when its printed , it would allow only to print set regions.
Set the regions for printing file ( Quick Way )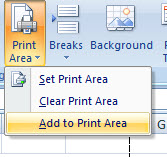 Click to the Page Layout tab and click on Print Area. This allows you to select any set of rows and columns which can be printed. Once you select and add , this will be the sections which would show when you see a print preview or when you actually print.
Selective printing makes Excel Printing a no headache printing. You can not only save paper but also avoid wasting papers.
Now once You are done adding on region you can add any number of regions to the printing area. Select the print preview and you would see those 2 regions being showing up.
Enhanced Region Selections and Settings
Now since quick printing might not be the right way to do it as excel file can be complex with comments, marking and color shades all over. You can use Print area as a way to select regions for quick printing. Now for advanced settings,  In the page Layout section select the Print Titles button, you would see a whole set of options which will give you the most of the printing hands on.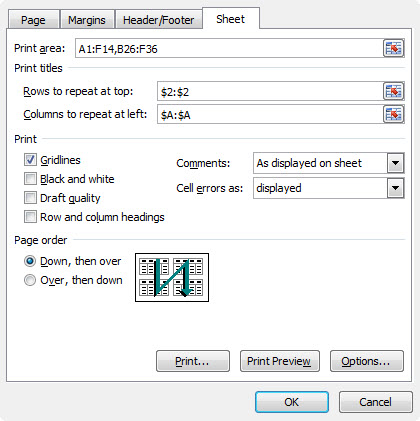 Now if you did add 2 or more sections using the print area quick button you would see all of them availble here. If you don't want to use that you can very well select the printing regions from here but seperate them out with commas.
This section can be utilized when you have long tables or sections which have headers or something on left which you would like to get repeated to keep things clear. You would find this options in Print Titles, which allows you to select the repeating sections to be included. Handy when printing parts of files.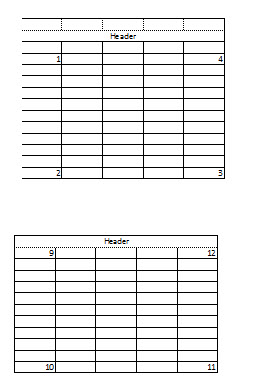 Next thing goes for Error Printing which I already talked about in last post Omit Errors while printing data in Excel [ Microsoft Office ] . It allows you to keep your Excel File clean as people will never be happy if they see so many errors , etc right there.
Page Order is another advantage here. You can select the way it has to be printed and you can also set the comments to be printed at the end. You can take a print out all the comments and use it reference.
This is all about Printing an excel file. I am seeing more ways of doing it which I am not sure so I am closing this off here and will come out with another set on it. Till then may be you can suggest and help us finding more ways to do it.