Twitter is not just a social networking or a micro-blogging platform; it's also like a hub of information for almost everything. Twitter search is already there to get the search results for any term on Twitter, but if you search for any Keyword on Google, you get one result which is URL for results (Realtime Search results) of same Keyword on Twitter.
Moreover this often is not on the few first pages of Google search result page ( SERP)  e.g  I tried the Keyword 'coffee' and the Twitter search link was found on 48th page. In short the tweets and search of twitter gets ranked low in SERP.
If you look at importance of certain  news or information, Twitter users can tell more accurately and can be faster even than the news. Also if you would like to compare how the twitter real time search result  and Google result goes along in the same result page it would be really great.

Now, just imagine something like when you search for a keyword on Google, and you get the top results from Twitter search on the Google's first page, stacked as the first search result. Check out the image below.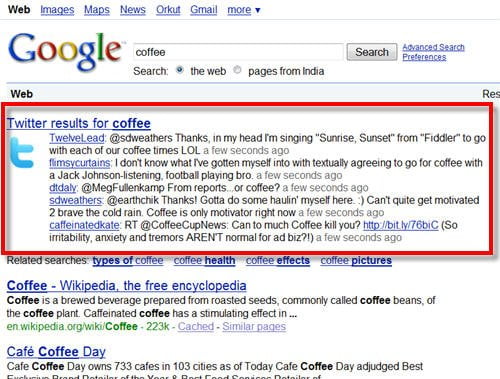 It's as good as getting real time search results on Google; moreover these results here are exactly same as results on Twitter Search, the snapshot below shows that too.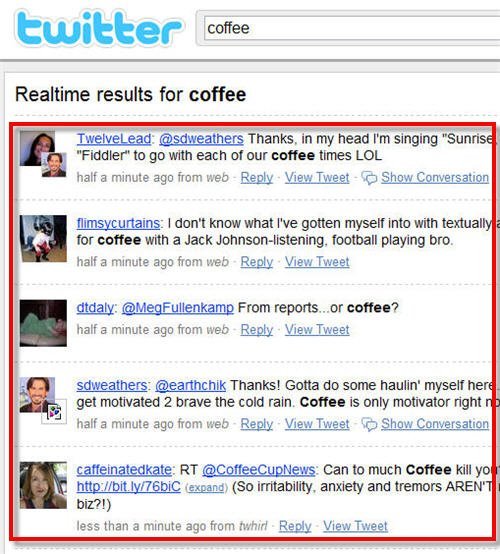 I am sure by now, you would have definitely decided to try this in your Browser, I you are a Firefox user, you will be trying this out in next couple of minutes, or probably less than that, as its available only for Firefox as of now.
First of all, before you try to enjoy Twitter Search Result on Google, you need to have Greasemonkey add-on for Firefox, if you don't have it, install it now.
Then you can see the next and the final step here at the Realtime Twitter Search Results on Google post @ MT-HACKS, have a look at comments too on the same post, there is something interesting for the developers.
Thanks to Mark Carey for this amazing script, incorporation of Real Time Search results with Google search results, was something nobody imagined would be just a few clicks away.
So go ahead install and Enjoy the Real time Search Results, Do share with us your new searching experiences. Via Read Write Web