Advanced WindowsCare Personal is awesome software to
Protect your PC against Spyware and Adware
Repair Fix invalid and incorrect registry entries
Optimize system configuration
Cleans Junk files and recovers Disk Space
All the above mentioned points are certainly a bunch of activities which geeks keep performing on their system, without using any special software for them, so why Advanced WindowsCare Personal ??
Advanced WindowsCare Personal (AWC) is an easy to use way (especially for non-technical users), to perform the above said operations on your PC. All you have to do is just Run a scan on your AWC, like you do with your Antivirus, and most of your problems regarding Registry, Junk Files, Spywares/Adwares can be detected and healed.
You just need to download the setup from here, run it as you do for any other application to get AWC installed on your system.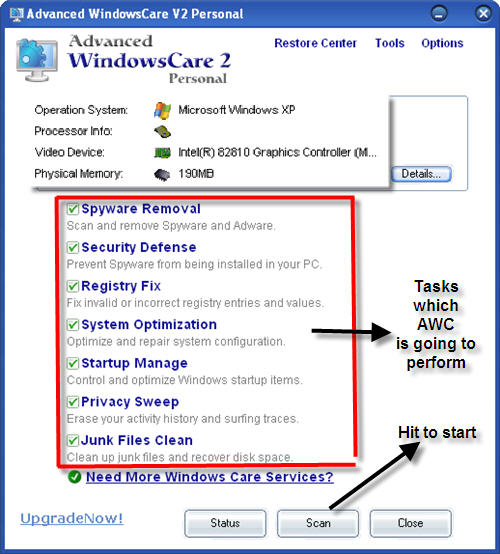 Once you Hit the 'Scan' button, you just need to wait, once its done just hit the 'Repair' button to get rid of all the problems, and also you get few MBs of space recovered on your drives. You also get an option to view the online report of this whole scan and repair process as well.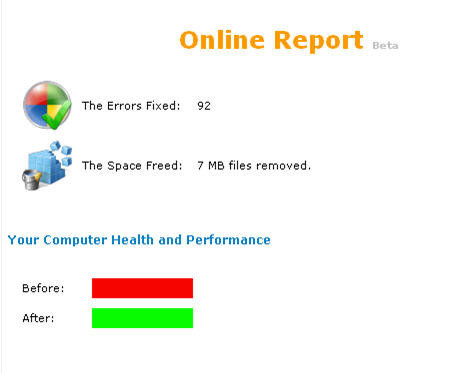 This was all about the scan process, now lets have a quick walk through of the other features.
Features
Restore Center – Here you can create a new Restore Point, in case you are not satisfied with the current state of your system, which is an outcome of Scan and Repair, you can revert back to old state. This is much like the Restore Point utility in Windows.
Tools – Tools has several sub-menus
Startup Manager, this allows you to decide the loading of only desired programs at the startup, this activity is highly helpful in making your system faster, and without using AWC, it's a bit tedious job to perform this.
Add Ons,
The first Add on you get here is Process Manager, which has options like Kill process, or to kill the parent process directly, or you can also Refresh them.
Next is System Services, you can Start/Stop services, Remove them, etc.
Next is TCP/UDP, this section tell you about the addresses and the status of the Protocol.
Then we have Software Un installer, which allows you to uninstall the softwares installed on your system, as per your needs.Cookies, here you can remove the cookies.
Memory Cleaner, This allows you to take care of your RAM, and know its status.
Disk Manager, It tells you about the status of different disks on your system.
Options – it has several options like the theme, and other settings, for advanced care taking.
My Experience with AWC
Nice utility, easy to use.
Fast Scans and Repairs
Makes, handling of Processes and Other Services simple for non-technical users.
I find it awesome, and above all it is free. So try it, and have your say.