Qualcomm has this quick charging technology, ensuring that your phone charges in less time and stays equally efficient. This technology was invented because "Smartphones are dumb when it comes to battery life," The alternative right now is to charge them faster. Though it also means you will speed up the total number of recharges the battery supports.
Qualcomm rolled out the first version of this tech into devices like Lumia 920, Nexus 4, S3, and so on. This version made sure that the phone charges up 40% higher.
Qualcomm® Quick Charge to Speed up Mobile Charging by 75 Percent
Time to get even faster. They announced in a blog post that Quick Charge 2.0, the next version, will ensure that charging happens up to 75 percent faster. So if your phone took 7 hours to charge, it might take just 3 hours now with this technology.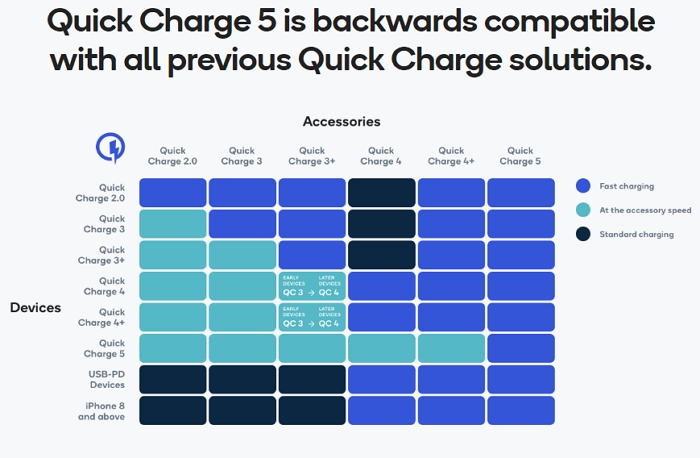 Extending beyond the device:
Now version 1.0 has fast charging available only on the chip and micro USB interface. In version 2.0, this is being extended to even the charger. The device is available as a Standalone or PMIC Power PMIC power management integrated circuit of Snapdragon™ 800 processors, and in the charger, it will extend to the AC/DC wall charger.
Tablets and Mobiles using the Snapdragon 800 Processors will have this technology.
Backward Compatible:
Quick Charge 1.0 and 2.0 will work together as it is still new. So they are both forward and backward compatible. A 2.0 charger will quick charge a 1.0 device, while 2.0 device can be charged with a 1.0 charger with the speed the first generation can charge i.e., 40%
Extending beyond Mobiles:
Quick Charge 2.0 can deliver up to 60 watts of power which means it can even support the charging of notebooks. Once this technology starts rolling out globally, we might see every other device getting charged by it. All you will need is a correct converter.
This technology is expected to roll out by 2014 with all devices. Since one needs to have an S800 processor, like the mother of all chips, it carries a SOC, CPU, GPU, DSP, LTE Modem, etc. It also supports UltraHD video, high-end 3D gaming, 7.1 surround sound, and up to 55 Megapixel image capture.