Moving into different network and domain environment is common these days, specially for people who need to visit lot of clients and get in and out of their working area all the time. Though Windows 7 allows you to choose security settings for networks and also the default printer according to that but still there is lot many things like changing IP address, hosts files, routing table, default email client is not supported.
Quick Config is a windows application which fills this missing feature in Windows 7 ( or any earlier version of windows ) which we might see getting into the core of the operating system. I remember this being asked by many in Windows 7 launch party.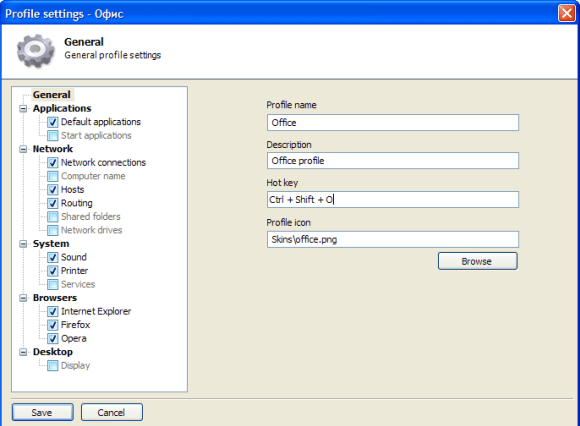 Features of Quick Config :
Network

Network connections TCP/IP settings (IP address, mask, gateway, DNS server, MAC), state of network connection
Computer identification computer name, domain or workgroup membership
Mapped Network Drives map, unmap network drives
Shared resources share, unshare local resources
Hosts file
Routing table

System

Sound sound volume, sound theme
Printer set default printer
Services start, stop, restart system services

Internet Browser

Internet Explorer network connection settings, Home Page
Firefox network connection settings, Home Page
Opera network connection settings, Home Page
Chrome network connection settings, Home Page

Desktop

Display screen dimensions, color depth

Applications

Default applications default Internet Browser, E-Mail client
Launch applications launch selected applications after applying profile
Thats a lot of configurations you can handle and switch. You can download the software and find more information of the product from here. Via Nirmal TV
If you are only interested to switch IP addresses when you switch network, try out NetCon which is a simple network profile switching manager.