The Windows Club has an in-house troubleshooting application, FixWin which solves annoying problems which occurs many a time while using Windows 10 in the long run. There are solutions for hundreds of problems, and it offers a one-click solution for each of them.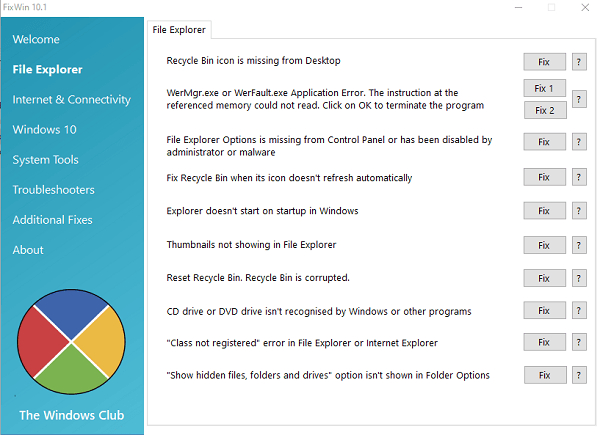 FixWin can fix popular annoying problems in Windows 10
The best part of FixWin is that its a portable application which you can keep it anywhere on the computer. When you launch it, it will ask for admin privileges, but you can always set it to open it with admin privileges and use it right away.
The list of troubleshooting categories include:
File Explorer
Internet & Connectivity
System Tools
Troubleshooters
and option to reset multiple features to default in Windows 10
Right next to each fix, there is a button with a question mark. It explains what the fix can do, and how it works. For example, there are many fixes which involve Registry changes.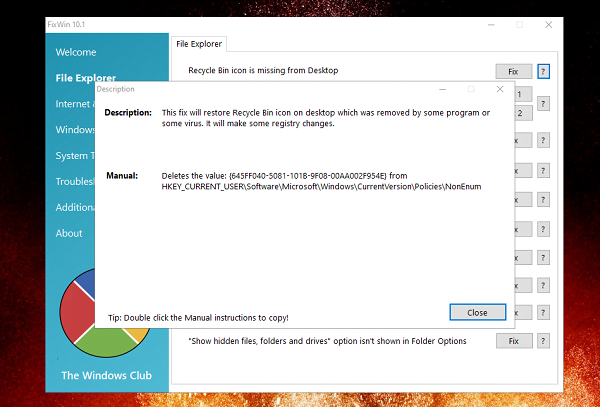 Here are some of the Windows 10 issues for which fixes are available
Having problem downloading Apps from the Store. Clear and reset Store cache
The Application wasn't installed from Windows Store. Error Code: 0x8024001e
Windows Store apps are not opening. Re-register all apps
Reset Settings app. Settings don't launch.
Disable OneDrive. OneDrive runs in the background and syncs a massive amount of files.
Repair corrupt Windows Component Store.
Start Menu doesn't work or doesn't open in Windows 10
Wi-fi doesn't work after upgrading to Windows 10
Windows Updates stuck downloading updates after upgrading
That said like always make sure to create a restore point in Windows 10 before you apply any of the fixes. In case there is a problem; you can always rollback.
There are some additional fixes as well which lists down more common issues which can be fixed in just one click —Download Fix Win. You can find the complete list of solutions here.
FixWin has been developed for TheWindowsClub by Paras Sidhu.