Internet is ever-growing and improving. New websites are coming up almost every minute of the day. Gone are the times when remembering URLs was as easy as anything. With the addition of website features and pages, most URLs are almost impossible to remember. URL Shorteners solve this problem. In this article, we will talk about how to shorten URLs from any page from the browser. Please make sure that you read this article till the end.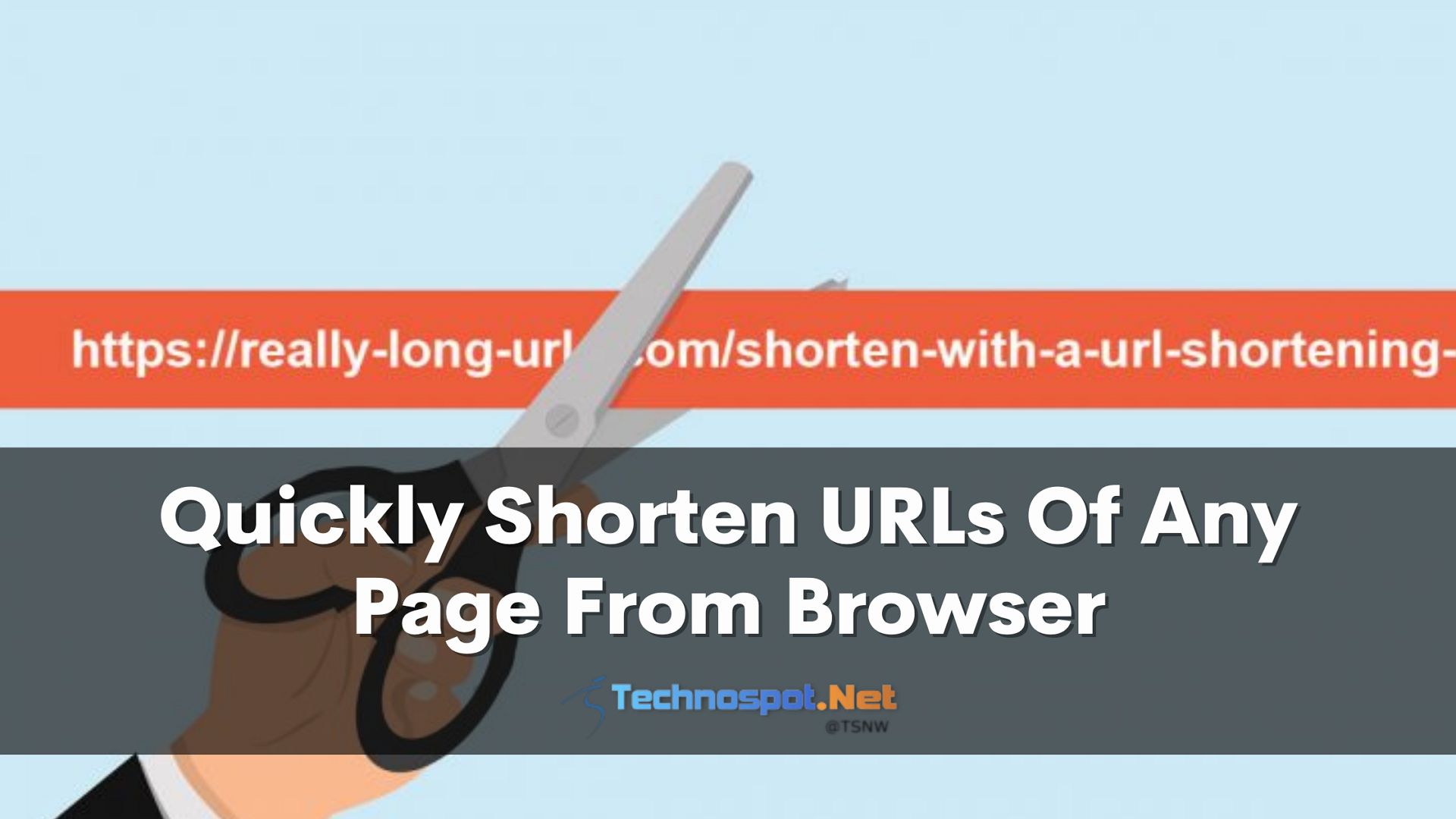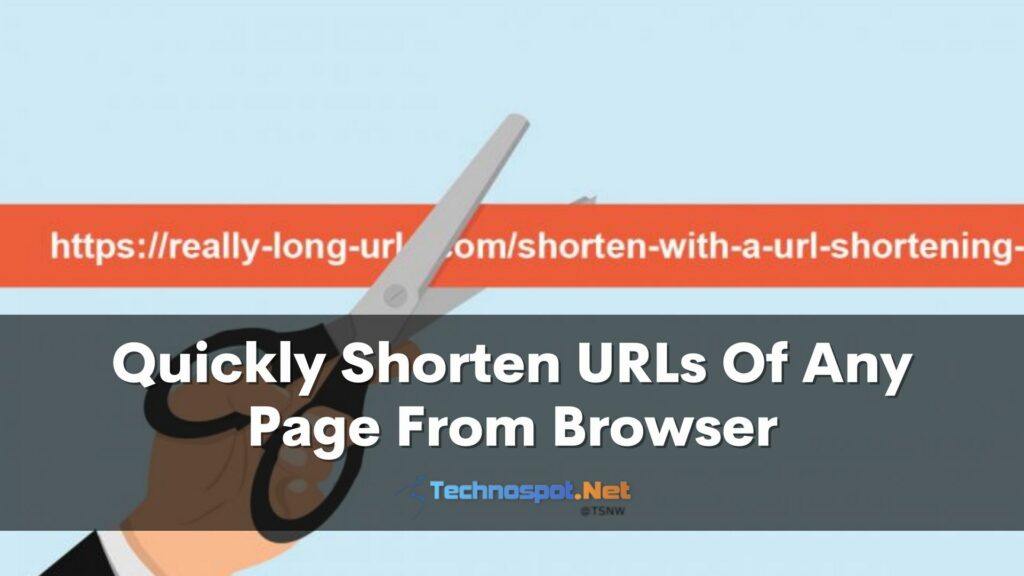 Quickly Shorten URLs Of Any Page From Browser
You must've been used to the tedious process of copying the long URL, then going to the URL shortener website, and then pasting and copying the short URL. Well, you can skip all this by using browser extensions that allow you to copy a short URL of the page you currently are on almost instantly and directly. Here are the browser extensions we'll be covering.
URL Shortener
Bitly
Rebrandly
Lnnkin
Replug
Let's have a detailed look at all these options.
1] URL Shortener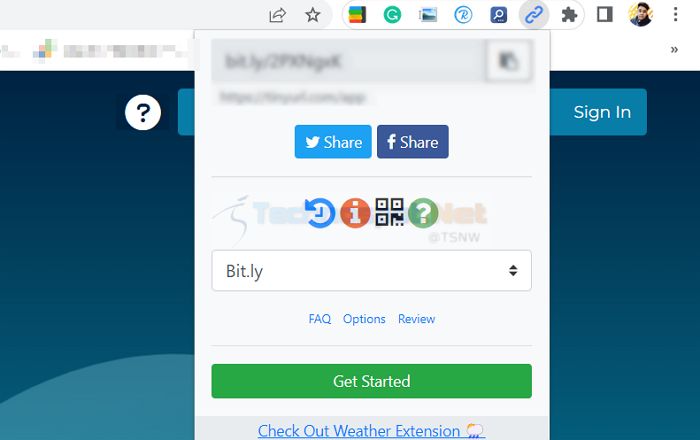 URL Shortener is a one-stop URL shortening browser extension with many customizability options and supports shortening URLs from multiple services like Bit.ly, Rebrandly, JPEG.ly, and many others. Once installed, head over to the respective page you want to short the URL for and click the extension icon in the top bar. It will instantly copy the URL.
Features:
Support For Multiple URL Shortener Services
Customizability
API Access
Ability to create QR codes
Pros:
Faster URL shortening
Ability to view link history
Multiple URL shortening services
Cons: 
Third-party browser extension
Some sites may not work
Download URL Shortener From Chrome Web Store
2] Bitly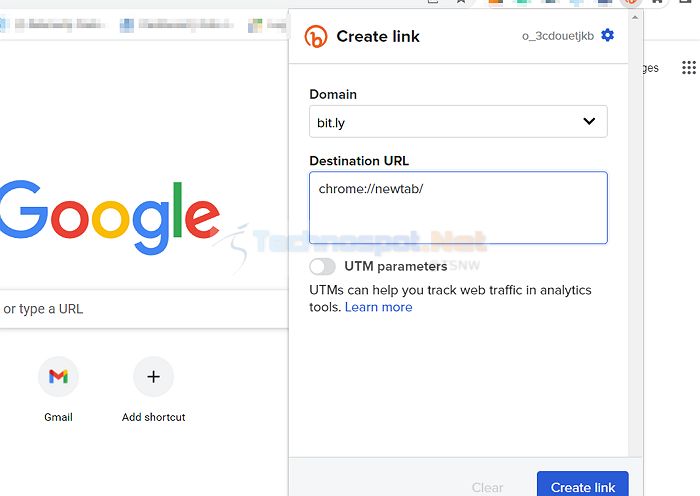 Bitly is one of the most popular, trusted, and first ever. Bitly Chrome Browser extension is feature-filled and is officially from Bitly.com. The extension does not automatically create a link by just clicking it. You first have to approve link creation, and then you can proceed with URL shortening. You can enable automatic URL shortening in the settings. You get to customize the URL's back half or slash tag. To use the Bit.ly URL shortener browser extension, you must first log in to the Bitly account.
Features:
Ability To Create Short URL QR Codes
Fast URL shortening
Customize Slash Tag
URL Analytics
Automatic Copy And Creation
Send URLs To Tweet Directly
Pros: 
Faster URL Loading
URLs are saved to the Bitly account
Ability to customize slash tag
Create QR Code
Cons: 
Requires logging in
No URL shortening history
Download Bitly From Chrome Web Store
3] Rebrandly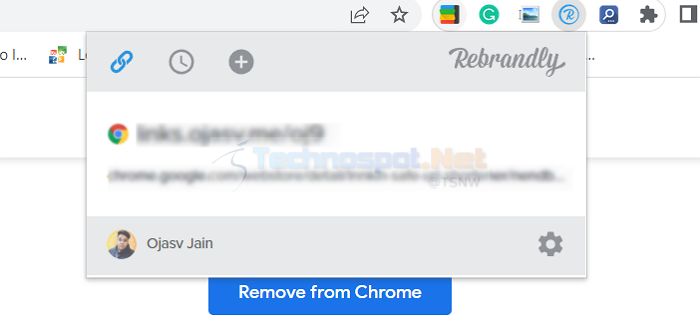 Rebrandly is another URL shortening service with more or less the same features. However, the real difference is that Rebrandly allows you to add a custom URL shortening domain for free. You can either log in to the Rebrandly account to use the custom domain or shorten the URL without logging in and using the default domain.
Features: 
Add a custom domain for free
Customize URL tags
Track URL visitors (only on the Rebrandly website)
Automatic URL Shortening and copying
Pros: 
Customizable URL slash tags
Check URL History
Customize URL After Shortening
Cons: 
It does not allow turning off Automatic URL shortening
Slower link loading speeds
Download Rebrandly From Chrome Web Store
4] Lnnkin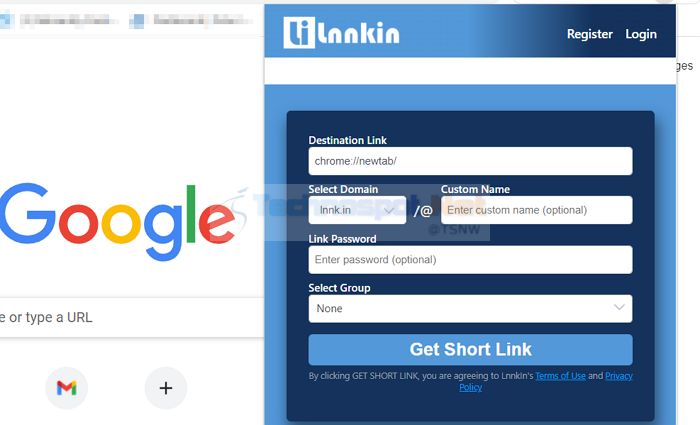 Lnnkin is quite similar to Rebrandly in its approach. Lnnkin, unlike Rebrandly, allows you to add a custom domain and shorten URLs, but only when you are at least on their basic subscription plan. Also, the extension does not automatically create a shortened URL. You first need to click and open the extension, it will automatically fetch the page URL for you, but you need to go through a few steps to create a short URL and copy it.
Features: 
Password protect short URLs
Custom slash tag
Log in to store short URLs
Track URL Visitors
Pros: 
Ability to protect URLs with password
Add custom domains
Simple interface
Cons: 
Does not auto-create short URLs
No option to track URL history
Download Lnnkin From Chrome Web Store
5] Replug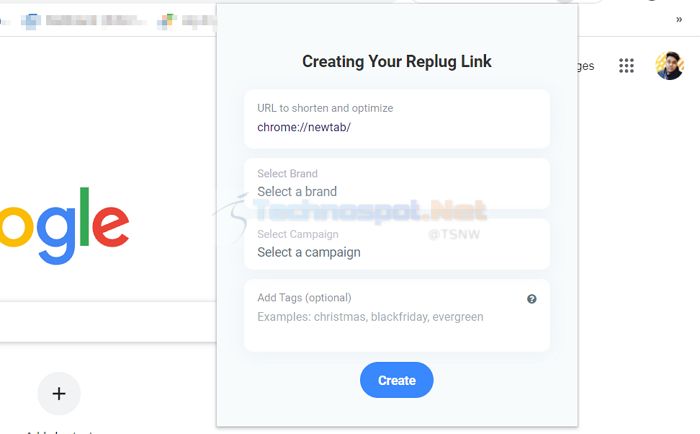 Replug is an advanced marketing-based URL shortening tool that offers you greater control over tracking the URL visitors and using the exact data for marketing. The dashboard displays a wide array of metrics. Replug does not let you add custom domains. The tool requires you to sign in by default. It would help if you also got a subscription after the free trial period of 14 days ends.
Features: 
A wide array of URL visitor tracking features
Made for marketing and brands
Simple and clean interface
Pros: 
Feature-packed short URL creator
Better URL visitor tracking
Cons: 
It does not allow URL customization
Requires Subscription
Download Replug From Chrome Web Store 
Conclusion: 
Shortening URLs reduces long and ugly URLs to a few characters and optimizes them for marketing and social media. They tend to impact the customer better and appear more professional and organized. We hope you found the article insightful and that you can quickly shorten the URLs of any page from the browser.
Why Use Short URLs?
Short URLs are easier to remember. Sometimes, the URLs are just too long. Shortening them makes them not only easier to send but also easier to remember. So whenever you feel like visiting the respective URL, you only have to remember a few characters. Short URLs are also suitable for marketing and branding, as anyone can customize them. Several short URL service providers like Rebrandly allow you even to add your custom domain.
Are Shorten URLs Safe?
Shorten URLs are entirely safe. However, it would be best if you only shortened URLs from trusted services, as not doing so will reveal all the URL details to the service provider. URL shorteners can also track URL visitors and their IPs, so keep that in mind.
Can I Track IP Addresses Of Visitors On My Shorten URLs?
Most URL shorteners don't provide the option to track the exact IP address of each user that visits the URL. You can, however, track the approximate geolocation of the visitors, their medium of access, and other metrics.
How To Expand Short URL Without Opening It?
You can use many browser extensions like Unshorten to expand short URLs. There are websites like ExpandURL.net which provide the same functionality as well.