If you are planning to install Windows by using a USB drive, WintoFlash is a quick option that lets you create an exact copy of Windows DVD or CD to flash. Not all software allows you to create a copy of Windows Setup on the USB drive, but with this, you can. It is useful when it comes to a netbook where you don't have a DVD or CD ROM. Let's learn how to quickly create a copy of Windows Setup into a USB drive. You can also copy a USB drive that carries Windows installation media.
Quickly create a copy of your Windows Setup into USB Drive
Once you download the portable version, launch it, and it will offer you a lot of steps to create the copy. In case you don't like so many steps and options to show up, launch the wizard mode, which takes care of all the most suitable options for the particular copy mode you select. It also gives you the option to choose steps for formatting, creating a folder structure, copy files, etc. In case you want to skip any of them, use the process steps tab to unselect them.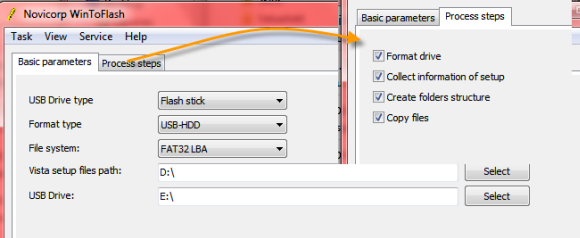 You can select a physical CD/DVD/USB drive as a source with WinToFlash as well as a copy of files from a folder on your hard drive or network location. If you have a disk image, you are not limited to ISO images for bootable USB items; you also can use ZIP, RAR, CAB, etc. too.
Features of WinToFlash
Creates an exact copy of a USB drive
Install Windows from a bootable USB
Auto-download ISO for Multiboot bootable USB
Multiboot bootable USB creation
It supports UEFI boot
WinToFlash is portable, so you don't need to install, but make sure to keep a copy when you need it
The free version offers limited functionality which includes
Creates a Multiboot bootable USB with any Windows Setup and live CD  for up to two PCs.
Includes Wizard mode for home users
May show Ads
No support for files larger than 4Gb on a bootable USB
You can download Win to Flash from here