There might be times when you feel like going for a movie, and you quickly want to know which movie is being shown in your favorite theater/multiplex, or you might be interested in which theaters/multiplexes are screening the movie you are interested in, Googling is definitely a solution, and probably is also the first thing which might hit your mind, but there exists a simpler process for such needs.
Google has the solution, access the page and simply key in the name of the city, and now you have the full information, you can sort these results on the basis of , Cinema distance or Film popularity or Film rating (based on the reviews by others) or Film title.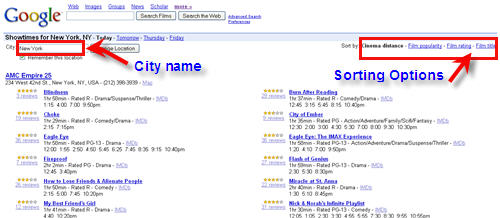 However, I could not get what the Cinema Distance, sorting criteria actually mean, because if I consider it to be sorting on the results on the basis of distances of different cinemas from central location of the city, I don't find it to be working fine.
You can also get the show times, theaters and other details for next two days as well, reviews for different movies can also be read.
Anyways, apart from this, I found it perfect, awesome tool to update your movie screening knowledge database in couple of seconds, moreover the beauty lies in the fact, that key in any city name, and results appear in front of you within no time. Also, to get more specific results, you can key in places like 'Andheri' (a locality in Mumbai, India), or Clementi instead of typing Singapore.
So, bookmark this link, to plan your next show, hope you like this.