Wallpapers being one of the key attractions, it is likely that you would like to see  a preview on how it looks on your desktop once you have applied or may be even before it. Below  I have demoed how you can quickly run a sideshow once you have applied it. You can do that even without applying ( use this method to extract first ) but this will certainly be faster.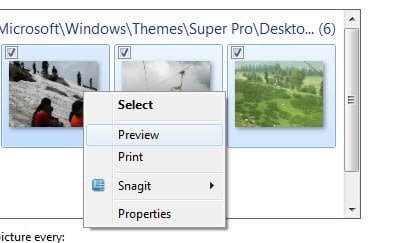 Right Click on desktop. Select Personalize> Select Theme > Desktop Background.
By default all the wallpapers inside should be selected, if now press control + A.
Now right click on them and choose preview.
This launches Windows Photo Previewer.
Press F11 or the big button in lower middle and it will kick of the slideshow.
Video Demo ( Direct link to YouTube )