IE Tweaker is an easy to use Interface which provides you quick access to menu items and repair options which lets you turn or or off many things which many a times users take time to find out. Here are the features :
Browsing Options : Animation, Smooth Scrolling, Clear Type, Sounds, Picture Display and Automatic Image resizing.
Clean Junk Files : Temporary files, Cookies, History,Auto Complete data, Passwords,Add-ons data
Tweak UI : Basic, Browser Menus, Toolbar options, Control Panel, Advanced
Restrictions  and Security
Repair : This is very useful as it can fix few common issues in seconds. The issues mentioned here are Address bar issues, Blank White Page, Web Fonts blurred, Run Once problem, Re registering all dll and ocx,  slow browsing etc.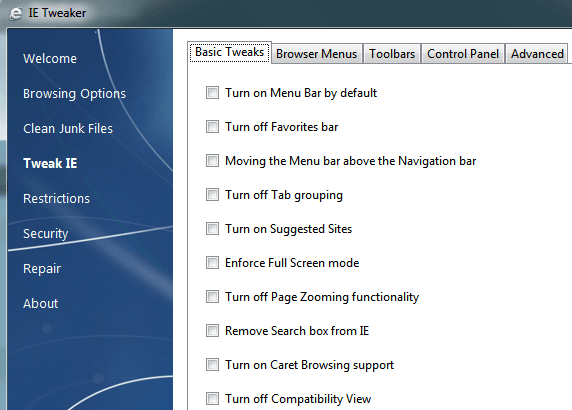 Download IE tweaker via Mera Windows