As we know Amazon's Kindle is an awesome device designed especially for reading books, newspapers, magazine etc.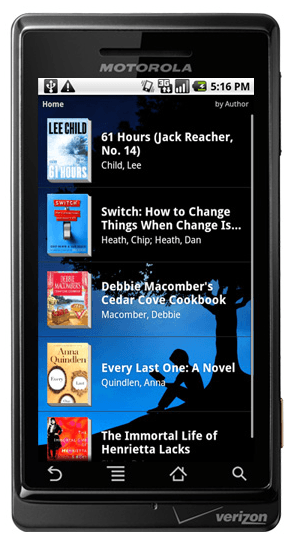 Kindle has a huge database of books, and other reading resources, generally to get an access to this database, Kindle is must, but recently we heard about the app which allows you to access and read the stuff available in Kindle database on your Mac.
Now, Amazon has released the Kindle app for Android phones. Kindle for Android allows you to enjoy the full features of Kindle database without having a Kindle.
Here is the feature list for Kindle for Android (as seen on Amazon) –
Get the best reading experience available on your Android phone. No Kindle required
Access your Kindle books even if you don't have your Kindle with you
Automatically synchronizes your last page read and annotations between devices with Whispersync
Adjust the text size, add bookmarks, and view the annotations you created on your Kindle, computer, or other Kindle-compatible device
Read in portrait or landscape mode
Tap on either side of the screen or flick to turn pages
You can shop for books using this app, preview the first few pages of making a choice to buy a book, however, Kindle newspapers, magazines and blogs are currently not available on Kindle for Android.
Kindle for Android is currently available for customers in Argentina, Australia, Austria, Belgium, Brazil, Bulgaria, Canada, Croatia, Czech Republic, Denmark, Estonia, Finland, France, Germany, Greece, Hong Kong, Hungary, India, Ireland, Israel, Italy, Japan, Latvia, Lithuania, Luxembourg, Mexico, Netherlands, New Zealand, Norway, Philippines, Poland, Portugal, Romania, Russia, Serbia, Singapore, Slovakia, Slovenia, South Africa, South Korea, Spain, Sweden, Switzerland, Taiwan, United Kingdom, United States
Kindle for android is compatible with Android OS 1.6 or greater.