Lyrics Plugin is an excellent add-on, crafted for music lovers. You can read the lyrics of the track being played by you in Winamp or Windows Media Player and iTunes, It's convenient in case the songs you listen has complex words, or something pronounced very differently ( ROCK SONGS! ). In this post, I will show how you can Read Lyrics while listening to songs with Lyrics Plugin.
Read Lyrics while listening to songs with Lyrics Plugin
How the Plugin works when you play the song
Music files have something called as ID3 tag. These tags define the where and about of any song. So, if the song you are playing has tags matching to an entry on the database, you will get the lyrics displayed in your lyrics window.
If somehow you don't find the lyrics, you can click on the Edit Button given in the lyrics window, and enter the Title, Artist, and Lyrics. This entry will be submitted to the database, and the next person who listens to this song will have the lyrics, so in this way, you are helping lyricsplugin.com and a music lover of your kind.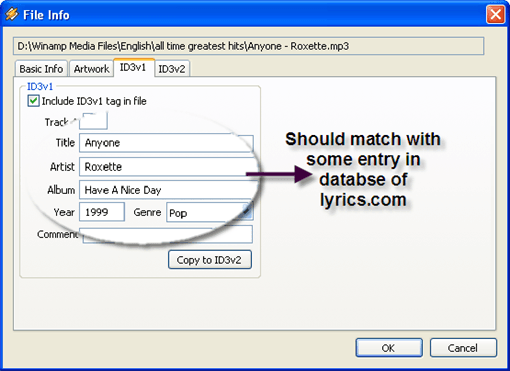 Before you edit the lyrics, you should try changing the tags, i.e., Title, Artist, Album.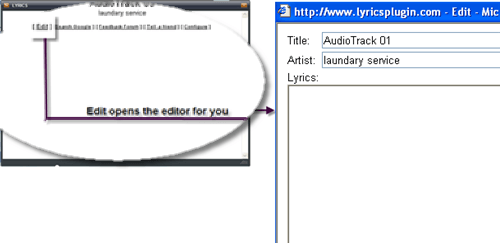 As sometimes you might not be able to see the lyrics. It can be because the file you are playing doesn't have tags or wrong tags. Plugin for Windows Media Player has the same properties.
Installation of the plugin
Installation of these Plugins is simple as any other installations, once you are done with the installation part, open your Winamp, if you don't see the lyrics window, get it by Alt+Y. Attach it with Winamp as per your convenience, regarding the position and dimension.
Lyrics Plugin for Winamp or Lyrics Plugin for Windows Media Player can be downloaded here. I liked this plugin a lot, hope you too like it. It works as long as you are connected to the internet.
I am sure you are now going to enjoy to read Lyrics while listening to songs. Let us know how was your experience.