When it comes to reading a text file, software like NotePad or Notepad++ does the job. A plain text file which comes along as help files with programs carries no style. They turn out to be boring because we are in the habit of reading everything adequately formatted. So, if you want to break this boredom, check out eTextReader, which lets you read a plain text file in an open book like view.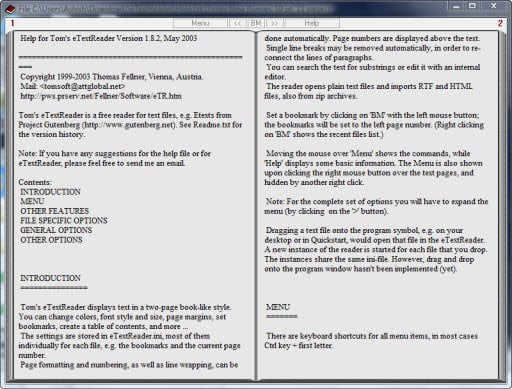 Read a plain text file in a book-like view with eTextReader
It looks like a PDF reader and displays only two pages right away. You can always flip a page or can always scroll using mouse or keyboard. When you feel like turning the page, point on the page corner number and turn. You can also use the forward and backward arrows on the keyboard. However, there is no fancy page-turning effect.
eTextReader Options
Moreover, the advanced options to customize front, borders, etc. are pretty neat. You can change font type, size, text background color set bookmarks, adjust margins, find words or phrases, and more. The program can open the text files directly from the Project Gutenberg zip file, and also import RTF and HTML files. Other features include text editing, table of contents creation, and more.
All in all, its a solid text file reader if you are looking for a lightweight, and customization options. It is a standalone program and requires no installation. Download EtextReader.