Several PDF readers are available in the market; we do have many choices, online and offline options; apart from this, you can also go for portable readers; depending upon requirements and system configuration, a choice can be made.
POKAT reader is pretty different from the PDF readers you would have come across up till now. The most eye-catching feature which differentiates it from other PDF readers is the new  "Flip-Style" reading experience; yes, now you can read your PDF files by turning pages as if you are reading a book.
Read your PDF files, the flip-style (like a book)
Drag and drop a PDF file into POKAT reader to get them in Flip-Style.
Library feature, so that you can open the files from the POKAT reader itself, without browsing them every time.
Library backup.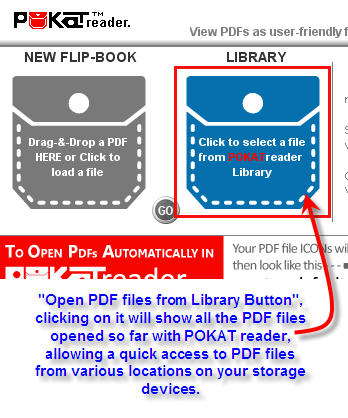 Zoom the pages with a mouse click.
Skins available, background color, can be changed.
Print pages by giving the page numbers or print the entire PDF file.
Rotation of pages can also be done in order to make them more legible.
My Experience with POKAT reader –
Opening and reading pages, the Flip-Style is great functionality that makes reading a pleasure.
Availability of skins, which changes the background color of the reader for you, adds up a little more spice to PDF reading.
Library function works fine and is quite useful.
Unavailability of two very important features, i.e., select/copy text and a snapshot of images, in the free version, stops POKAT reader from being the default reader for several users. These features are available in Foxit.
The setup file is 6.57MB which is smaller as compared to many popular PDF readers.
POKAT reader is not very heavy on resources.
As of now, the POKAT reader is available only for Windows. The MAC version is expected soon, you can leave your email address with them at their homepage, and they will let you know when it's released.
Try POKAT reader and share your experiences. I have installed it and kept it as a secondary PDF reader on my system, leaving Foxit, as the default reader, the users who read loads of PDF files, POKAT reader will definitely attract them, have your say.