What is #OnlineShopFest ?
Its an online shopping festival backed up by Google India to both increase the awareness of Online Shopping and start something for the first time in India.  It starts mid night 12 and will run throughout the day. So either you can burn the night oil or rest till morning to burn the whole day!!!
You can compare this to Black Friday and Cyber Monday deal that happens in US. Of course, the discounts won't be high, but its a great time to find the best deal.  Make sure to research a bit as the same kind of products will be listed at multiple online shops. So take your time.
How to find what you are looking for ?
Go to http://www.gosf.in/ and check out the categories. This will then list down the shopping sites. Follow the links for each and you will be take directly to the deals page. Most of the sites will have original price and discounted price at the same place.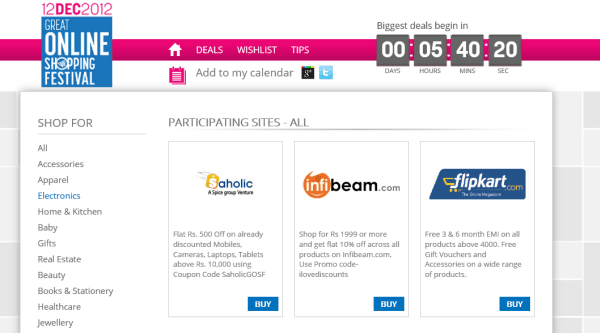 Here are few tips and thoughts
How to find What kind of deals are available :
A detailed list is available here, but to summarize, you have Cash On Delivery, 30 day exchange policies, Try and Buy etc. Make sure you create account with the online shops and then order. This will help you not only track your package but also help you connect with them much faster than the usual way.
Ask your Friends :
This is the best idea. If you have a friend who is much familiar with Online Shopping, take his help to clear your doubts and discuss the products you want to buy.
Track it on Social Sites :
Use the has tag #OnlineShopFest or #GOSF  to see what others are buying or if they already found a great deal. Then come back to the website and pick up the deal. Keep an eye on Google Plus, Twitter and Facebook as well.
Which sites to prefer for online shopping ?
That's a tough question to ask, but if you have already done it before, you can choose your regular sites. However, almost all the sites have proper return policy and money back guarantee, just make sure to take reference from your friends. You can even club your deal with your friend if he or she has a great experience with sites you have never used.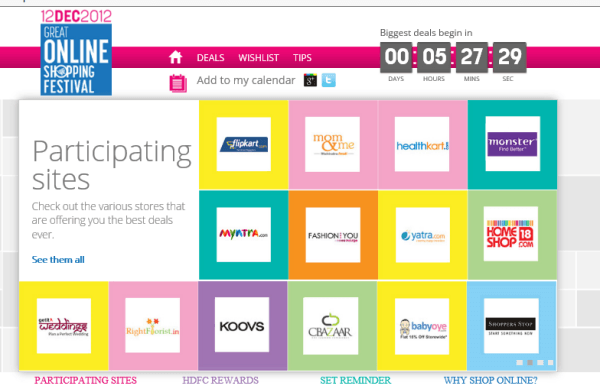 HDFC Card Deals :
Not sure why no other bank credit card rolled in this offer but if you happen to carry an HDFC Debit or Credit Card, you are lucky!!
You get Five times reward points if you use HDFC Bank Credit Card
If you don't have a credit card, use the Debit Card Instead, and you can get e-vouchers worth Rs. 200 on spending Rs. 1500 and worth Rs. 1000  on spending Rs. 5000 and above.