Taskbar Shuffle is a small application which renders the ability to rearrange the taskbar buttons, tray icons etc.
This is a small application has a 631Kb setup file, once downloaded and installed, will let you rearrange your taskbar buttons, tray icons, moreover you can also rearrange the grouped buttons on your taskbar, have a look at this animation.

Apart from this you can also –
Tweak taskbar button grouping
Middle-click to close programs on your taskbar
Double-click on the tray icon of Taskbar Shuffle allows you to access the options for it, as shown below, here you can customize it for you, and tweak the grouping of taskbar buttons too.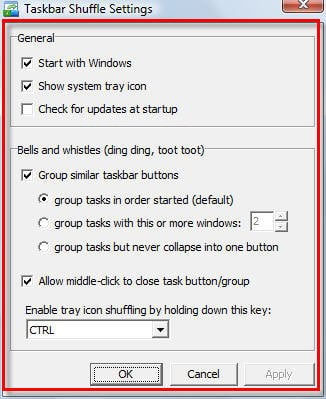 Taskbar Shuffle is light weight application, works fine, useful for people working with several applications and folders open at a time.
Give it a try, hope you like it, do share you experiences with us about it, and also tell us if you found it to be a productivity enhancer. Download Taskbar Shuffle