Creating a backup image of any OS is always a good idea so when the OS response goes down or your computer crashes down, you have an image to restore it back to its previous working stage.  Luckily with Windows 8, every user gets two options Refresh and Reset.
Now if you compare it with Refresh, which acts like system restore where all broken files are fixed or repaired, if you ever wanted to restore the OS back to a previous state, an exact image of the OS is the only solution.

Introducing RecImg Manager
RecImg Manager is one of the first desktop application for Windows 8 which creates an image of your Operating system along with installed software. So unlike other software, it does not create an exact image but rather only what is required. This makes sure the time taken to restore Windows 8 Back to its state is much less.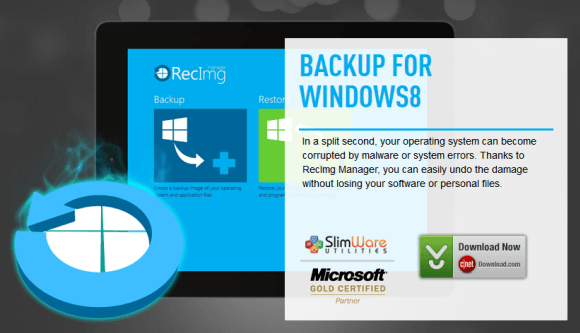 So when I created backup of my software, it was of only 7 GB compared to 15GB of space occupied over the drive which has my OS installed.
Another advantage of using this application is the inbuilt scheduler which allows you to run a regular backup process which can be scheduled over weekdays, weekend or any particular day with choice of the number of snapshots that are taken. Only thing you need to be careful is to have enough space, so the process does not terminate.
This application works on any Intel based device running Windows 8, meaning this will even work on the Surface Tablets which will Windows 8 Pro, Ultrabooks & Windows 8 Computers. Remember Windows Rt does not allow desktop application and hence this will be of no use, unless distributed from the store.
How does it work ?
After I tried it for a couple of times to evaluate its efficiency, I see that its using the same refresh API, because when you hit the restore using the application, you get the refresh prompt. So basically its communicating with Windows 8 Refresh programming and passing its own backup image, instead of letting the system use the default image or process.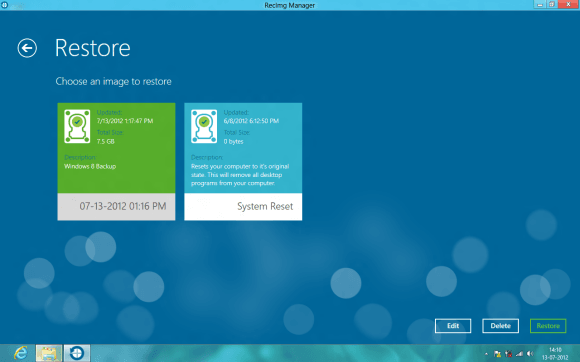 How to use it ?
When you launch the application, it gives you two options, Backup and Restore. When using Backup, the application gives you a beautiful UI where it makes clear on which drive the backup can be stored with name of your choice & description. Once you run it, you don't have to do anything else.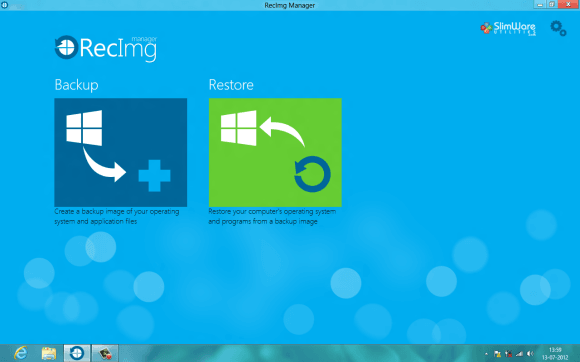 When restoring, it will list down all the backups available including the system restore. Once selected you will get system restore style prompt, and it works nicely.
After Restore was complete, I saw that all my third party applications were as is and also the personal files and settings. Super Cool.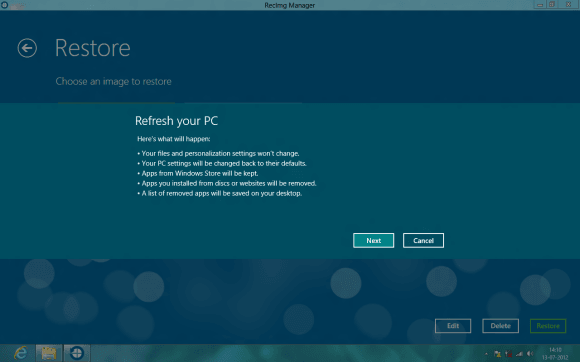 Like I mentioned above, it comes with a scheduler which you should configure. It can found on the top right, hidden in the configuration icons. This should be made more obvious.
So here are the advantages :
Exact Copy instead of only repair.
Scheduled Backup with option on how many snapshot you want to take.
You don't need the Windows 8 Disc or USB.
Download
This application is free for now, so if you want to grab a copy, do it now.  Download from here